1967 Mercedes-Benz 280SL Pagoda (W113) #2179 Anthracite with Black Manual Gearbox *RESERVED*
Stock Number:

2179

Make / Model:

Mercedes-Benz / 280SL Pagoda (W113) with Black Leather

Paint Colour:

Anthracite Grey

Interior Colour:

Black Leather

Year:

1967
1967 Mercedes-Benz 280SL Pagoda (W113) Manual Gearbox
Anthracite Grey Metallic (172) with Black Leather Interior (241) and Black Soft Top (740)
Very rare, early, manual four-speed car in Left Hand Drive configuration.
7,011 kms (4,356 miles)
Just 143 Mercedes-Benz 280SL's were built in 1967, the first year of production for the larger engine. This car was made in that very first year, making it a very early 280SL indeed.
Mercedes-Benz own sales literature for the R107 claimed that in 1970, 70% of 280SL Pagodas were ordered with automatic gearboxes.
Using that 70% figure as a guide, it can relatively accurately be stated that this car is one of around 7,200 manual cars built by the factory.
This is quite simply on of the very best cars we have come across, to look at, to sit in and to drive.
Rebuilt by renowned marque specialists Kienle Automobiltechnik in Germany in 2003, the amount lavished on this car was in the region of €80,000 – a not insignificant sum by anyone's standards, especially in the context of Pagoda values 15 years ago.
The person responsible for the restoration was a Swiss collector who used it sparingly, with the car living in dehumidified storage when not in use.
It was from this Swiss collector that the present owner acquired the car, at which point it was showing just 2,300kms (1,429 miles) on the odometer.
Now displaying 7,011 kms (4,356 miles), this utterly exceptional 280SL has spent the last 3,000 miles in the Scottish Highlands, being regularly exercised, enjoyed and driven to it's potential.
Based in Edinburgh, the owner is a fastidious and meticulous enthusiast who searched for two years before settling on this car. The owner states that during his time with the car, it has not used a drop of any fluid, testament to the quality of the preparation of this vehicle. Most recently it has benefitted from all new brake discs, as well as a matching set of Bilstein tyres, a full service and grease of the suspension components. This car also has a new battery, with battery isolator fitted.
The addition of Fuch wheels enhances the sporting credentials of this 'enthusiast's choice' Pagoda. This wheel, often affectionately known as 'Mexican Hat' or 'Bundt' wheels was an expensive optional extra for the 280SL from Autumn 1969.
As a 1967 car we believe this particular example would have left the factory with steel wheels and matching hub caps, however the decision as to whether to leave this car as it sits or fit the more traditional painted hubcap wheels is one for the new owner to consider.
This car is one of those rare finds that ticks boxes for the collector, the enthusiast and the passionate driver. Everything about this car feels exactly as it should, from the fit and finish of the panels, to the specification of the interior and the way the car drives and handles.
A manual Pagoda is a rare vehicle in it's own right, but a manual Pagoda of this calibre, a car that is so elegantly executed; really must be seen in the flesh to be truly appreciated.
This car is not to be missed.
1967 Mercedes-Benz 280SL Pagoda (W113) Manual Gearbox
Just arrived into stock.
More information and photos to follow.
Why Choose SLSHOP?
Is it our unrivalled experience with three generations of SL? Is it our attention to detail, our award winning quality? Is it our selection of hand picked, superb cars for sale? Is it the family feel, the friendly faces and consistency of our work? Most people say it's all of these things.
A classic car offers a world of opportunities – it is an invitation to explore the open road and share life-affirming experiences with like-minded individuals.
Where will your Mercedes-Benz take you?
Bulkhead Corrosion
Although the R107 is renowned for build quality, there is one chink in the armour – the bulkhead. Many cars that present well from the outside are hiding internal rust. Water from outside the car should drain out through specially designed channels, but over time, these become blocked forcing water inside the car. Once water has breached the blower motor cover in front of the windscreen, it slowly wreaks havoc from inside out. This delicate area did not have rust protection from the factory, and as the metal deteriorates it the water ingress can lead to faulty electrics, damp carpets and musty smells inside the cabin.
All our cars come with a 36 month bulkhead warranty.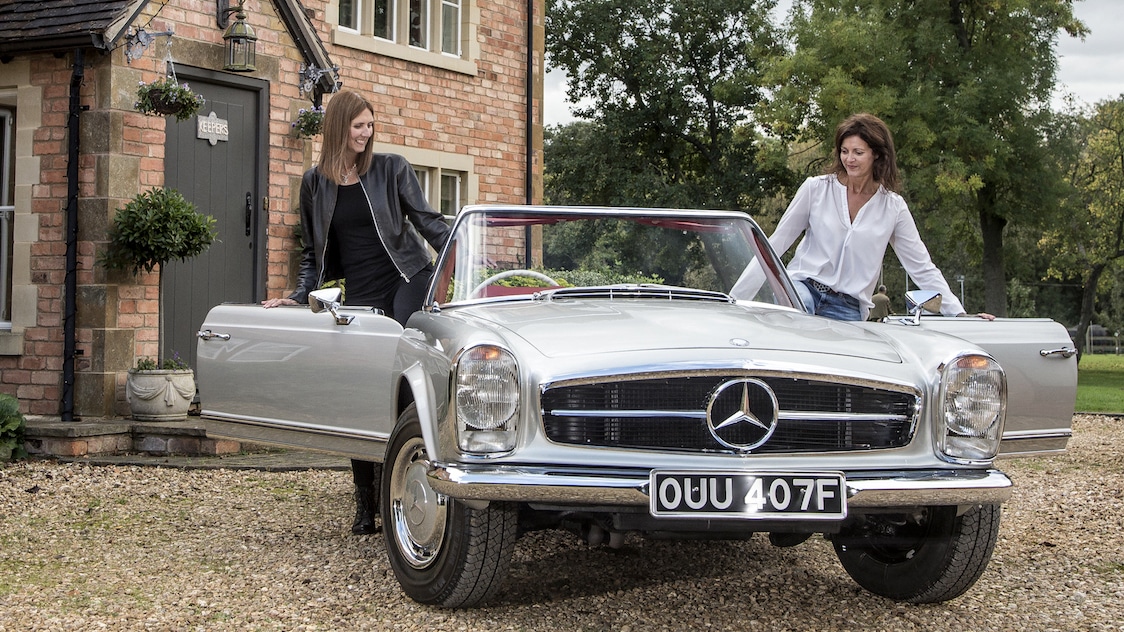 Next Steps: Experience
We believe in the capabilities of these classic cars, and want our customers to get out and use them. Welcome to Experience from The SLSHOP, aimed at helping you get more out of your classic Mercedes-Benz. We offer a number of trips, tours and events in the UK and abroad. See you there!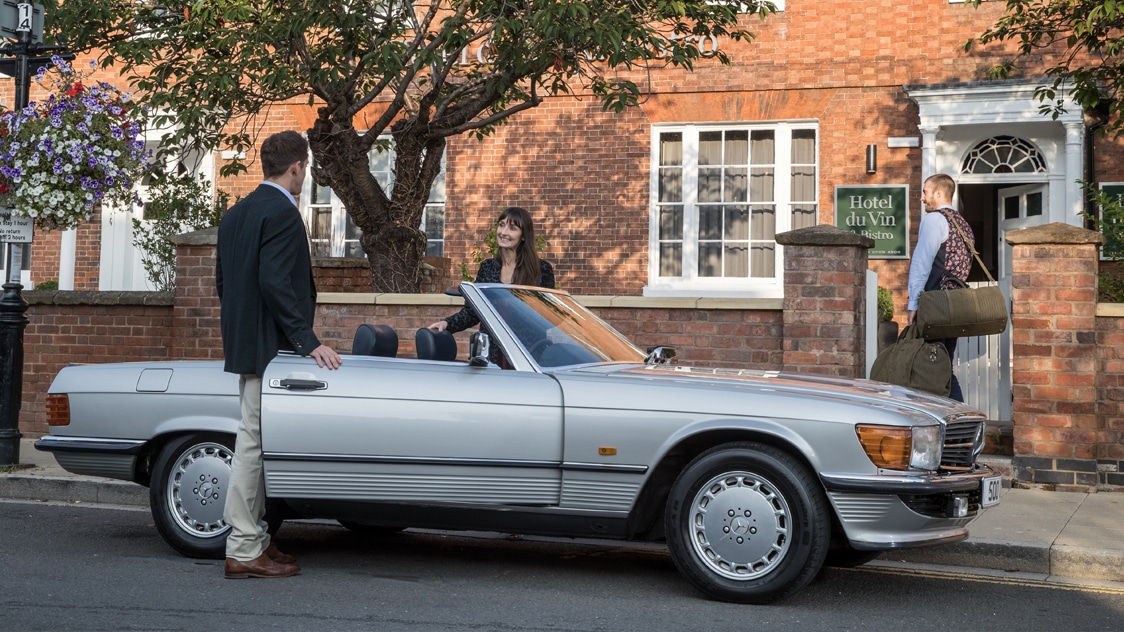 Next Steps: 24hr Test Drive
Tempted by an R107 SL but not sure if it's for you? Fancy trying a weekend at the wheel before you dive in? We offer a 24hr test drive through our hire business. Hire a classic Mercedes-Benz for a day or longer, and if you subsequently buy a car from our showroom, we will refund the entire hire fee. What are you waiting for?
STAY IN TUNE WITH SLSHOP MOMENTS
As part of SLSHOP's community of enthusiasts, you'll be the first to hear about events and tours, key product offers, exciting stories from owners around the world and of course… our latest additions to the showroom. So, be the first to know and you might just sneak a car on your driveway or take your car's condition to new heights with our exclusive replacement parts.