1966 Mercedes-Benz 220SE Cabriolet (W211) #2122 Blue with Grey Leather
Stock Number:

2122

Make / Model:

Mercedes-Benz / 220 SE Cabriolet (W211) with Grey Leather

Paint Colour:

Blue/Blue

Interior Colour:

Grey Leather

Year:

1966

Price:

£149,995
Interested in this car then call us now on 01789 337070
1966 Mercedes-Benz 220SE Cabriolet (W211) #2122
Benefits from later 2.8 litre engine, expertly restored in 2011 and cherished by one owner since then
Mid Blue Metallic with Grey Leather Trim
A seminal car in the Mercedes-Benz back catalogue, the 220, 250, 280 and 280 3.5 Cabriolets make up four of the most iconic, desirable and collectible vehicles ever produced by the Stuttgart brand.
Owned by the upper echelons of society, the lawyers, bankers and Hollywood stars who loved these cars enjoyed a luxurious interior flush with the chrome, leather and burred walnut.
Total production numbers for the 220, 250 280 and 280 3.5 Cabriolets combined stretch to less than 6,500 units – not nearly enough to satiate worldwide demand for these palatial open motorcars.
The 220SE Cabriolet enjoyed the longest production run of the three, spanning 50 months with 2,729 made.
At just over 1.6 tons the 2.2 litre M127 engines fitted to the 220SE Cabriolet and it's 118hp output could be described as adequate, but not ample. Although the 2.5 litre replacement alleviated the perceived power deficit somewhat, it wasn't until the 280SE and then 280 3.5 V8 that the car really got the power plant that it's weight and stature deserved.
The V8 engined car would be the final swansong for this wonderful four seater open cabriolet, a car that would not find a true successor in the Mercedes-Benz range until the W124 Cabriolet arrived in 1991.
A wonderful opportunity to acquire what is arguably the most stylish form of open air transport for four adults.
About this car:
Coming from an established car collection in the Cotswolds, this car was purchased by the current owner in 2012.
Restored through 2010 and 2011 by established Mercedes-Benz specialist John Haynes, this car was completed to concours standard inside, outside and underneath.
During the restoration this car was fitted with the later 2.8 litre (M130) unit for better performance. The rear axle was upgraded at the same time; which combined with the more powerful engine offers a more enjoyable drive.
The increased power is handled by upgraded brakes, now dual circuit all round.
The bodywork was overhauled to a very high standard, taken back to bare metal including the underside and all floor pans. All the metalwork was stone chipped underneath, before priming and painting could take place. The car was fully mopped and polished, with waxoyl applied to all relevant areas.
Under the bonnet the engine was completely dismantled, then reassembled with new valves, camshaft, alternator, coolant hoses, oil hoses, water pump, temperature sensor, vacuum hoses, fuel, air, oil and choke filters. A significant amount of time and energy went into the beating heart of this car, including an all new ignition system, fresh engine mountings and all oil seals and belts.
The brakes, steering and suspension were spared no expense, being virtually all new. Likewise the rear axle enjoyed new rubbers and mountings. The gearbox, exhaust, and fuel system were overhauled to the same high standard, with the use of new parts where old parts were beyond repair. Also listed in the extensive works file are new rubbers, chrome mouldings, bumpers and of course, a Becker radio with new speakers.
This would be categorised as a concours restoration, with everything replaced or refreshed, including the wood and chrome. The car is in impeccable condition, ready to be displayed at any classic car show. It is beautifully presented and drives 'on the button', exactly as a good classic Mercedes-Benz should.
Since 2012 this car has attended SLSHOP for each annual service, being collected and delivered from the vendors house. There is a file detailing works completed, with Bruce personally having spent around an hour behind the wheel for inspection purposes during each visit.
Included in the documents that accompany this car are details of around £3,000 spent recently rectifying small niggles in line with long term classic car ownership, as well as an interim service. We have also greased all of the relevant steering & suspension components, as well as all locks and catches.
To build a car of this calibre in today's money would require an investment well north of £250,000, making the advertised price of this car look like somewhat of an impressive investment.
Ready to be used, shown and enjoyed in equal measure, an iconic and delightfully appointed classic car for all occasions.
Why Choose SLSHOP?
Is it our unrivalled experience with three generations of SL? Is it our attention to detail, our award winning quality? Is it our selection of hand picked, superb cars for sale? Is it the family feel, the friendly faces and consistency of our work? Most people say it's all of these things.
A classic car offers a world of opportunities – it is an invitation to explore the open road and share life-affirming experiences with like-minded individuals.
Where will your Mercedes-Benz take you?
Bulkhead Corrosion
Although the R107 is renowned for build quality, there is one chink in the armour – the bulkhead. Many cars that present well from the outside are hiding internal rust. Water from outside the car should drain out through specially designed channels, but over time, these become blocked forcing water inside the car. Once water has breached the blower motor cover in front of the windscreen, it slowly wreaks havoc from inside out. This delicate area did not have rust protection from the factory, and as the metal deteriorates it the water ingress can lead to faulty electrics, damp carpets and musty smells inside the cabin.
All our cars come with a 36 month bulkhead warranty.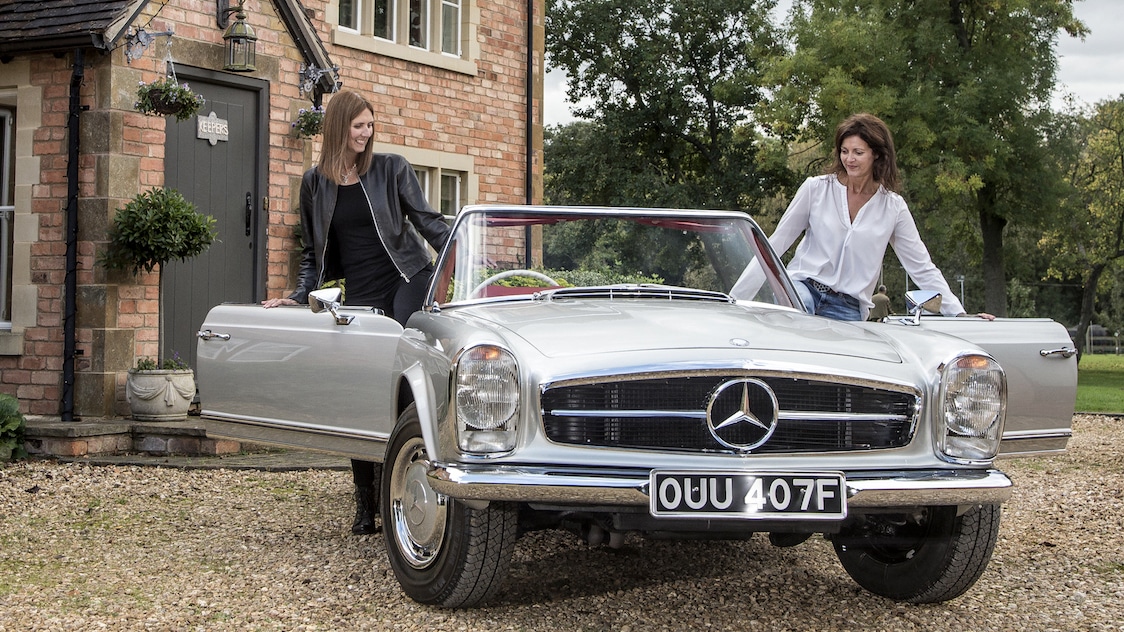 Next Steps: Experience
We believe in the capabilities of these classic cars, and want our customers to get out and use them. Welcome to Experience from The SLSHOP, aimed at helping you get more out of your classic Mercedes-Benz. We offer a number of trips, tours and events in the UK and abroad. See you there!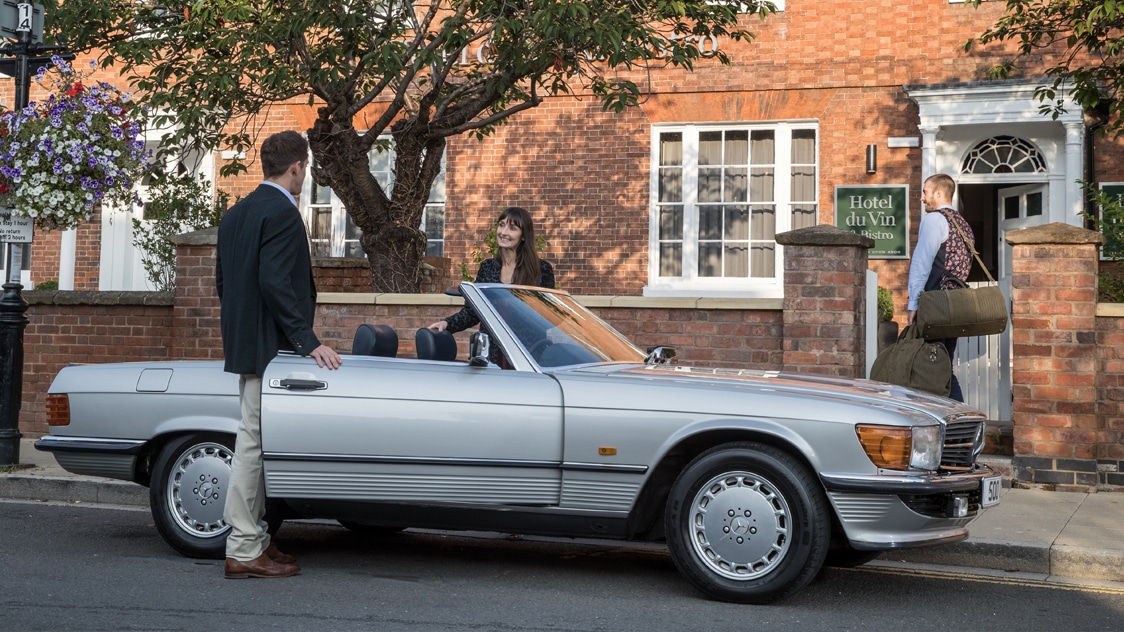 Next Steps: 24hr Test Drive
Tempted by an R107 SL but not sure if it's for you? Fancy trying a weekend at the wheel before you dive in? We offer a 24hr test drive through our hire business. Hire a classic Mercedes-Benz for a day or longer, and if you subsequently buy a car from our showroom, we will refund the entire hire fee. What are you waiting for?
Be the First to Know
Stay up to date with the latest from SLSHOP by subscribing to our newsletters. We update our readers with key announcements, new stories and of course… cars that are fresh into stock. Be the first to know and you might just sneak a car on your driveway before anyone else gets a chance.