Classic Mercedes Valuation Certificate
As the UK's leading retailer of high calibre Mercedes-Benz SLs, there can be no better place to value your car. Our classic Mercedes valuation service gives you a credible, independent opinion on the true value of your classic car. This printed document can be presented to underwriters to ensure you get the insurance cover your car deserves. 
Contact
Why do I need it?
Your SL is most likely the second highest value you own, and being under insured could prove costly in the event of a claim. As the market ebbs and flows, classic car values change. In the last ten years we have seen an unprecedented rise in classic Mercedes-Benz prices, but not all owners keep an up to date valuation certificate. This is particularly important after and mechanical and cosmetic improvement work has been completed, and should be reviewed on an annual basis.
What does it do for the car?
A valuation certificate is an important milestone in your car's journey. Whether you have completed a restoration or owned your car for many years, the valuation certificate from SLSHOP is a vital part of your cars documentation, especially if you intend to part with the car.
What does it do for me?
Your classic Mercedes-Benz is a valuable asset, and the correct steps should be taken to ensure that your insurance company sees your car in the same way that we do.
Why Choose SLSHOP?
There can be no better place to value your SL. We understand that there is more to a car than mileage. Colour, specification, condition, maintenance and provenance all play a part in the value of your car. We give a valuation our full consideration, taking the complete picture of your car against the current market.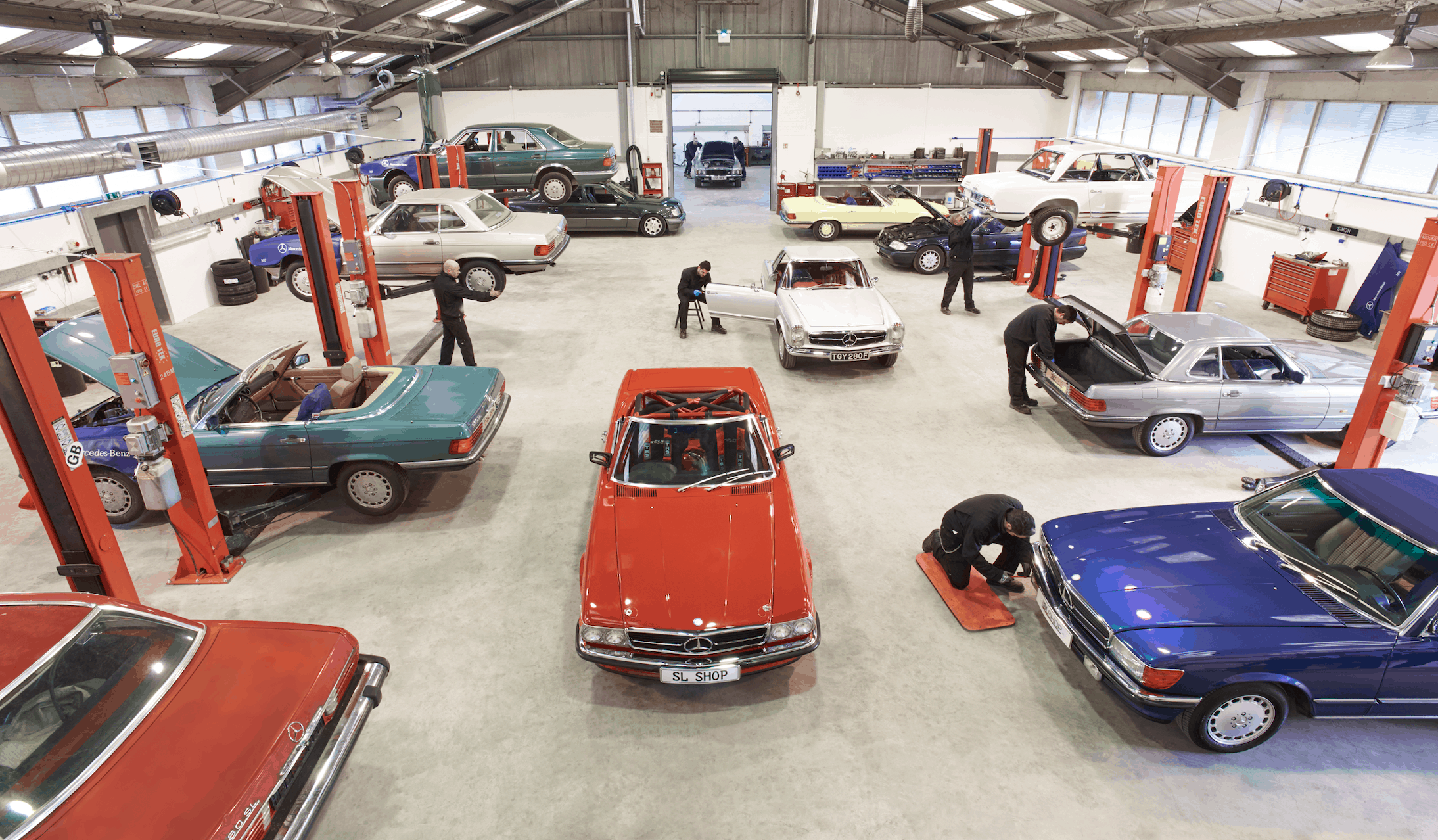 Workshop Life
Keep your Classic Mercedes – Benz running like the day it left the factory.
Sign up here for our "workshop life" updates as well as hints and tips.
Increase the value it brings you
For every SL owner we have met, the key aspect in ownership and running these amazing motorcars is ensuring that this prized possession remains a joy to use whenever, wherever and however; protecting and increasing its value over time.
As the World's largest specialist in classic SL's we have drawn upon our experience with our customers, with hundreds of cars and thousands of hours behind the wheel and under the ramp to develop CARE; a way of engaging a community of owners and protecting the value of their investments as well as enhancing their cars condition, reliability and desirability.