Classic Mercedes MOT
With the MOT history now stored online as a digital record for all time, why risk having a Fail recorded against your car? Our Classic Mercedes MOT Pre check service, a miniature vehicle health check covering safety basics before a car is presented for the annual MOT. This is suitable for all classics, including models that are now MOT exempt.
Contact
Why do I need it?
Our experience with these cars has taught us that most owners prefer spurious issues to be resolved promptly, so why tarnish a car's online record with questionable advisories that could easily be avoided? A pre MOT check saves time and money by ensuring the basics are taken care of prior to the test.
What does it do for the car?
Our technicians will inspect the car specifically for areas that would cause a car to fail an MOT. If any issues are found during this inspection, our service team will contact you to discuss a way forward, taking all necessary steps ensure the best use of your time and resources.
What does it do for me?
With values more important than ever, an impeccable service record goes hand in hand with a strong MOT history. Many customers combine this with an annual service, covering the maintenance and essentials of ownership in one go.
Why Choose SLSHOP?
As the World's leading SL specialist, we have serviced and maintained well over a thousand SL. Not only do we know the best way to care for these cars, but also we understand which areas are likely to cause problems for the annual MOT. By carefully checking your car we can ensure your MOT goes smoothly, making SL ownership easier and allowing you to concentrate on the journey.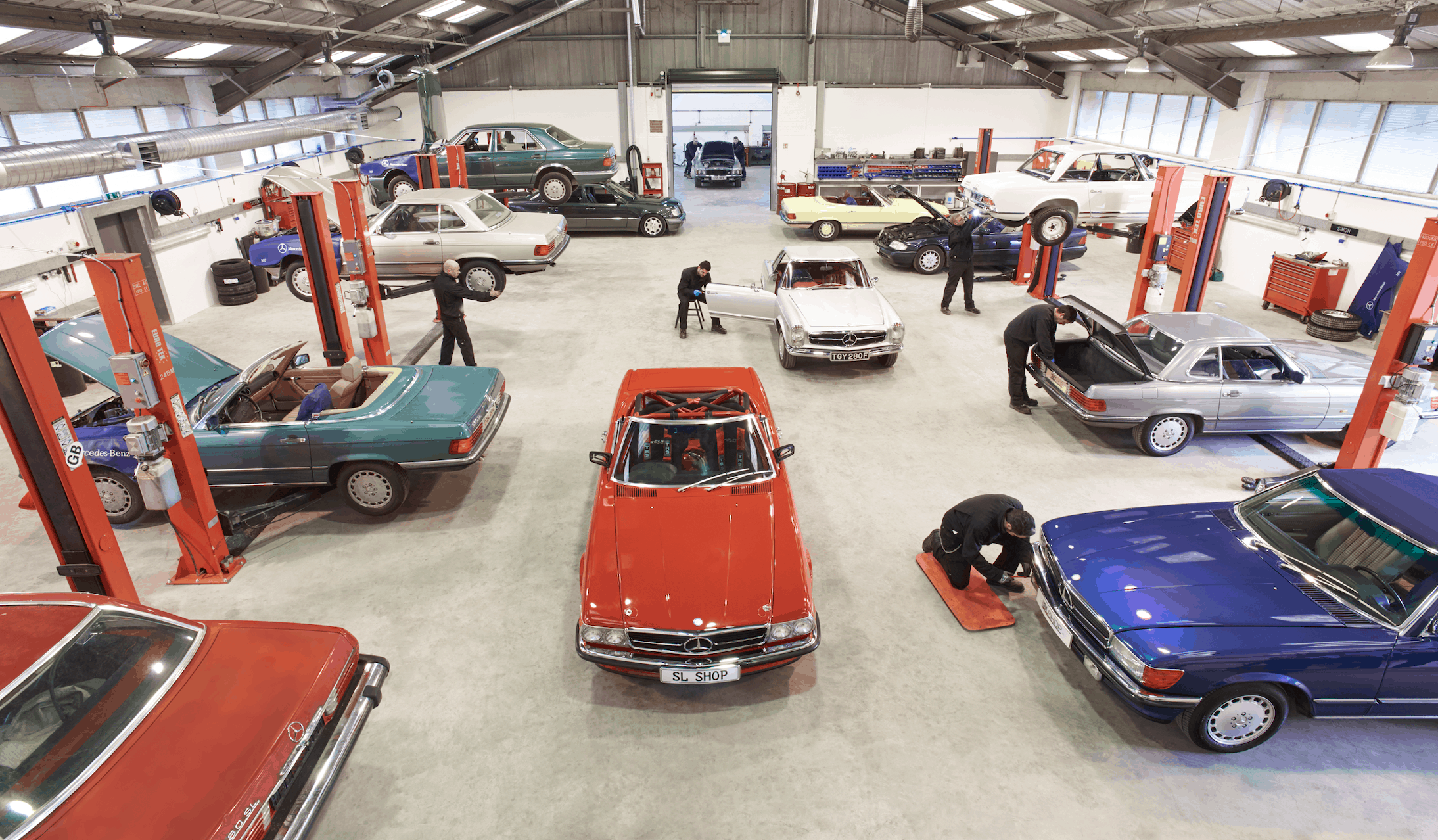 Fabrication Tour
The fabrication shop is the beating heart of SLSHOP, where our team of expert metalworks work tirelessly to save cars from extinction. The structure of an R107 is complex and needs to be approached in exactly the right way. We are proud of our fabrication team and the work they do – it's the foundation that the other departments rely on.
Poke your head inside our fabrication shop.
Workshop Life
Keep your Classic Mercedes – Benz running like the day it left the factory.
Sign up here for our "workshop life" updates as well as hints and tips.
Increase the value it brings you
For every SL owner we have met, the key aspect in ownership and running these amazing motorcars is ensuring that this prized possession remains a joy to use whenever, wherever and however; protecting and increasing its value over time.
As the World's largest specialist in classic SL's we have drawn upon our experience with our customers, with hundreds of cars and thousands of hours behind the wheel and under the ramp to develop CARE; a way of engaging a community of owners and protecting the value of their investments as well as enhancing their cars condition, reliability and desirability.