Pre Season Check
Don't use the first day of spring as your shakedown and fault finding post winter run. Get the small issues resolved before the sun starts to shine! Our pre-season check combines all the benefits of the Pre-MOT check and the Hard & Soft Top Check & Adjust with a general check of the car to ensure it is ready to be enjoyed.
Contact
Why do I need it?
Many of our customers store their cars over winter, so why not have the experts given your car a post hibernation check? You'll be presented with a car that's ready to use, with the levels topped up and the soft top adjusted exactly as it should be. This is a great chance to get a second pair of eyes on your car, an opportunity to spot small maladies that could easily be overlooked. 
What does it do for the car?
By having SLSHOP inspect your car prior to the season start, you can be sure your car is ready for that first show of the year. Our experts will check your car top to bottom, a great chance for a second pair of eyes to spot any maintenance issues that your own checks may have missed. 
What does it do for me?
After a full safety and operation check, we'll adjust the hard and soft-top cables to prepare you for an enjoyable season of classic motoring. Take the worry out of the first post-winter run of the year and allow SLSHOP to take care of the preparation for you.
Why Choose SLSHOP?
At SLSHOP we understand that the most important aspect of SL ownership is how the car makes you feel with the roof down. The roof mechanism of an R107 is superbly designed, sturdy and strong, but it requires good maintenance and occasional adjustment to function properly. We know these cars inside out, and know exactly what to do to ensure trouble free operation of your roof. Bring your car to us at the start of the season and we'll ensure it gives you many summer days and nights of joyful motoring.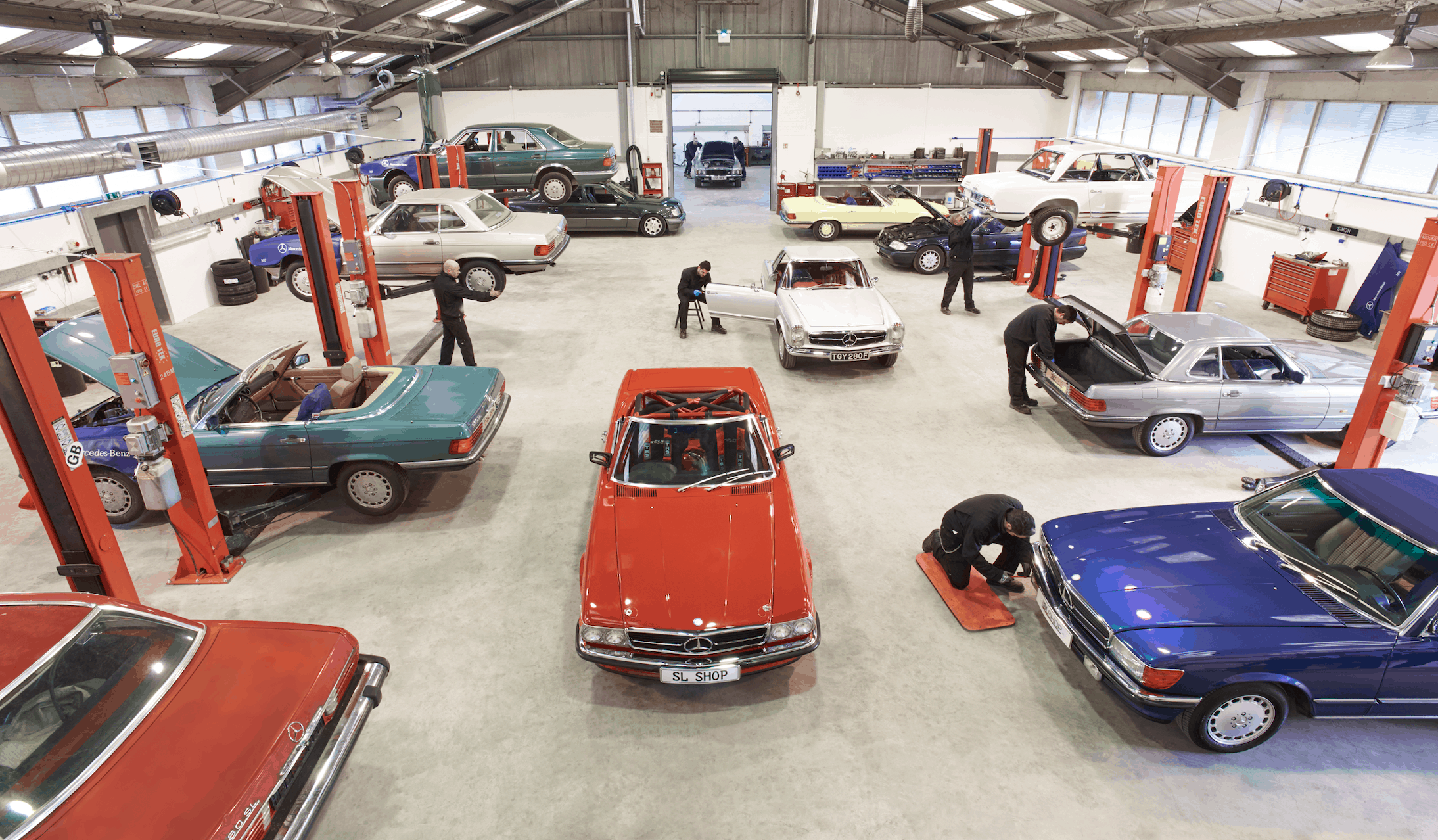 Fabrication Tour
The fabrication shop is the beating heart of SLSHOP, where our team of expert metalworks work tirelessly to save cars from extinction. The structure of an R107 is complex and needs to be approached in exactly the right way. We are proud of our fabrication team and the work they do – it's the foundation that the other departments rely on.
Poke your head inside our fabrication shop.
Workshop Life
Keep your Classic Mercedes – Benz running like the day it left the factory.
Sign up here for our "workshop life" updates as well as hints and tips.
[mc4wp_form id="1053"]
THE ULTIMATE CERTIFIED SERVICING INVESTMENT PLAN
Your ownership journey matters to us, which is why we have created a simple certified servicing investment plan, tailored to your individual needs and aspirations.
Start investing today and our dedicated CARE team will work with you to increase the value and enjoyment you receive from your vehicle.