R129 Tailored Owner Services
The Mercedes-Benz R129 SL has enjoyed a presence within SLSHOP since our very beginnings. For 10 years we have been lobbying for this wonderful grand tourer, watching it rise from the shadows and move into the limelight of the classic car world. Like us, our R129 customers have always known that the SL of the 1990s is a formidable, capable and enjoyable classic. Often regarded as the last of the proper Mercedes-Benz cars, this sturdy roadster shares the same DNA as the R107 and W113. With incredible build quality, superb engines and high levels of equipment, a good R129 makes a sound partner. 
Our resident R129 experts have been with SLSHOP from the start, and is the backbone of our modern classic servicing. With our team of experts we have put together a range of products aimed directly at owners, grounded in our exhaustive understanding of the R129.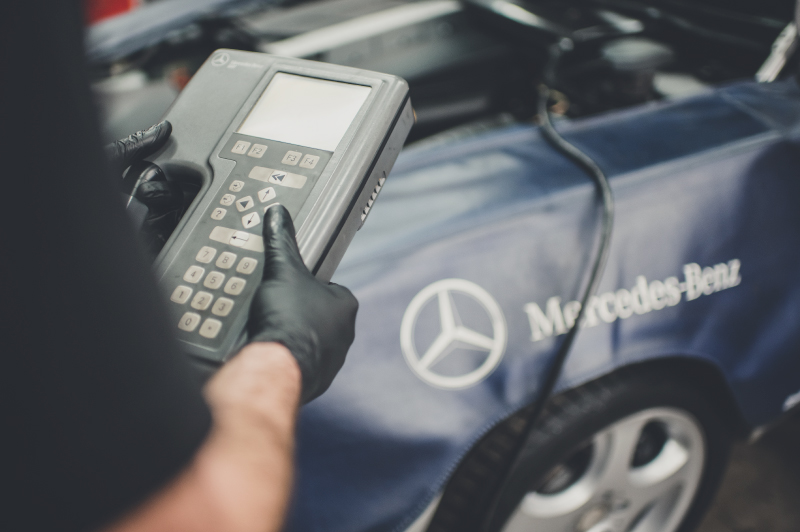 R129 Diagnostic
The R129 SL is electrically more complex than the R107 and W113 that preceded it. Our technicians know these cars intimately, and with the right tools, can diagnose and rectify even the most mystifying of electrical maladies including specialist diagnostic works for the R129 electric folding roof mechanism..
As the World's largest specialist in classic SL's we have drawn upon our experience with our customers, with hundreds of cars and thousands of hours behind the wheel and under the ramp to develop CARE; a way of engaging a community of owners and protecting the value of their investments as well as enhancing their cars condition, reliability and desirability.
Classic Mercedes-Benz Owner Services
Visitors to our workshops will appreciate that W124s W126s, W111s, W115s, W116s and many other classics from Stuttgart have shared ramp space alongside the never ending flow of varying generations of SL. Mercedes-Benz enthusiast often own more than one of Stuttgart's finest, so as our reputation as the foremost classic Mercedes-Benz specialist grew, so did requests to care for all iconic Mercedes-Benz models. The move to the Stratford-Upon Avon premises offered the space to grow this area of the business, recruit the right talent to satisfy the need and we are now pleased to formally welcome all classic Mercedes-Benz cars to SLSHOP for service, maintenance and restoration work. 
Many cars in the Mercedes-Benz back catalogue share technology and componentry with the W112, R107 and R129…, our quest for perfection is the same whether the boot emblem says SL, SE, SEC, SEL. So long as there's a three-pointed star on the bonnet, we look forward to hearing from you.
Perfection is a wonderful thing to behold, more so after months of struggle, seeing it all come together from rust and rivets through to beautifully polished chrome. Here are just a few of the exceptional classic cars we have created.
SLSHOP Supporting Services
The culture of our business is founded on a quest for perfection, and our organic, customer lead growth has lead to expansion into a new range of services for owners. We now offer collection or delivery, as well as car storage. Our storage facility is used for all manner of classic and modern cars, as well as hard top storage. We offer a range of services to enhance and protect the value of your classic, such as detailing and rust protection – and why have any doubt as to the value of your cherished asset? Our valuation service is perfect for your annual insurance renewal, for peace of mind and for when it's time to find a new home for your classic Mercedes-Benz.
Workshop Tour
For almost a decade our team have carved a path through the classic car industry, becoming the world's leading R107 SL expert. Our approach to these cars, and our knowledge and experienced is unrivalled in the industry. With such a breadth of knowledge and passion, it's no surprise that R107 clients began to ask us to work on other Mercedes-Benz vehicles.
Take a digital walk through the workshop see the work we do here
THE ULTIMATE CERTIFIED SERVICING INVESTMENT PLAN
Your ownership journey matters to us, which is why we have created a simple certified servicing investment plan, tailored to your individual needs and aspirations.
Start investing today and our dedicated CARE team will work with you to increase the value and enjoyment you receive from your vehicle.