Classic Mercedes Health Check
To help you get the best out of your SL, we must first get to know the car.
Our Classic Mercedes Health Check is a comprehensive 300 point status survey for your car, not just limited to mechanical components but also interior fittings and trim. This health check is structured like an MOT but in much more detail, performed in our service bay, on the ramps and out on the open road, where the car will be driven by experts with real experience of how it should be performing.
Once the check is complete you'll sit down with Bruce Greetham to discuss the findings, go over the observations and make a forward plan to take the next steps in your classic Mercedes-Benz experience.
A health check is perfect for customers who have recently purchased an SL, or long term custodians beginning to think about a restoration. Contact us to book your health check now.
Contact
Why do I need it?
Our Health Check is about more than just the condition of your car. The consultancy that follows the inspection is a chance to scrutinise your plans for the car, to determine what areas to address first and to lean on our knowledge to make an informed decision. Once the report is complete you'll sit down with one of our experts to discuss the car, the findings and the best course of action in the current market climate.
It is this part of the Health Check that customers find the most useful, an unbiased and honest appraisal of the car; and a chance for you to discuss your relationship with your SL. Many fine restorations have started with a Health Check, but we've also saved customers from investing money in the wrong areas or in the wrong car entirely.
What does it do for the car?
After a health check your car will have a complete picture of what is required to turn it into a car that meets the SLSHOP grade. Whether you intend to show the car, enjoy the car or sell the car, after the consultancy you will be in the best possible position to make an informed decision on what to do next with your SL.
What does it do for me?
A Health Check is more than just a status report, it's a chance for you to really examine your car and your future plans. It gives reassurance for you and the car, an opportunity to discuss your intended direction with an impartial expert. For customers who have recently acquired an SL, whether as part of an inheritance, from an auction or from any other source, it's a great opportunity to really understand exactly what is sitting in your garage. Our consultancy platform provides a structured approach for the next steps in your SL journey. Many fine restorations have started with a Health Check, but we've also saved customers from investing money in the wrong areas or in the wrong car entirely.
Health Check
SLSHOP's Sam Bailey explains what an SLSHOP Health Check is all about, what it achieves and what areas it covers. Does your SL need a health check?
Why Choose SLSHOP?
As the World's leading SL specialist more than 10,000 SLs have passed through our workshops and showroom. The level of knowledge possessed by our technical department is unsurpassed, and with our service team living and breathing on the sharp edge of the market, there can be no better place to go for advice and guidance for you and your SL.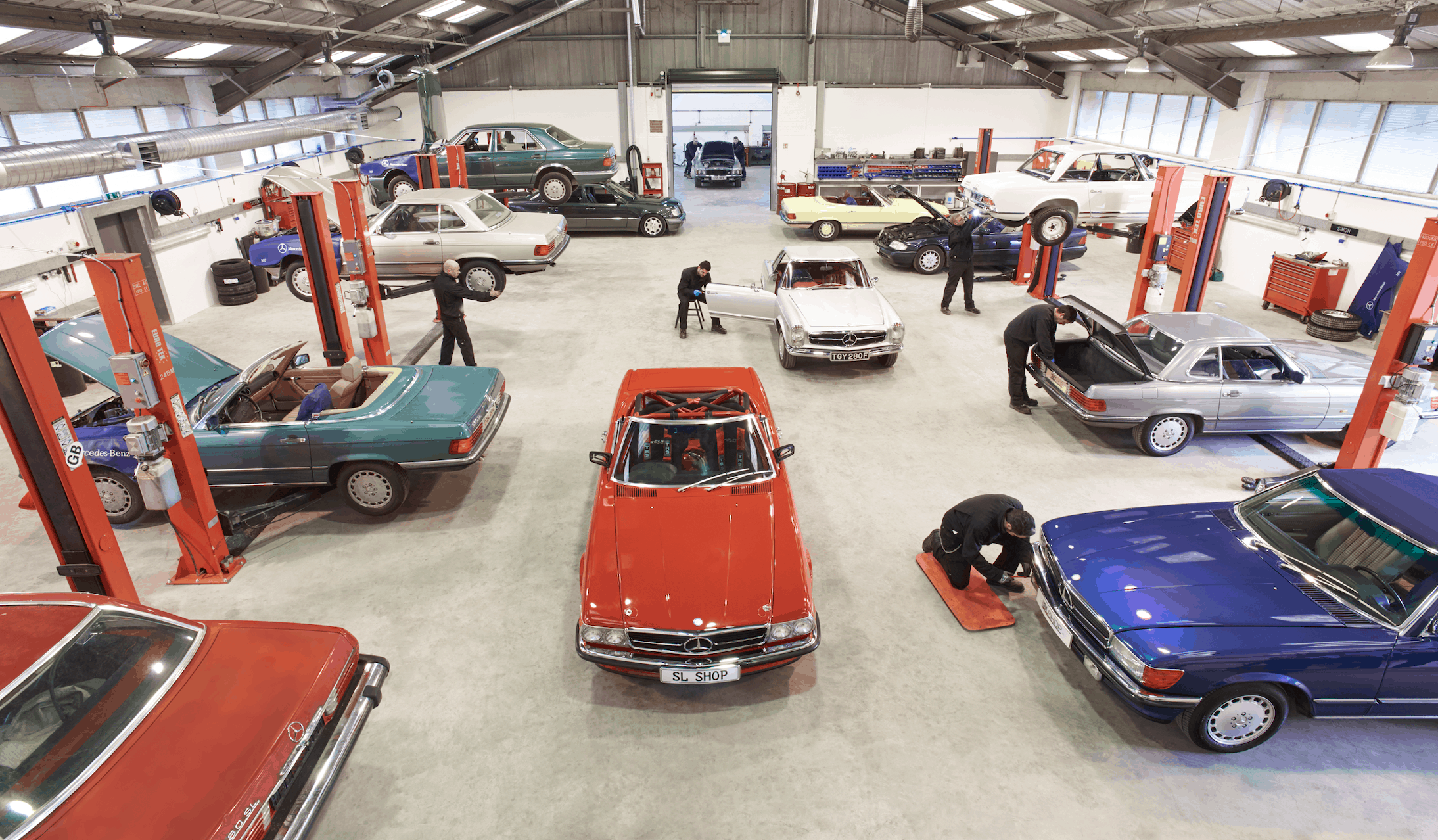 Workshop Tour
For almost a decade our team have carved a path through the classic car industry, becoming the world's leading R107 SL expert. Our approach to these cars, and our knowledge and experienced is unrivalled in the industry. With such a breadth of knowledge and passion, it's no surprise that R107 clients began to ask us to work on other Mercedes-Benz vehicles.
Take a digital walk through the workshop see the work we do here
Workshop Life
Keep your Classic Mercedes – Benz running like the day it left the factory.
Sign up here for hints and tips, because we all love to learn more about our Pagodas!
You'll also get access to our "workshop life" updates, so you can stay in the loop.