Hard & Soft Top Cable Adjust
The SL is first and foremost an open car, and effective operation of both the hard and soft top are crucial to maintaining this key appeal of your classic. This service is designed to comprehensively inspect the hard and soft-top mechanism of your car to ensure it operates exactly as it should. 
Contact
Why do I need it?
The hard and soft top of your SL are superbly designed, but a stretched cable or broken latch can ruin a dry sunny day. Your soft top should seal correctly to the windscreen and decklid, while all levers should operate the mechanism without being stiff or difficult to use. Time and poor maintenance can make your soft top a misery, and it doesn't need to be this way. The same levers that release the soft top also secure the hard top, and anyone who's experience a hard top getting stuck will appreciate that it takes three people to resolve the issue.
What does it do for the car?
The operating mechanism for both your hard and soft tops will be checked and serviced, along with all the relevant levers and cables. The end result will be a roof that works exactly as it should.
What does it do for me?
There can be nothing more frustrating than climbing in your car on the first day of the season only to find that the soft top cannot be lowered, or that the hard top is stuck fast and will not be persuaded to come off. Having a correctly functioning roof mechanism is one less thing to worry about – concentrate on where to go with the roof down, not how to get it down!
Why Choose SLSHOP?
At SLSHOP we understand that the most important aspect of SL ownership is how the car makes you feel with the roof down. The roof mechanism of an R107 is superbly designed, sturdy and strong, but it requires good maintenance and occasional adjustment to function properly. We know these cars inside out, and know exactly what to do to ensure trouble free operation of your roof.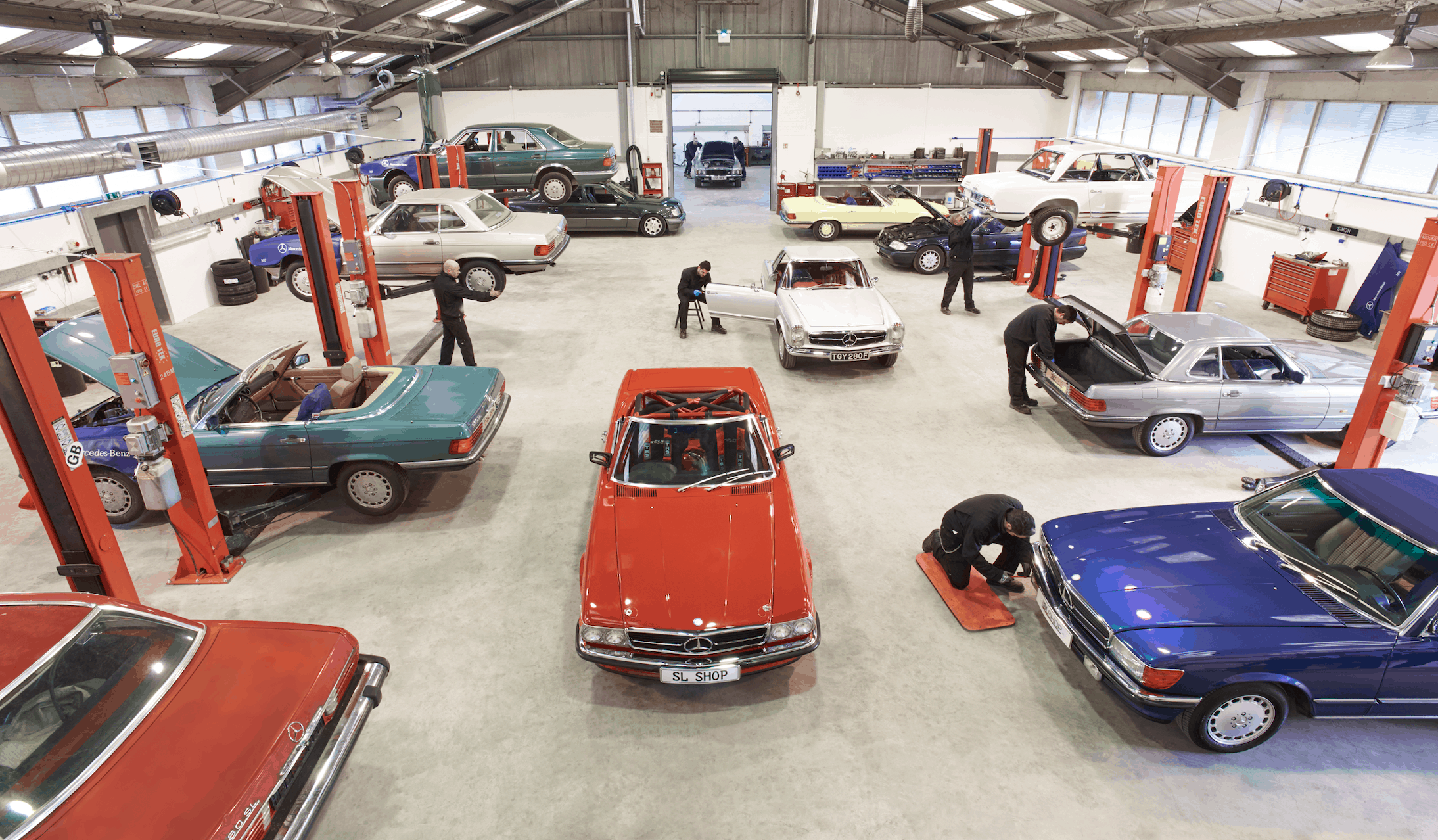 Workshop Tour
A classic car is more than just metal, it's the key to a whole world of experience. Journeys short and long, average and epic become so much more of an adventure in the right classic car.
At the SLSHOP, our business is grounded in caring for the needs of classic Mercedes-Benz owners.
Take the time to browse through our services, take a look at what we can offer.
Workshop Life
Keep your Classic Mercedes – Benz running like the day it left the factory.
Sign up here for our "workshop life" updates as well as hints and tips.
Increase the value it brings you
For every SL owner we have met, the key aspect in ownership and running these amazing motorcars is ensuring that this prized possession remains a joy to use whenever, wherever and however; protecting and increasing its value over time.
As the World's largest specialist in classic SL's we have drawn upon our experience with our customers, with hundreds of cars and thousands of hours behind the wheel and under the ramp to develop CARE; a way of engaging a community of owners and protecting the value of their investments as well as enhancing their cars condition, reliability and desirability.