SLSHOPS: Engine Health Check
To help you get the best out of your SL, we must first get to know the car.
Our health check is a comprehensive 300 point status survey for your car, not just limited to mechanical components but also interior fittings and trim. This health check is structured like an MOT but in much more detail, performed in our service bay, on the ramps and out on the open road, where the car will be driven by experts with real experience of how it should be performing.
Once the check is complete you'll sit down with Bruce Greetham to discuss the findings, go over the observations and make a forward plan to take the next steps in your classic Mercedes-Benz experience.
A health check is perfect for customers who have recently purchased an SL, or long term custodians beginning to think about a restoration. Contact us to book your health check now.
Contact
Why do I need it?
Finding the source of an engine problem can be frustrating – you might have replaced a component only for another related issue to emerge. An Engine Health Check is designed to mitigate these situations, giving a comprehensive picture of the overall health of an engine. It looks at every aspect of the running condition of your car, considering more than 30 different items. With an old car, it is always best to consider the engine as a whole. This gives the best chance of pinpointing an issue without creating further problems elsewhere in the engine in the natural process of diagnosing faults.
What does it do for the car?
An engine health check gives a comprehensive picture of engine health, allowing you to form a plan of action to improve the performance of your SL.
What does it do for me?
Chasing illusive misfires, leaks, wobbles and squeaks results in frustration and confusion, not to mention wastes time and money. By performing a complete engine health check you will be provided with the best possible information on the health of your engine, from top to bottom. Once those areas are addressed your SL should perform to the best of its ability, giving you more time on the road and less time on the ramp.
Health Check
SLSHOP's Sam Bailey explains what an SLSHOP Health Check is all about, what it achieves and what areas it covers. Does your SL need a health check?
Why Choose SLSHOP?
As the World's leading SL specialist more than 10,000 SLs have passed through our workshops and showroom. The level of knowledge possessed by our technical department is unsurpassed, and with our service team living and breathing on the sharp edge of the market, there can be no better place to go for advice and guidance for you and your SL.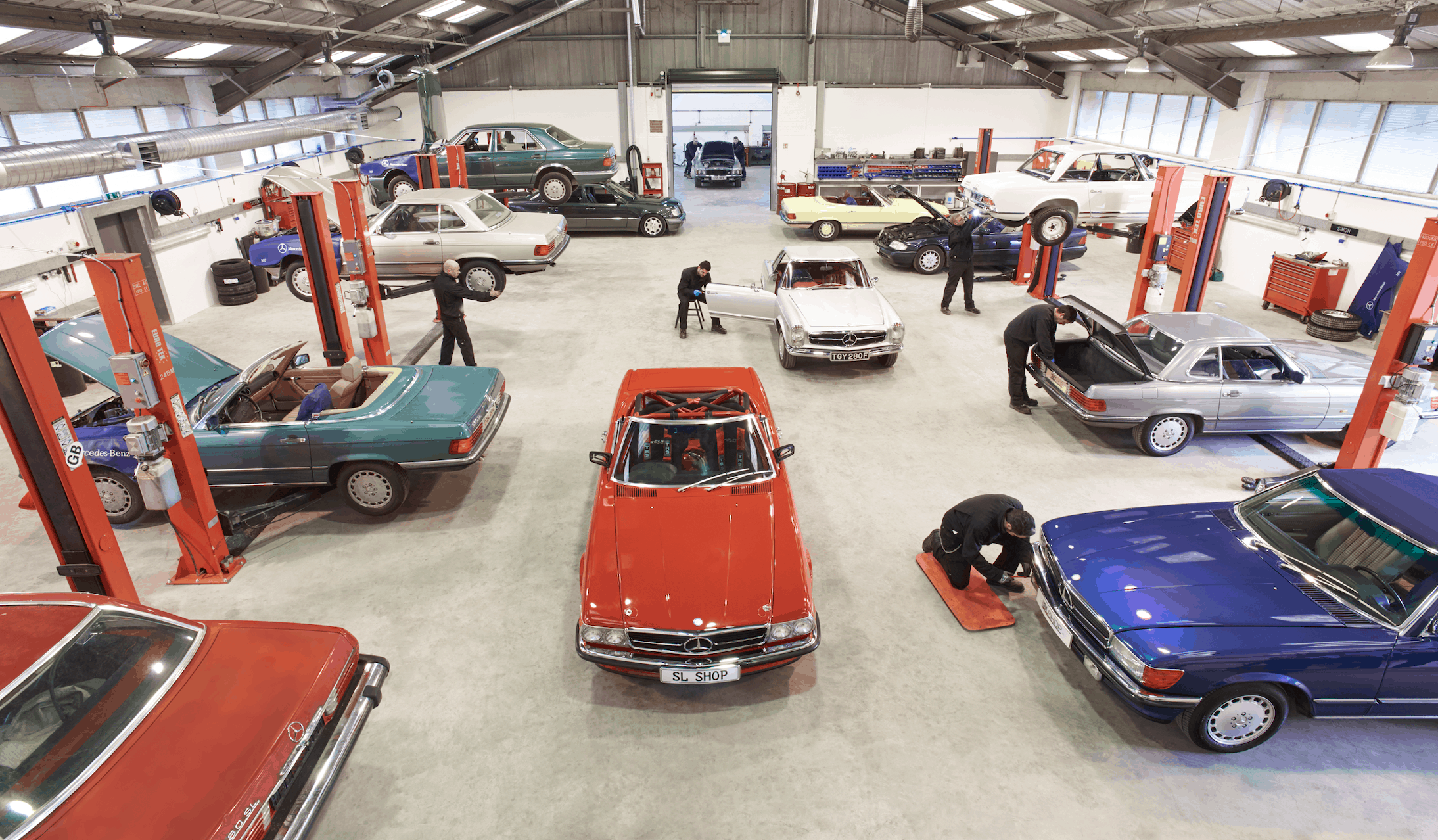 Fabrication Tour
A classic car is more than just metal, it's the key to a whole world of experience. Journeys short and long, average and epic become so much more of an adventure in the right classic car.
At the SLSHOP, our business is grounded in caring for the needs of classic Mercedes-Benz owners.
Take the time to browse through our services, take a look at what we can offer.
Workshop Life
Keep your Classic Mercedes – Benz running like the day it left the factory.
Sign up here for our "workshop life" updates as well as hints and tips.
Increase the value it brings you
For every SL owner we have met, the key aspect in ownership and running these amazing motorcars is ensuring that this prized possession remains a joy to use whenever, wherever and however; protecting and increasing its value over time.
As the World's largest specialist in classic SL's we have drawn upon our experience with our customers, with hundreds of cars and thousands of hours behind the wheel and under the ramp to develop CARE; a way of engaging a community of owners and protecting the value of their investments as well as enhancing their cars condition, reliability and desirability.