The three generations of SL that we work with all have their own traits and characteristics. Whether it's a wheel wobble, a bouncy bump stop, heaters or cruise control that won't work or any other SL symptom when it comes to Mercedes Diagnostics we have the team and the tools to find the fault.
Diagnosing problems with an older car is much more of an art than just plugging it into a computer. It is our wealth of experience with all types of SL that make the SLSHOP the place to go for servicing and restoration of your SL. We have built exceptional, show winning cars and driven enough stupendously bad ones to know everything there is to know about these wonderful old machines.
Contact
As the SLSHOP is a 'one stop shop', there is nothing that can't be done for your by our team, but we know that not every customer wants (or needs) a complete nut and bolt restoration. Just as no two cars at the same, no two customers are the same, and we understand that your enjoyment of the car is paramount.
Although we do offer a Health Check, we don't sell our service packages from a menu. We much prefer to get to know you and your car, to listen to your desires and agree a work schedule together – whether that's an oil and filter change or a complete rebuild from the ground up.
Why the SLSHOP
The combined experience of our team, working under Bruce Greetham's watchful eye, makes the SLSHOP the only place to service and restore your SL. Our work with the SL is internationally recognised, giving us a truly worldwide customer base. We may be best known for the R107 SL, W113 Pagoda and R129, but the shared technology and underpinnings of these cars makes us the ideal location to care for all manner of classic Mercedes-Benz cars. We know our customers automotive interests stretch far and wide, and many SL customers now bring other Stuttgart built models to the SLSHOP for restorative work.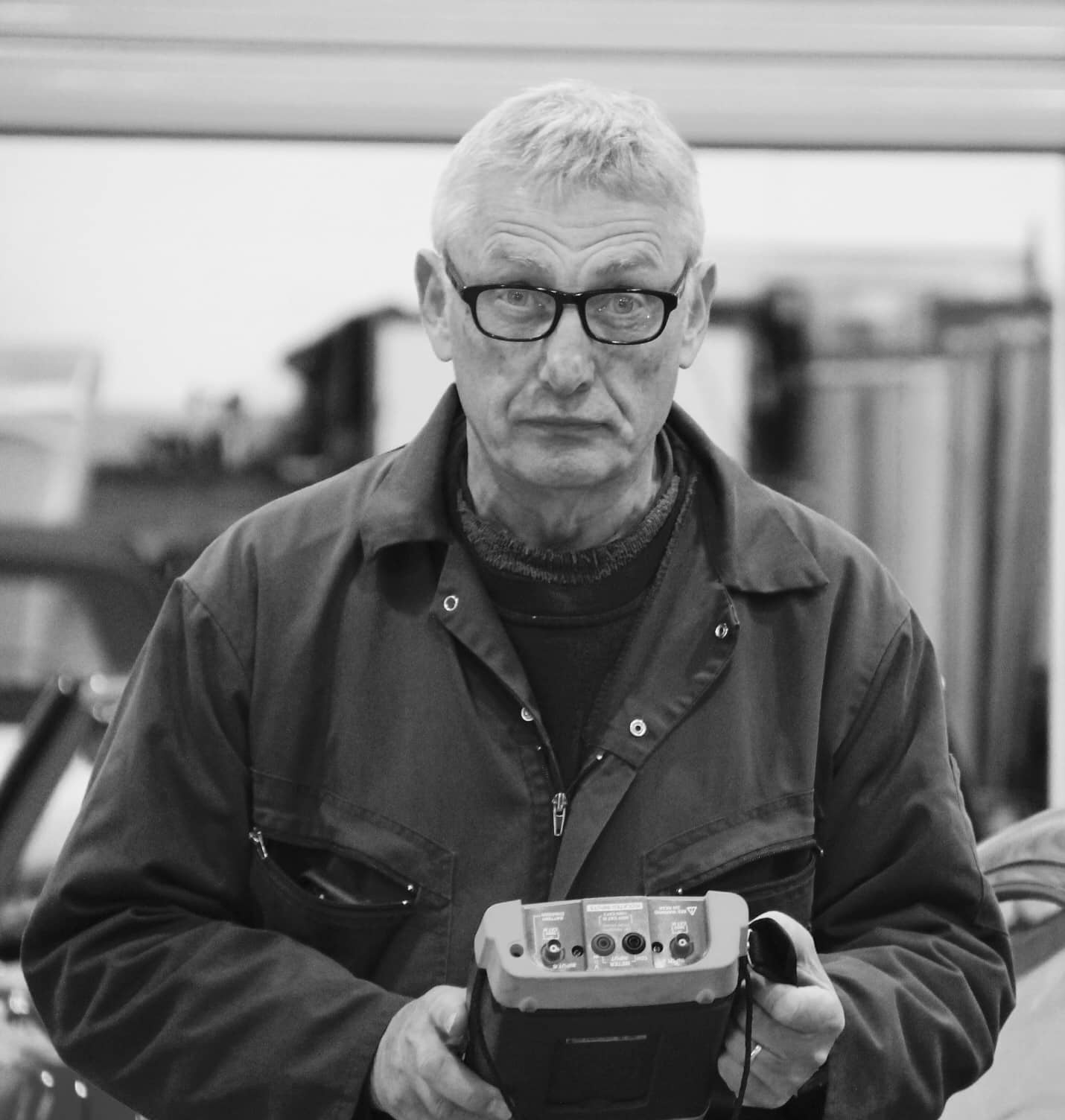 Doctor Tony
You know you're dealing with a Mercedes-Benz expert when he arrives in an immaculate W124 Estate… Meet Tony, AKA Doctor Tony, AKA The Merc Doctor. Tony is our resident electronics expert, a whizz with all things classic Benz and a well known name within Mercedes-Benz circles. We have worked with Doctor Tony for many years, the experience and expertise that Tony brings to the SLSHOP is invaluable, and when he's successfully diagnosed that confusing electronic gremlin in your car, we're sure you'll agree!
Workshop Tour
For almost a decade our team have carved a path through the classic car industry, becoming the world's leading R107 SL expert. Our approach to these cars, and our knowledge and experienced is unrivalled in the industry. With such a breadth of knowledge and passion, it's no surprise that R107 clients began to ask us to work on other Mercedes-Benz vehicles.
Take a digital walk through the workshop see the work we do here
Workshop Life
Keep your Classic Mercedes – Benz running like the day it left the factory.
Sign up here for our "workshop life" updates as well as hints and tips.
THE ULTIMATE CERTIFIED SERVICING INVESTMENT PLAN
Your ownership journey matters to us, which is why we have created a simple certified servicing investment plan, tailored to your individual needs and aspirations.
Start investing today and our dedicated CARE team will work with you to increase the value and enjoyment you receive from your vehicle.