SLSHOPS: Complete Structural Check
Our Complete Structural Check combines the Bulkhead Check with the Underbody Check, giving a comprehensive picture of the condition of all metalwork beneath and inside your SL.
Contact
Why do I need it?
The structural underpinnings of your car and the condition thereof are imperative to the safety of your SL, as well as the value. Understanding the condition of your car underneath is vital, whether your car is to be shown, used or sold.
What does it do for the car?
Our Complete Structural Health Check is designed to give a full report on the integrity of a car, covering the all-important metalwork and mounting points from front to back. The bulkhead is arguably the one area on your car that has the potential to produce the largest bills. Establishing the health of this area or going on to resolve the problem completely creates a good foundation for the future of your car to be built on. A car that presents beautifully can hide a gigantic internal rot problem, and on more than one occasion we have found evidence of poor repair work or blatant attempts to hide an issue. 
What does it do for me?
The structure and bulkhead can quickly become vastly expensive areas to rectify – understanding the extent of the problem before embarking on restoration work is vital when allocating time, resources and finance.
Health Check
SLSHOP's Sam Bailey explains what an SLSHOP Health Check is all about, what it achieves and what areas it covers. Does your SL need a health check?
Why Choose SLSHOP?
As the World's leading SL specialist more than 10,000 SLs have passed through our workshops and showroom. The level of knowledge possessed by our technical department is unsurpassed, and with our service team living and breathing on the sharp edge of the market, there can be no better place to go for advice and guidance for you and your SL.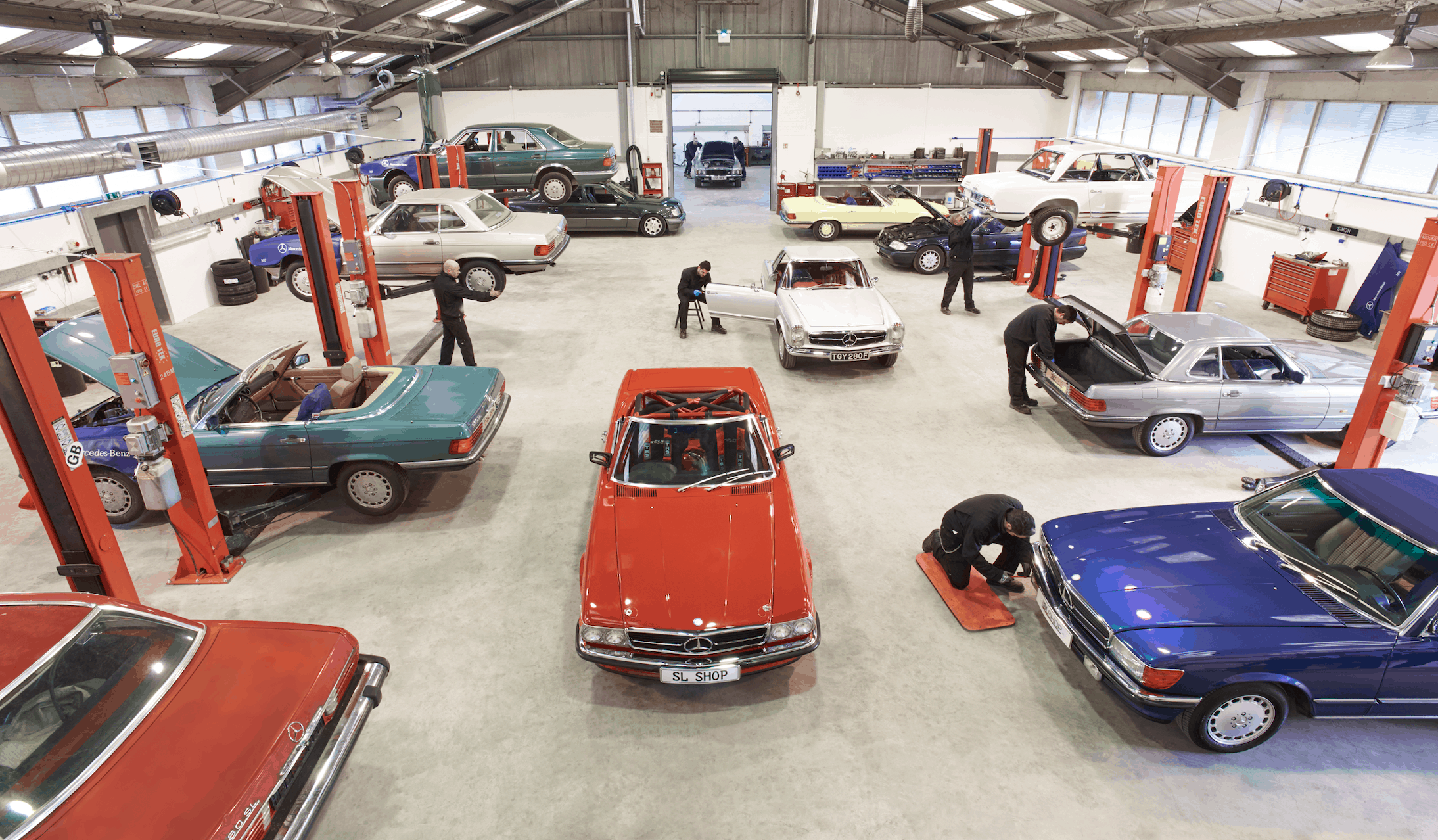 Fabrication Tour
A classic car is more than just metal, it's the key to a whole world of experience. Journeys short and long, average and epic become so much more of an adventure in the right classic car.
At the SLSHOP, our business is grounded in caring for the needs of classic Mercedes-Benz owners.
Take the time to browse through our services, take a look at what we can offer.
Workshop Life
Keep your Classic Mercedes – Benz running like the day it left the factory.
Sign up here for our "workshop life" updates as well as hints and tips.
Increase the value it brings you
For every SL owner we have met, the key aspect in ownership and running these amazing motorcars is ensuring that this prized possession remains a joy to use whenever, wherever and however; protecting and increasing its value over time.
As the World's largest specialist in classic SL's we have drawn upon our experience with our customers, with hundreds of cars and thousands of hours behind the wheel and under the ramp to develop CARE; a way of engaging a community of owners and protecting the value of their investments as well as enhancing their cars condition, reliability and desirability.