2022 SLSHOP OPEN DAYS
SCHEDULE: 10:00am – 15:00pm
– THE SL THROUGH THE AGES –
'The SL Through the ages' display charts the journey of the SL from the fifties up until the modern day.
Over 60 superb cars are currently available, spanning four generations of SL and other hand-picked Mercedes rarities. Find Bruce, Sam or Francis to discuss details on a specific car. Feel free to take a copy of our showroom stock list detailing stock numbers and prices.
WORKSHOPS: OUR PROJECTS AND SERVICES
Our expert technicians will be available to talk about several SportLine Rally and Pagoda projects we are currently working on. Our Modern Classic experts will also be available to talk to owners with more modern Mercedes models.
ENGINE RESTORATION:
Speak to our engine experts and learn how we transform a dilapidated and old W113 Pagoda engine into an as-new unit. We promise you won't be disappointed.
SLSHOP PARTS STORE:
Speak to Tom and his team about our range of Mercedes-Benz parts and get 10% off any orders placed on the day. The team will also be demonstrating how to fit accessories to your SL.
DETAILING AND VALETING:
Our expert team of detailers will be showing you how to transform your vehicle's exterior and interior with a range of Autoglym products.
Building on the success of our #SLSHOP50 event, the 2022 Open Days will be even more engaging and on a larger scale.
Based at our Stratford Upon Avon HQ, it is a chance to see the inner workings of SLSHOP in a relaxed and informal way. We have a full schedule of things to do and see; with refreshments and food available throughout the day.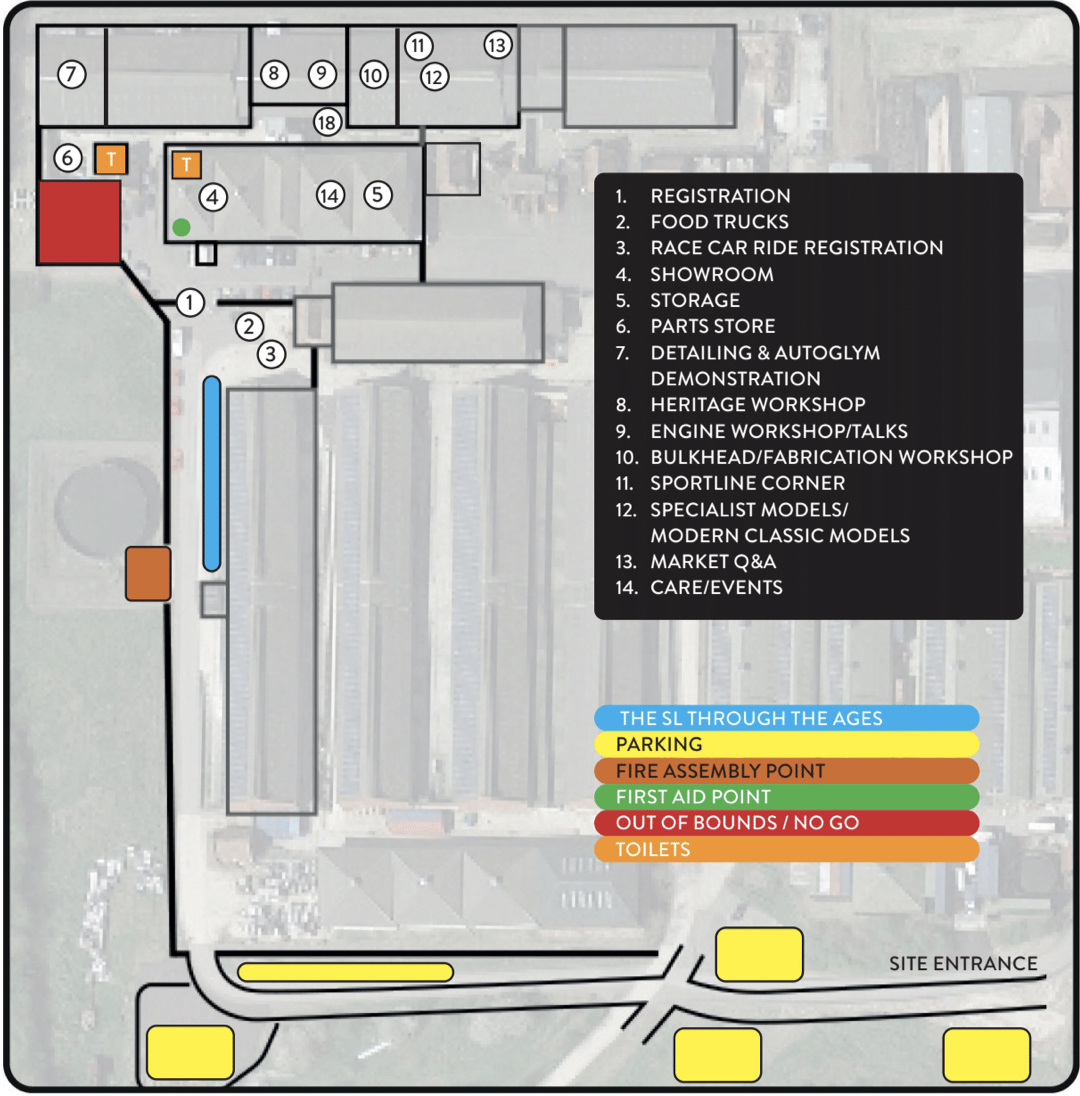 MORE TO DO:
RACE CAR RIDES: (FROM 11:00AM)
Put your name down for a ride in one of our two race cars. We promise you won't be disappointed. You'll be hurtled along our private driveway with one of our expert drivers at the wheel.
SL MARKET Q&A: (14:30pm – 15:00pm) 
We're hosting an optional market review Q&A at 2.30pm in the Special Projects workshop to discuss current trends and more. Bruce and Sam will be on hand to answer any of your questions at this time. We'll aim to cover all models to give you an insight into current and future trends.
EVENTS TEAM: (ALL DAY)
Speak to our events team to hear more about our upcoming UK based tours, as well as our exciting membership and CARE plans. We'll also be offering pre-registration for our 2023 Pagoda 60th Anniversary Tour to Stuttgart.
STORAGE: 
Our storage facility is open for viewing, but in the interests of client discretion, do not go beyond the rope or take photos.
 AWARDS:
The Grand Tourer Award:
We'll be giving a gift to the party that has travelled furthest and embodies our spirit to #DriveMore, #DoMore and #SeeMore. Just let us know where you've come from upon registration.
Best Photo of the Day:
Happy snappers! The best photo taken that captures the spirit of the day will be given an award. Make sure you tag #SLSHOP so we can find your photo on social media… The winner will be notified after the event and posted their prize.
All era of Mercedes cars are welcome and we look forward to meeting you!
TESTIMONIALS FROM THE TRIBE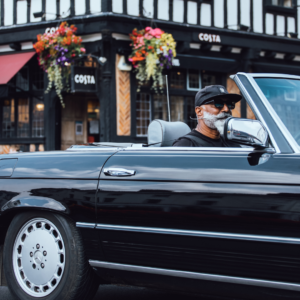 "Just wanted to thank the entire SLSHOP team for putting on a wonderful 50th anniversary event at your premises & at Brooklands. You guys worked your 'socks off'…Stuttgart would have been proud. The UK effort was fabulous."
Nev Sahota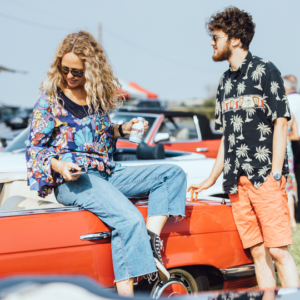 "Thank you all for a really incredible day. I was amazed to be the only woman driving! My R107 was my father's from new. Picked it up from the Stuttgart factory 1971. My son restored it with my husband and I during lockdown. It was hard work!  My parents were married in that car. I was married in that car. It is truly special."
Wiz Kelly
Open Day
On November 16th our SLSHOP Open Day took place, the first public open day since the SLSHOP moved to new premises. After a terrible five week run of weather, it was clear that the weather gods have a soft spot for the SL. Our day started under glorious skies, with uncharacteristic winter sunshine and warmth.
Don't Miss Out
Got the urge to join the fun with your classic SL? Want to come racing?
Join the community and be the first to hear about our exciting schedule of events and offers.
[mc4wp_form id="1053"]