In our position as World's leading classic Mercedes-Benz SL specialist, we get our fair share of interesting offers and propositions. If we bought every single classic car or part that appeared in the various inboxes throughout the business, there wouldn't be space to move! With showroom slots at a premium and an already well established parts department, it takes a pretty exceptional car or offer to persuade our management team to bite…
At the tail end of 2019 we concluded one of our largest acquisitions to date, the origins of which lie in a chance enquiry submitted through our online contact pages.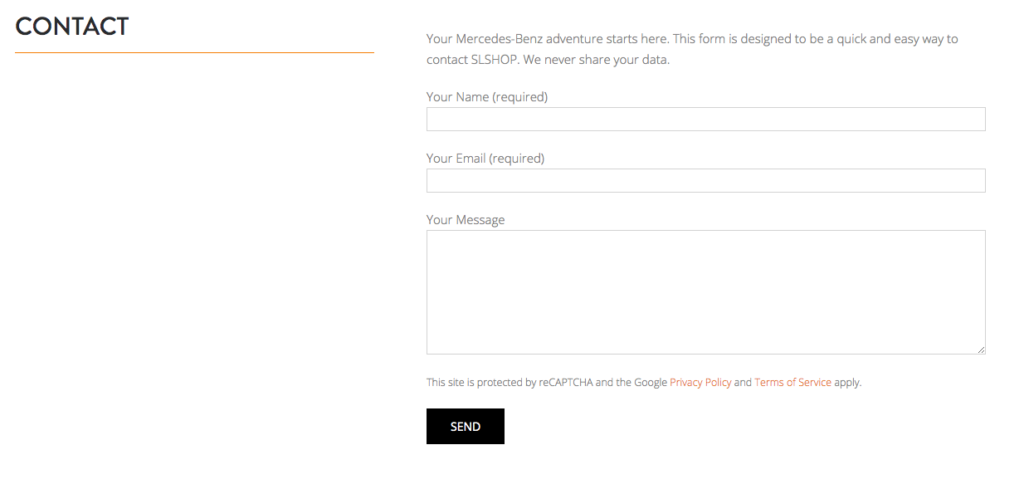 An unassuming email presented itself for examination, with the parts team expecting to type out yet another 'thanks but no thanks' reply, but this enquiry seemed a little different.
At the other end of the internet was a Dutchman, offering not one car but an entire parts business, built over many decades. Paul and Jack in the parts team are both highly experienced classic Mercedes-Benz parts experts, and have seen their fair share of job lot parts sales enquiries. Expecting another ream of scrapyard photos and rusty parts, the pair were astonished with what they saw. The proof was in the photos that followed the initial email… this was a once in a lifetime parts haul.
A reconnaissance trip to Holland was arranged to review the collection, with the understanding that it was an all or nothing transaction.
After more than 35 years restoring W113 Pagodas the business owner retired, needing a new custodian for a lifetime of collecting. Pagoda Maas had close ties to Stuttgart and was decorated with a number of awards bestowed upon the business by Mercedes-Benz themselves. Through the many years in business the owner's goal was to accumulate 'one car worth of everything'. Upon inspecting the parts it was clear this aim was more than achieved – in some cases there were dozens of cars worth of product.
The team returned to England and after many meetings, numerous emails and a few phone calls the deal was agreed. A date was set and four articulated lorries were arranged.
On a cold January morning the lorries returned to SLSHOP. The team then set about the meticulous cataloguing and recording of each part, giving it a new home on the purpose built shelving bought especially for the 'Holland haul'.
Parts were discovered in this haul that even SLSHOP staff are seeing for the first time – parts that aren't usually found in any condition, parts that normally result in a lengthy wait while originals are sourced and refurbished. Primarily made up of Pagoda components, some of the rarest clips, clamps and fixings are present, as well as 'new in box' engine and gearbox parts, complete body parts, 'new in bag' wiring looms, boxed Pagoda bonnets, refurbished fuel pumps and interior pieces in almost every original colour.
It's hard to understate the excitement that was felt when unloading these parts, time-warp finds that the parts sales team and restoration department are going to be fighting over for months!
For the W113 Pagoda enthusiast, collector and restorer this is a significant find:
"We are proud to be the company to bring these products to market" stated Sam Bailey, SLSHOP Managing Director "This project has been months in the making. Our position in the market, our Google ranking, the knowledge of our team, our ability to move quickly and create space have all contributed to this incredible addition to our parts operation. The first parts are already available for customers, and our workshops and restoration team are already seeing the benefit of the parts that have been found. This is a great result for SLSHOP and for the Pagoda community alike"
All of the parts are gradually being listed for sale on the SLSHOP Parts Store.
Increase the value it brings you
For every SL owner we have met, the key aspect in ownership and running these amazing motorcars is ensuring that this prized possession remains a joy to use whenever, wherever and however; protecting and increasing its value over time.
As the World's largest specialist in classic SL's we have drawn upon our experience with our customers, with hundreds of cars and thousands of hours behind the wheel and under the ramp to develop CARE; a way of engaging a community of owners and protecting the value of their investments as well as enhancing their cars condition, reliability and desirability.
Be the First to Know
We don't mind whether you are in the market for one of our awesome cars or just interested in seeing whats new and whats going on in the market. Pop your details in here to receive updates on all thats "hot" in the showroom.