Autumn Market Review with Sam Bailey, Managing Director at SLSHOP
In this special edition of the Market Review, we are concentrating purely on the Pagoda – the W113 SL of 1963 to 1971.
During our day to day conversations, the inevitable market question arises, often not without a hint of trepidation… and how are sales…? and how is the market…
Or words to that effect; often with a raised eyebrow, and emphasis on the 'is' or 'are'.
The expectation that the market is slowing, or has slowed, seems to have trickled through the press and into the collective consciousness of the classic car world. We really need to set the record straight!
Brexit and politics, though we may all be thoroughly bored and largely bemused by both subjects; seem to have so far achieved the net effect of dampening the national spirit, but not the national appetite for fine classic cars – or at least not in our corner of the market.
So, if you opened this article expecting more depressed rhetoric, we have to disappoint. Take a deep breath, and reframe the question: 'how is the market?'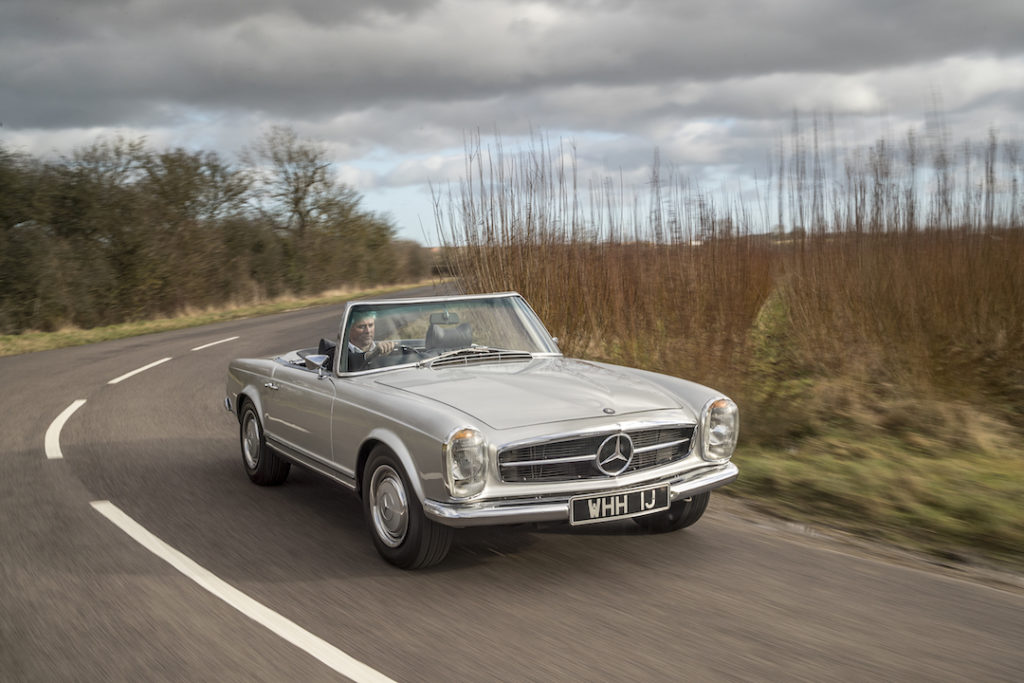 A practical classic
The Mercedes-Benz Pagoda market is vibrant and exciting. Demand for and interest in these cars remains strong, thanks to the versatility of the Pagoda. For decades the three-pointed star which adorns these cars has been revered as an icon of style and status, giving it cross generational appeal for enthusiasts of all ages. We note with Pagoda sales that our customers come from a broad range of the age spectrum, with the youngest yet to reach 40 and the oldest… Well, it would be rude to say any more than retirement was a distant memory!
There are a variety of routes that customers take to get themselves into a Pagoda. For some, it is the first 'proper' classic that they might own. For others, they owned one many years ago and wish to re-live those moments with a high calibre car. What we find interesting is the number of customers who trade into a Pagoda having spent many years with older, vintage vehicles. Compare a Pagoda to an SL 20 years newer and the differences will be stark, but compare a Pagoda with a car from the 1920s, 30s or 40s and it's the epitome of modern, reliable, easy motoring. As roads get busier and motoring interests change, moving to a classic car that's more 'jump in and go' than 'spend the morning getting it ready' is bolstering the enduring appeal of these cars.
Plenty of choice – but choose carefully
Sales of these cars, as with all classics, is driven by the laws of supply and demand – however what has changed is the bar for many people is now significantly higher. We are meeting more and more customers for whom absolute perfection is a necessity.
As the World's leading SL specialist, we have been around these cars for a little while – we know a thing or two about them. As Pagoda values have increased, so have the number of retail operations offering these cars at significant price tags. This is no bad thing, but when a buyer has a choice of six-figure cars for sale on the open market, it's the tiny details that matter. At The SLSHOP, the tiny details have always been crucially important to our Pagoda program. In our line of work we often take in cars that have previously been restored, to refresh certain things or improve small areas. The restoration may have been done at home, many years or even decades ago.
What we have found with the Pagoda is an increase in cars arriving at The SLSHOP that have been subject to very recent restorations elsewhere, where the customer hasn't been satisfied with the end result or the restorer wasn't able to complete the car to the desired specification.
It is our ability to complete a car down to the finest detail that drives our success in this sector.
We've mentioned the little details before, but on more than one occasion we've taken a 'restored' car from a customer, applied our knowledge and experience to the chassis, suspension and steering, and presented the customer with what feels like a completely different car. The end result is many smiles, and a sense of regret that they didn't bring it to us in the first place… but all of that goes with the territory. The greatest teacher is experience, but you pay for it with time, and we've put some time into these cars.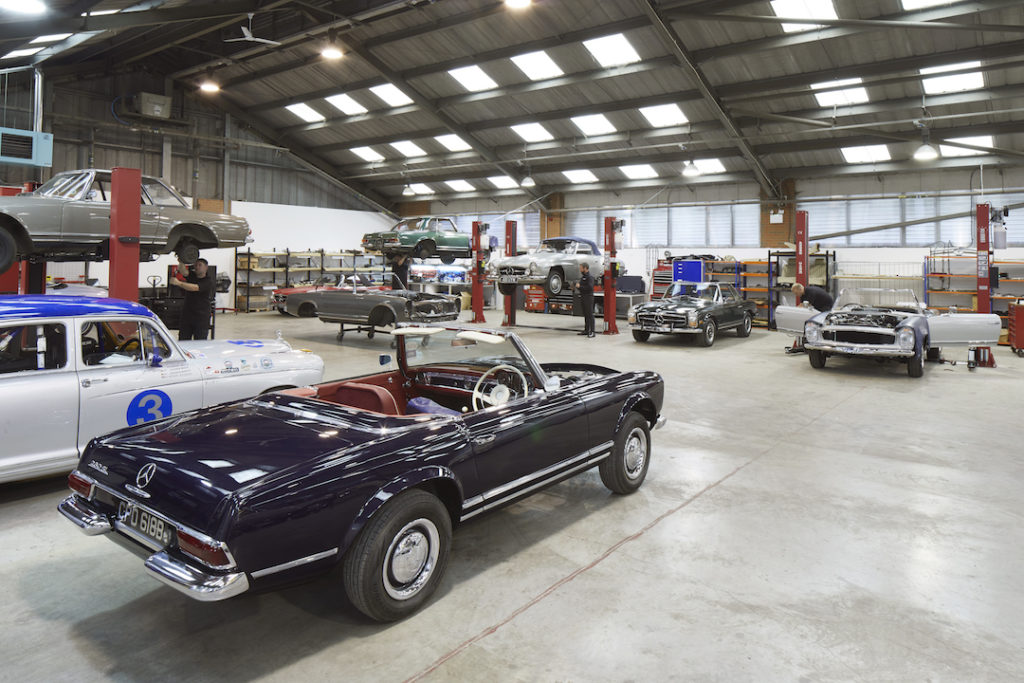 The sum of it's parts
As with other classics, the cost of restoration is driving the price of completed cars. The Mercedes-Benz Pagoda, as we have said before, is akin to a swiss watch – getting it right is time consuming, difficult and expensive. Re-chroming an entire car won't net you much change from £25,000. A complete interior, done right, in the right materials, colours and fitment, is getting on for £5,000… and that's not including the A pillars, deck top, seats and hood. Set up of the chassis and suspension, even after the parts are present and correct, can take many hours of painstaking, delicate work. The old adage is still true – you can buy a car for £40,000 and sell it for £140,000, but it might take a £120,000 restoration to do it!
Originality as a guide, not a rule
When ordering a Pagoda from new, there were many more variations for colour and trim than on the later 107. Exterior paint, interior paint, seats, carpet, headlining, soft top and hard top could all be specified by the customer. This plethora of choice has meant that changing a Pagoda from it's original factory specification has no detrimental effect on the value, so long as original colours and materials are used. Whereas with a 107, originality is everything, the large majority of Pagoda buyers are more interested in finding the right car for them than the right car by the book.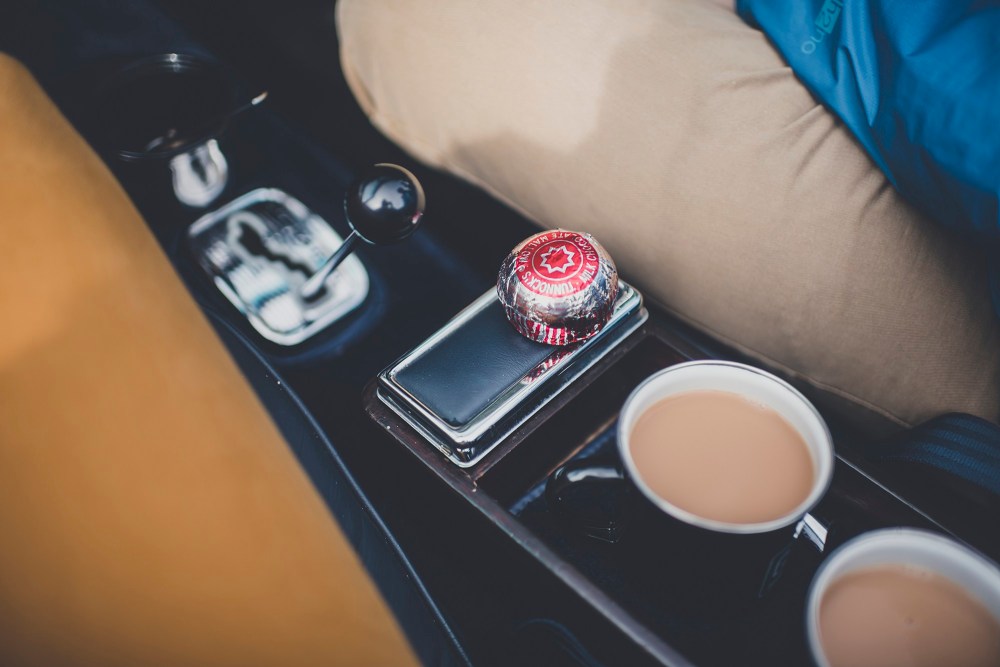 Exceptional cars command a premium
As with all cars, there is a difference between the good, the bad, the ugly and the downright out of this world exceptional – and each these categories comes at a price. With a strong market and increased interest, the last few years have introduced us to many customers who share our vision for perfection. The real difficulty is in demonstrating the difference between a car that looks and drives pretty well, and one that presents itself and goes down the road with the sort of confidence that makes the driver want to push it.
Let's not forget, this is a two seat roadster, so it should behave like one.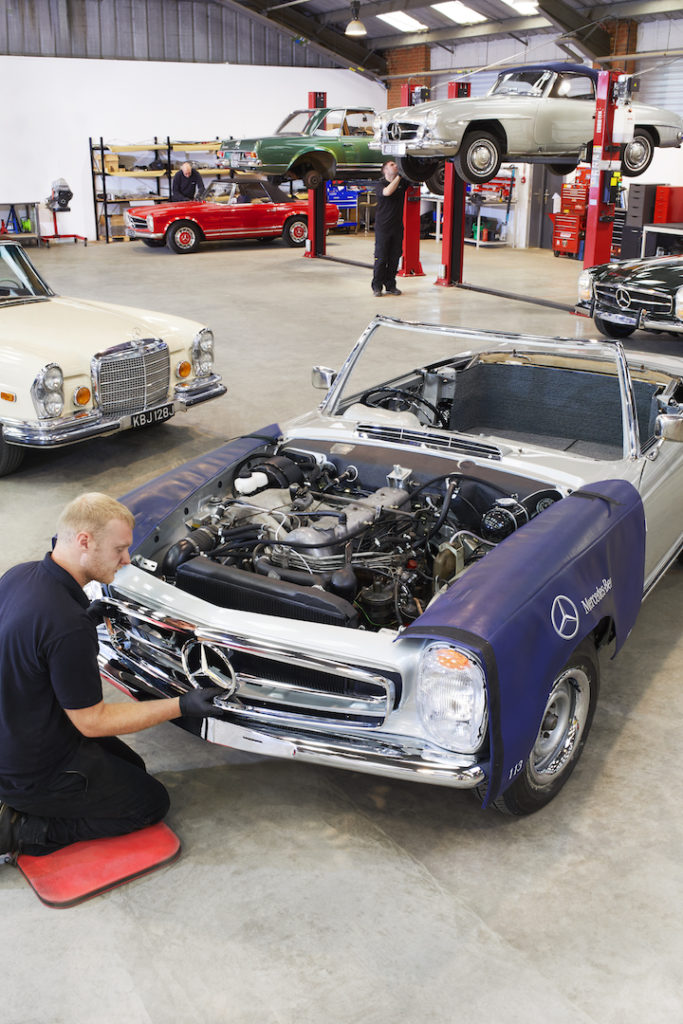 Which one should I buy?
Another question that we hear very often, and another one that's dictated by the market. The most desirable car is still a late 280SL with the rare 5 speed manual gearbox, followed by a 280SL 4-speed manual and then the automatic. Our advice for buying a Pagoda is the same advice we give for buying any classic car. Buy the car you want, in a colour you adore, and the rest will follow. So long as it's a good one, and it suits your budget, expectations and requirements, it will continue to bring you joy whether it's an immaculate, complete car or something we can improve with you over the coming months and years. The key is that you have to love it, to want to drive it and to enjoy it.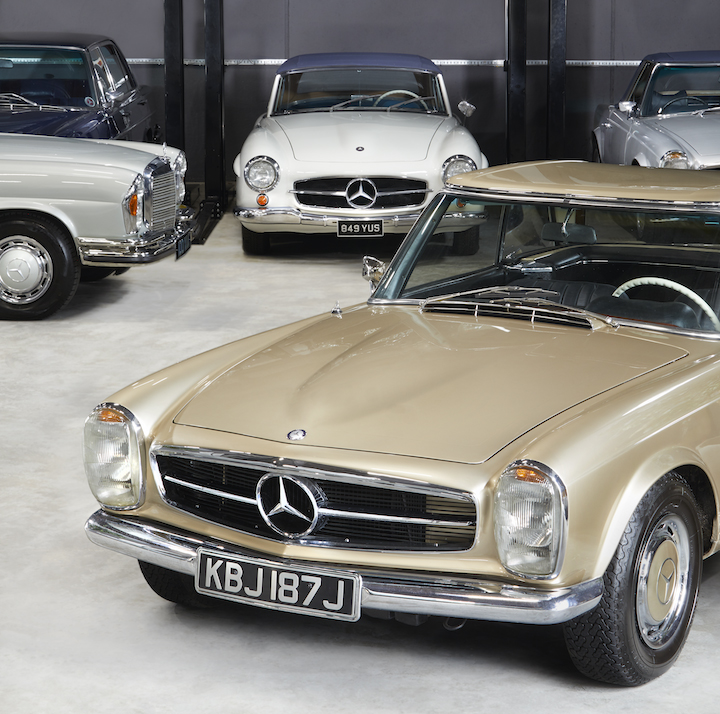 Reassuringly Expensive, Relatively Cheap
Finally, we've got to compare our beloved Mercedes-Benz to it's long term arch rival the Jaguar. In the current market, a supreme E Type is likely to be pushing towards, or even past, the £200,000 mark. Considering when the Pagoda was introduced it was significantly more expensive than the Jaguar, and just 48,912 were built compared to the Big Cat's 70,000+ cars, so long as the Pagoda is cheaper than the E Type then it remains a superbly valued classic car.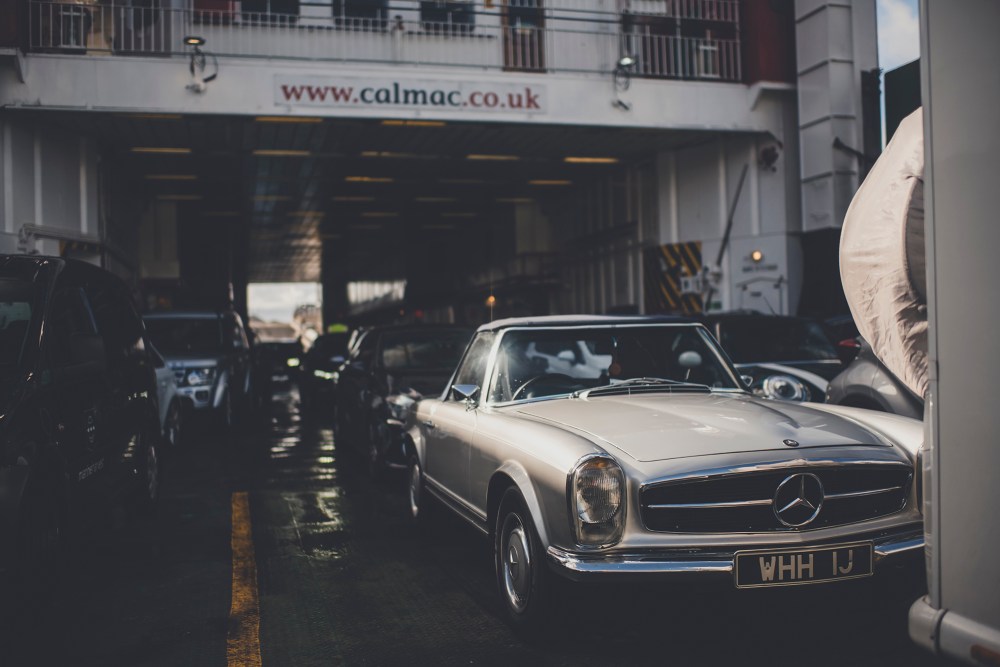 Enjoy it, and the Le Mans Test
One of the key aspects driving current classic car trends is what we call the Le Mans test. Choose a classic (any classic) and ask yourself, would you drive it to Le Mans, tomorrow, from the UK? Would you embark on a significant, long distance trip, and would it be endured or enjoyed?
The practicality and relative usability of the Pagoda insulates it from the uncertainty of market forces, where other classics might falter. Regardless of value, regardless of sale price, what you have with a Pagoda is an utterly attractive, entirely beautiful, universally adored piece of automotive artwork that can get you from A to B comfortably and with style.
Our conclusion, for those looking to buy a Pagoda and those that already have… is to enjoy it, no matter which grade of car you choose, we are keen to help you get it right.
Thanks for reading, we hope to see you soon.
Browse our current stock here.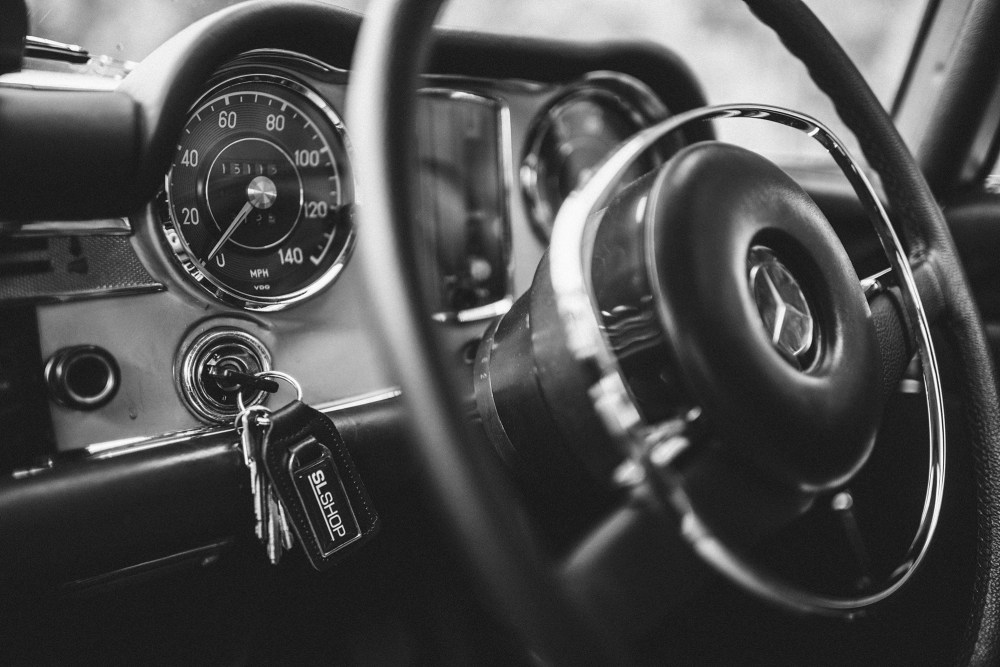 Increase the value it brings you
For every SL owner we have met, the key aspect in ownership and running these amazing motorcars is ensuring that this prized possession remains a joy to use whenever, wherever and however; protecting and increasing its value over time.
As the World's largest specialist in classic SL's we have drawn upon our experience with our customers, with hundreds of cars and thousands of hours behind the wheel and under the ramp to develop CARE; a way of engaging a community of owners and protecting the value of their investments as well as enhancing their cars condition, reliability and desirability.
Be the First to Know
We don't mind whether you are in the market for one of our awesome cars or just interested in seeing whats new and whats going on in the market. Pop your details in here to receive updates on all thats "hot" in the showroom.