Graham Laing decided to retire 10 years earlier than planned to enjoy an epic driving tour with his SLC. The plan, inspired by conversations with his Father, was to drive the SLC from the southern most tip of mainland Europe in Spain to the northernmost tip of mainland Europe in Norway.
When he told his children, they said 'you should write a blog about it'… So that's exactly what Graham is doing. Graham approached the SLSHOP and asked whether we would be interested in hosting his work, and we were only too happy to share his story. The SLCenic Route was born!
In this episode Graham takes his SLC (and a whole load of golf clubs) to Ireland
The SLCenic Route
Episode 2 – Scotland and Ireland
What is the best way to cover a 2000 mile round trip from Kent to see family in Scotland with a jaunt over to Ireland for a golfing holiday with family and friends? With an SLC, what else!
I've had my 1973 SLC for 4 years and with many thousands of comfortable, reliable miles under my belt, taking the ferry rather than flying to Ireland seemed like an interesting option.
The 500 miles from Kent to Scotland over M25, M40, M6, M74 motorway miles, followed by more motorway miles and then … more motorway miles went, as usual, trouble free. Luckily the SLC just eats long distance motorway drives and it shows Mercedes knew how to make a comfortable car a long time ago!
The drive to Ireland was with my big brother, one of the few people who I let drive my pride and joy. The SLC easily swallowed our luggage and 5 sets of golf clubs, our own 2 sets and 3 sets of our friends who were flying over. Strangely, or maybe not if you know it is Ryan air, it costs more to fly a bag of clubs to Ireland than it does to fly a person.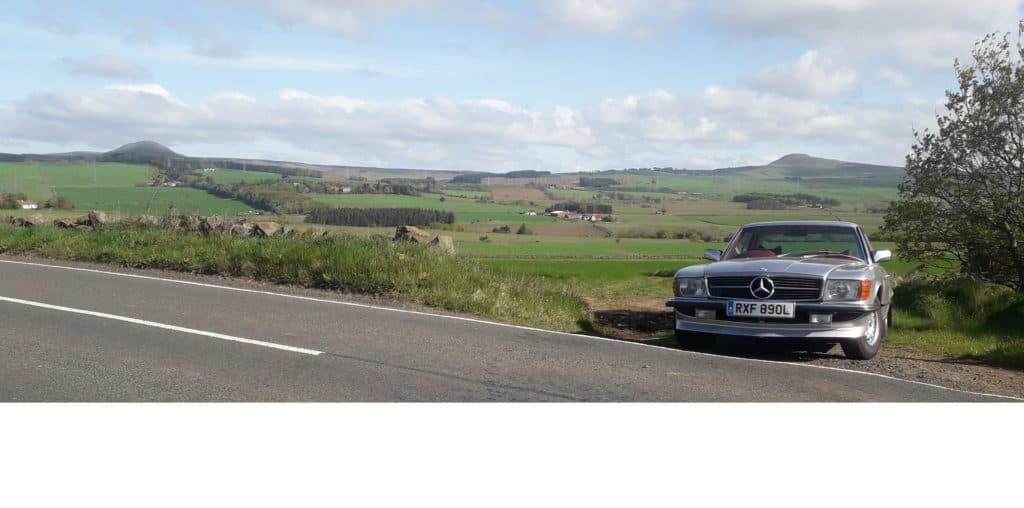 The blast from Fife down to the Cairnryan ferry terminal on the southwest coast on a quiet but wet Saturday morning showed just how capable the SLC is on all road types, especially when the arrival time slot is not to be missed. As anybody who has driven to that ferry will tell you, the last 50 miles of twisty A roads can be frustrating when stuck behind a lorry trundling along. With plenty of power, great brakes and predictable handling, the SLC got us there with plenty of time to spare. A word of warning for those catching the ferry, stop for a toilet break before you enter the sloooooow queue to get your documents checked. You are trapped in a one-way system with no access to toilets or a way of escaping. Was a very close call, especially with the rain gently, persistently reminding you of your desperation.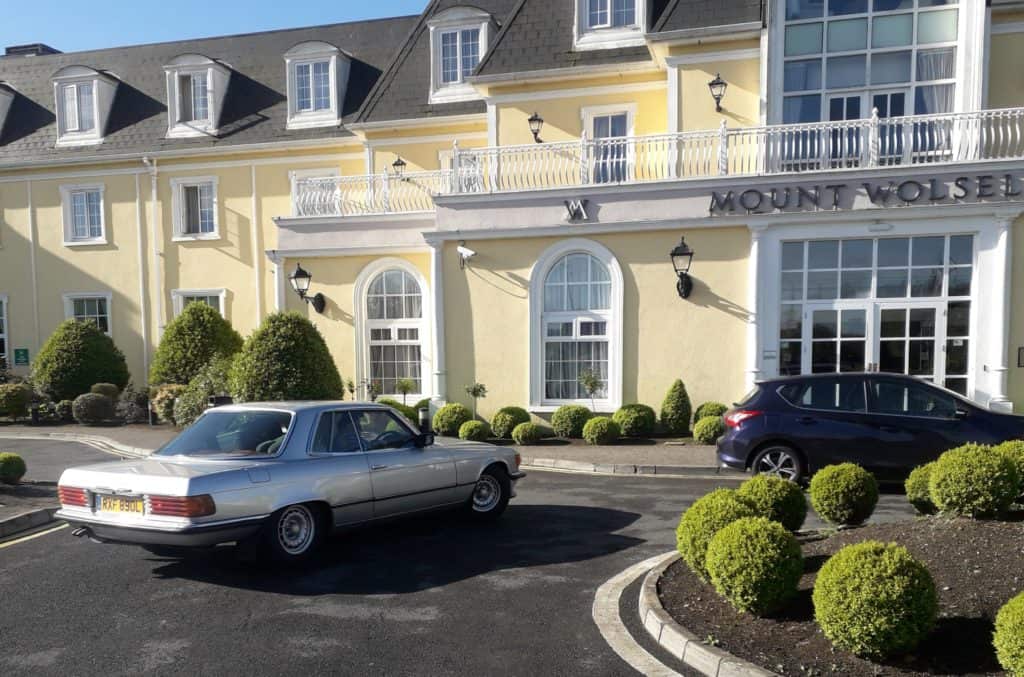 Ireland is great. I could sum the trip in 3 words. Green, friendly and smooth.
It's amazing how beautifully green Mother Nature makes the countryside when it is given plenty of rain and warm sunshine.
As anyone who has been to Ireland will tell you, they are a friendly bunch of people, after working in London it is joy. We had many laughs and it took away the pain of hitting little white golf balls in the wrong direction.
Smooth, no not the Guinness, it's the roads. Amazing. Either the leprechauns fix all the potholes, or we need more Irish workmen and better management over in the UK to sort the roads. Driving was so much more pleasurable, you can cruise along without having to play the endless tiring game of miss the pothole. I'll try not to rant anymore about building and fixing roads properly rather than doing things on the cheap knowing you will be doing it again next year. Grrrr
The drive from Belfast to the Mount Wolseley golf resort in Tullow, 60 miles south west of Dublin was beautiful, the SLC eating up the miles. Even the brother who is more used too much more modern and expensive machinery was very impressed by the comfort, quality and ability of a 46 year old car to make driving so enjoyable. Flying would have been a wee bit quicker, but not much once you factor in getting to airport 2 hours before flying and sorting out a rental car at the other end. Plus the ferry was much less stress, especially if you've been watching EasyJets "Inside the Cockpit" documentary!
Four days of golf, refreshments and friends went far too quickly, but at least we got to look forward to a sunny days drive back home to Scotland. It was a beautiful calm day as can be seen from the picture of Ailsa Craig with the Firth of Clyde a rare calm mill pond.
A few more days in Scotland with the family, Mums wonderful cooking and a drive or 2 round the roads of my youth, before another motorway trip back down to Kent. Driving regularly between Kent and Scotland, there are a number of different routes I take. This time, it was one of the east coast routes allowing me to stop off to pay respects at the grave of perhaps the greatest F1 driver of them all, the great Jim Clark.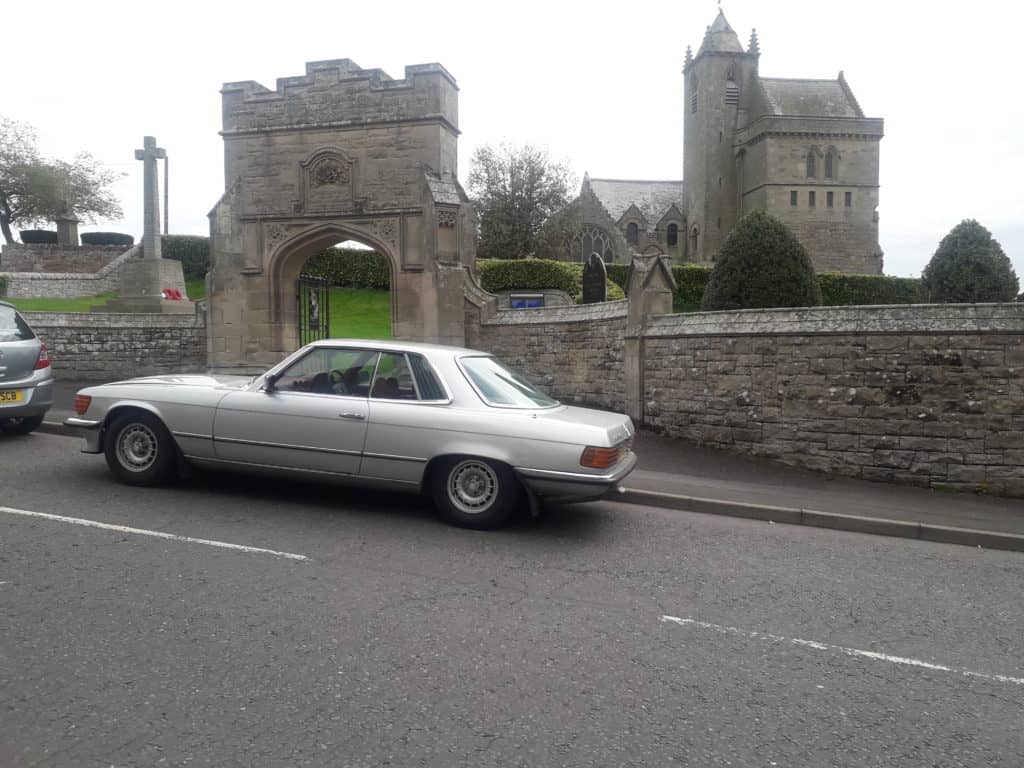 Increase the value it brings you
For every SL owner we have met, the key aspect in ownership and running these amazing motorcars is ensuring that this prized possession remains a joy to use whenever, wherever and however; protecting and increasing its value over time.
As the World's largest specialist in classic SL's we have drawn upon our experience with our customers, with hundreds of cars and thousands of hours behind the wheel and under the ramp to develop CARE; a way of engaging a community of owners and protecting the value of their investments as well as enhancing their cars condition, reliability and desirability.
Be the First to Know
We don't mind whether you are in the market for one of our awesome cars or just interested in seeing whats new and whats going on in the market. Pop your details in here to receive updates on all thats "hot" in the showroom.