Graham Laing decided to retire 10 years earlier than planned to enjoy an epic driving tour with his SLC. The plan, inspired by conversations with his Father, was to drive the SLC from the southern most tip of mainland Europe in Spain to the northernmost tip of mainland Europe in Norway.
When he told his children, they said 'you should write a blog about it'… So that's exactly what Graham is doing. Graham approached the SLSHOP and asked whether we would be interested in hosting his work, and we were only too happy to share his story. The SLCenic Route was born!
In this episode Graham explains the background to the trip and why he chose his unique SLC.
The SLCenic Route
Episode 1 – Why an SLC?
Punta de Tarifa to Nordkapp. This was on my Dads wish list and we talked about it a couple of times many many years ago. Unfortunately he never had the time or the right vehicle to do it before Alzheimers kicked in. The basic idea was to drive from the southern most point of mainland Europe (southern Spain) to the northern most point of mainland Europe (northern Norway).
Luckily I now have the time and the car to do the trip and as with most things, once you start thinking and planning, it expands slightly. Over the years, I've made friends with a few people dotted around Europe and there are few interesting places on the way that I would also like to visit, so it seemed sensible (that may come back to haunt me later) to join all the dots together and do one mega trip.
So, the car. 4 years ago I was thinking, as usual, about my next car and with the kids growing up, for once I could get something desirable rather than the normal boring plastic boxes. The requirements needed of the car were fairly straightforward, something that can take me and my 3 kids, reliable enough to do regular 1000 mile round trips up to Scotland and back but also would be happy to do the donkey work of school runs, shopping trips and commuting round the car park that is the M25. There was only one choice, a Merc SLC.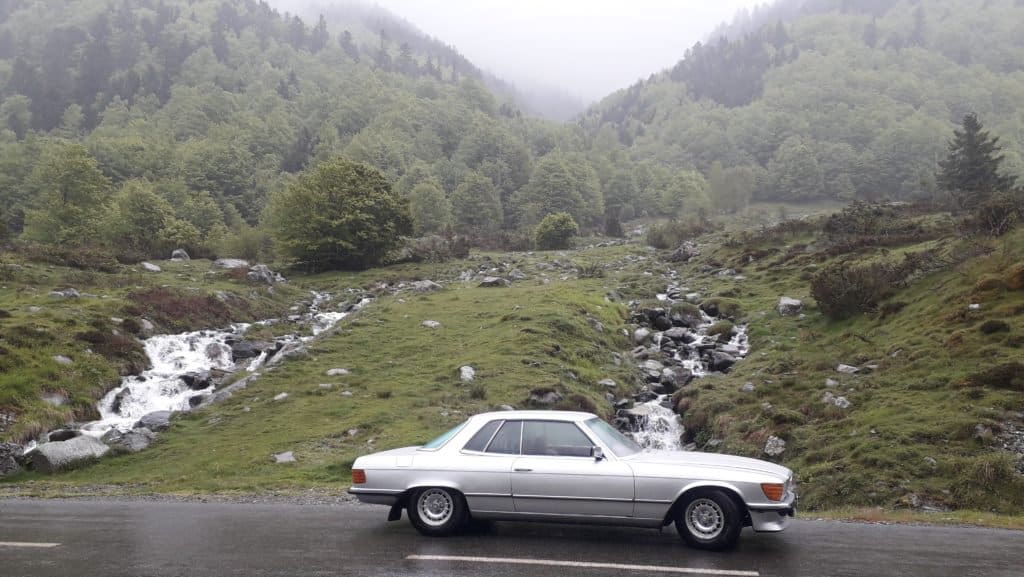 The Mercedes-Benz C107 SLC is not exactly the most common car but after reading all I could about them on SLSHOP website it was just a case of waiting until the right one came up and checking for its few known faults. A 1973 SLC with manual gearbox at a reasonable price looked perfect, other than an interior where everything was red and looked very gaudy in the pictures. The car was in Scotland so I took my brother along as an extra pair of eyes. After 5 minutes looking over the car, my brother leaned over to me, put his hand on my shoulder and whispered gently in my ear, "If you change anything on that interior I'll kill you". Luckily, as he is not just a big brother in age, I had already come to the same conclusion. How could something that is so fantastic in real life look so bad in a picture? Anyway, the car was bought and now 4 years and 30,000 miles later it has been nothing but perfect. Regular servicing and replacement of 3 small bits of plastic/rubber that had deteriorated in 46 years has led to the best trouble free motoring of my life and the happy realisation that I'll never buy another car.
When telling my kids about retiring 10 years early and going on this wee excursion, they said I should write a blog about it. I'm sure they were just interested in how I was getting on, rather than knowing that their father was many miles away, definitely wouldn't be home for at least a few days and they had the house to themselves!
Asking SLSHOP [to host the blog] was a no-brainer; I had already dealt with SLSHOP a couple of times for parts and talked to them at a couple of car shows. Their helpfulness, enthusiasm and knowledge of these cars was obvious each time and as I said earlier the information on their website was extremely helpful in originally picking out the right car. So, on one of my normal trips, from Kent to Scotland, I dropped in for a chat and, as you can now see, they eagerly agreed to host my inane drivel. Going round their premises in Warwickshire shocked me. It was mid-February and I expected it would be a quiet time of year for them, with mechanics twiddling their thumbs and looking for work to do. I've never seen so many classic SLs in one place, perhaps never seen that many in my whole life! Every one of their dozen or so work bays had a car being worked on with numerous cars waiting in the queue. Truly amazing. I've been in business long enough to know, the only way you can be that busy is to have loyal customers who come back again and again. And you only get that by being good at what you do.
Here's hoping you enjoy reading about my trip. I promised a friend the blog is not going to be about camshafts, McPherson struts and Girling brake pads, but about the scenery, the places and the people I meet.
A number of friends and family have asked the same question about the trip "Are you going on your own?" What they were mostly saying was "Can I come?" My answer was the same for all of them "No, I'm not going on my own, I'm taking the SLC". Wherever I go in it, people often stop me for a chat, which I enjoy.
Last year I did try to learn a language or two, but soon gave that up when I realised I'm rubbish at it and could never learn sufficient. I would have required about 14 different languages for the countries I will be travelling through. Not sure if I'll always cope and there will be times I could do with my friend who is an excellent language teacher, but hopefully technology, smiling and gesturing will get me through.
Increase the value it brings you
For every SL owner we have met, the key aspect in ownership and running these amazing motorcars is ensuring that this prized possession remains a joy to use whenever, wherever and however; protecting and increasing its value over time.
As the World's largest specialist in classic SL's we have drawn upon our experience with our customers, with hundreds of cars and thousands of hours behind the wheel and under the ramp to develop CARE; a way of engaging a community of owners and protecting the value of their investments as well as enhancing their cars condition, reliability and desirability.
Be the First to Know
We don't mind whether you are in the market for one of our awesome cars or just interested in seeing whats new and whats going on in the market. Pop your details in here to receive updates on all thats "hot" in the showroom.