When Lee Downing bought an E-Class coupé five years ago for his everyday transport, he'd never considered buying a Mercedes before. But struck by the car's design and excellent quality throughout, he soon realised that the marque's reputation for building some of the sturdiest cars around was far from hype.
"I ran a Boxster alongside the E-Class, and because I was so impressed by the Mercedes I started to think about replacing the Porsche with an SL" says Lee.
"A quick online browse turned up the SL Shop website and before I knew it I was in their showroom seeing what was on offer. My fate was sealed when Bruce and Sam suggested I try out some cars. There was no form filling or endless checks – they just wanted me to see how good the cars were, knowing I'd quickly be hooked. That's confidence in your product!"
One of the cars Lee tried was a 1986 300SL and it was this car that he chose to replace the Boxster.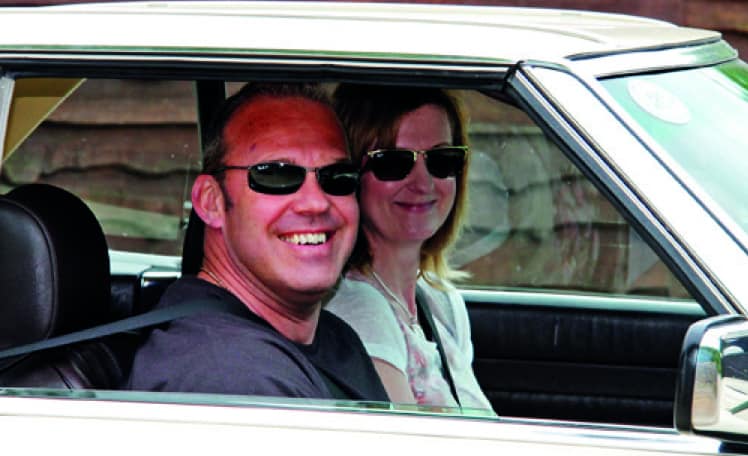 The 300SL was bought to use and not to show, and undertaking small amounts of work on the SL inspired Lee to take on a much more serious project. Lee kept The SLSHOP involved at each step of the way, with Bruce acting as a right hand man and consultant on the purchase plans!
"In March 2014 I bought a 1981 380SLC that needed pretty much everything. My original intention was to revive it for regular use but with the restoration now well underway, it'll be close to concours. I still aim to use it as much as I can though."
The SLSHOP has supported Lee by providing equipment, working space and advice, taking on the more complex and skilled jobs that need a expert touch.
"I've enjoyed being hands-on with parts of the restoration as well. Stripping the car down, cleaning it and vapour blasting. I spent one Christmas stripping the complete underside so the guys at SLSHOP could do the welding work. I enjoy the jobs that laborious jobs, and knowing I don't have to pay someone to do those aspects of the restoration. It's great to have the involvement of The SLSHOP, which has been constant throughout the process. The way that Bruce runs SLSHOP keeps the customers involved, it's perfect."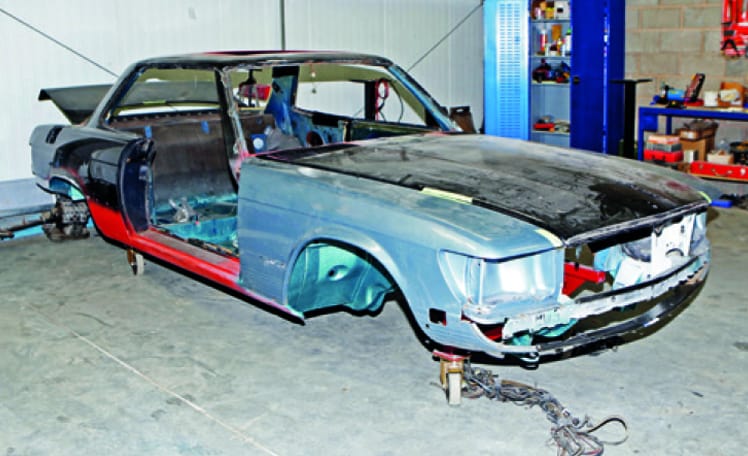 After 18 months of both hard work and expendature, Lee is convinced he's made the right decision. He concludes:
"Everything about the SLC is superb and the same goes for the team at the SL Shop; the knowledge and help is always spot on and they're always completely straight with me. They always do a proper job with no bodges and they're nice people to deal with. That's why I wouldn't hesitate to recommend the SL Shop. In fact I've done just that to a friend and he's since bought a car from them too. And just like me, he had a great experience throughout".
Increase the value it brings you
For every SL owner we have met, the key aspect in ownership and running these amazing motorcars is ensuring that this prized possession remains a joy to use whenever, wherever and however; protecting and increasing its value over time.
As the World's largest specialist in classic SL's we have drawn upon our experience with our customers, with hundreds of cars and thousands of hours behind the wheel and under the ramp to develop CARE; a way of engaging a community of owners and protecting the value of their investments as well as enhancing their cars condition, reliability and desirability.
Be the First to Know
We don't mind whether you are in the market for one of our awesome cars or just interested in seeing whats new and whats going on in the market. Pop your details in here to receive updates on all thats "hot" in the showroom.