Like us, many drivers dream of undertaking an ambitious road trip in a classic Mercedes-Benz SL. A gentle run to the shops is not enough – we crave to cross counties and indeed countries in our pride and joy. And why not? These glorious machines were built to be used, not simply admired like a piece of automotive art, although the R107 SL has always been easy on the eye.
So what if your dream teetered on the brink of becoming reality? All you had to do was accept the keys to an impeccably prepared 107-series 560SL from SL Shop's hire fleet, and drive it through eight countries including the UK. Would you have the nerve to see it through?
France. Belgium. The Netherlands. Germany. Denmark. Sweden. Norway. Destiny awaits…
DAY ONE
Sitting inside a beautifully preserved R107 SL is one of life's great pleasures. Its quality is unparalleled – the finish highly durable yet forgiving to the touch, the dials informative and styled with distinct German character, the sound of a door closing as reassuring as shutting a bank vault. Nothing about the SL is flash, but nor is it ordinary – its sheer class strikes you immediately, and your appreciation of its build only grows the more time you spend operating the controls.
And then you stir the 560's V8, once configured for meeting strict emissions legislation in the US, but now unshackled and producing a hearty 250bhp, with a custom sports exhaust providing a deep and brooding backing track.
The Petrol Blue SL cuts a serene figure as it emerges from the Eurotunnel train at Calais and merges with French hatchbacks squabbling in the fast lane. The Mercedes seems to calm traffic around it as other drivers shake off their tunnel vision, slow their pace, and appreciate this rolling piece of history.
We must make Copenhagen, the capital city of Denmark, by nightfall, which sounds easy enough considering we're already in France at 9am. But there's still a 750-mile drive to contend with and the weather isn't exactly playing ball, with rain pelting the SL's blue tinted windscreen. Luckily, the roadster's hardtop is more than up to the job of protecting occupants, and the windscreen wipers, with their clever sweeping pattern, are equally confidence inspiring. This early in the journey, it's good to know the SL is capable of taking such weather in its stride.
Cutting through the bottom of the Netherlands, we are soon whistling along German autobahns and staring down Dortmund, the 5.5-litre V8 in its element when allowed to sing this loudly; 100mph comes effortlessly, and the speedo's orange needle would climb higher still were it not for the cold weather tyres fitted for driving in snowy Scandinavia. A top speed run must be saved for another road trip…
The Danish border presents itself by mid afternoon, and the SL slips through undetected, the Mercedes a little less shiny than before but, judging by the performance of its engine, still brimming with enthusiasm for this trip. With no thought given to maximising efficiency, the M117 motor is achieving roughly 320 miles per tank of petrol before the orange Reserve light illuminates, which allows great progress to be made before another stop is called for. Such is the cabin's level of comfort, you could drive hour after hour – all day were it not for the need to feed the V8.
Late afternoon slips into dusk as we slice through the heart of Denmark. With headlights emitting a warm yellow glow, Copenhagen twinkles in the distance, beckoning us to carry on just a little further. It's 8pm by the time we arrive and the city is buzzing despite a cold wind rushing through the streets, neon lights from shops and tourist attractions splashing off the SL's sculpted bodywork in spectacular fashion. Secure parking for the Mercedes is confirmed at our first rest stop, so sleep will come even easier tonight. Tomorrow the roadster will take on Sweden then Norway, and all the wintry weather that comes with it.
DAY TWO
The next morning, any concerns about a cold-starting V8 in freezing temperatures are blown away in an instant as the 560 wakes from slumber faster than an army recruit keen to impress their drill sergeant – a superb sign with another 500 miles on today's agenda.
The SL continues to steal admiring glances from fellow road goers as we cross the ginormous Øresund Bridge and head deeper into Sweden, a lack of snow at this point slightly surprising, although the dry and open highways give us more time to mentally prepare for what's surely to come.
And then it appears – light and pretty at first, but then much thicker as we bear down on the Norwegian border, robbing dozens of yards from our view ahead. For all our trepidation, these conditions are what we have driven so far to experience – the 560SL battling the elements and carrying us ever onward.
Oslo, the capital of Norway, is a labyrinth of underpasses and slip roads, and it takes all of our concentration to follow the right path, the V8's impressive torque and sweet kickdown served by the four-speed automatic coming in handy whenever we need to duck and dive between locals to make our escape onto the next road – the many tunnels providing a feast for the ears as the 5.5 V8's powerful tune echoes all around us. It's freezing outside, but we can't help but drop the electric windows to hear the SL's beating heart with more clarity.
Emerging from the north west corner of the city and heading into the countryside, we are greeted by serious snowfall, the depth at the roadside approaching three feet and the road surface itself mushy but treated to stop too much accumulation of the white stuff.
We're over 1,000 miles into this great adventure, with just another 120 to go, and concentration is at absolute maximum. Finding most traction in the tracks of articulated lorries, the SL re-discovers its stride and ploughs on, the cabin's heating system now truly tested but still a warming influence on the interior ambience. It should be stressful driving a classic car in such wintery conditions, but in truth the SL is making it look easy.
Descending down a mountainside towards the town of Gol – our final destination –the snowfall thins out and then ceases, the sky opening just a little to bathe the picture postcard landscape in a golden glow. We stop for photographs on a bridge crossing a river, just off road 52, and find ourselves in complete awe of the view. Our blue SL blends in beautifully.
Rolling up to Pers Hotell with snow crunching under our winter tyres, the V8 is allowed a final few minutes to catch its breath before it's silenced. Thirty-eight hours and 1,500 miles after we started, we have arrived – and in some style. The SL has not missed a beat, and felt stronger than ever as we entered Scandinavia, inspiring us to push on that bit longer.
We knew the R107 SL was capable of covering big miles when brand new, but this example is over 30 years old – surely it would succumb to this great challenge? Not a chance. Honestly, the car has breezed it, the weakest link has proving to be the person behind the wheel who requires sleep and sustenance to continue functioning at an acceptable level. Indeed, this marvellous machine would turn around right now and head straight home if its driver was up to it.
Instead, however, we've got another plan. Tomorrow is a new day and there are snowy mountain roads and frozen lakes to discover in the surrounding area – these the 560SL's reward for driving us this far north, and doing it so effortlessly. What. A. Car.
Fancy taking our 560SL? 'FSL 560' is part of The SL Shop's hire fleet.
You can hire a classic Mercedes-Benz SL for a day, a weekend or longer. Start your classic adventure with The SL Shop.
Tempted and want to buy an SL? Visit our showroom to see available cars.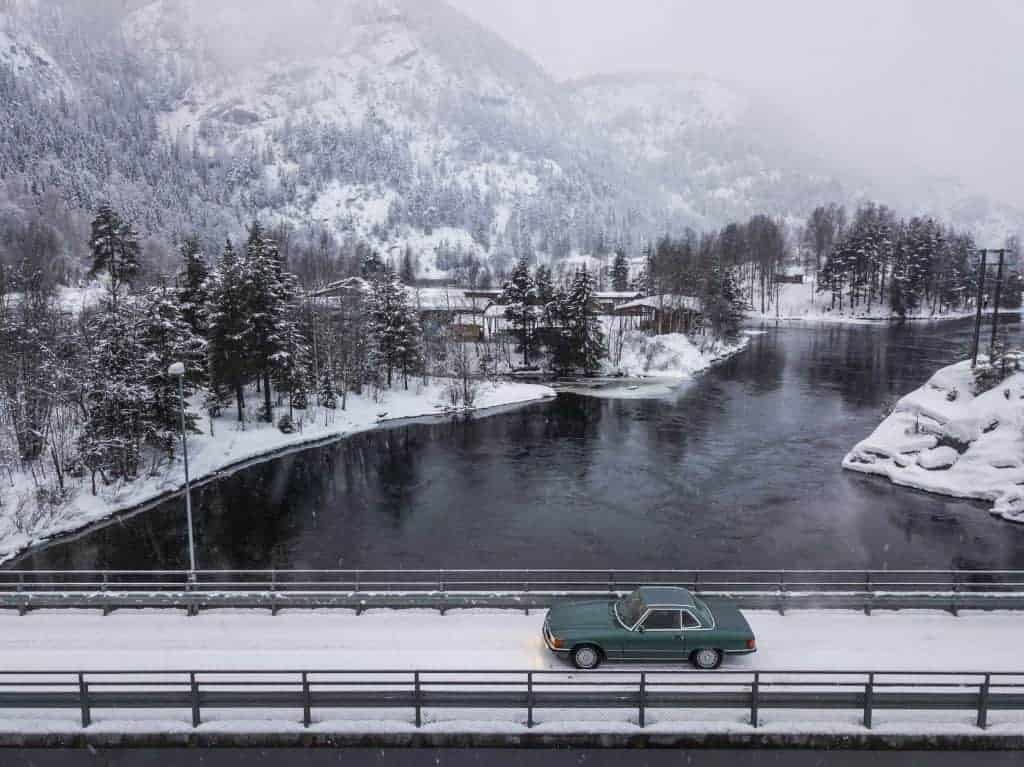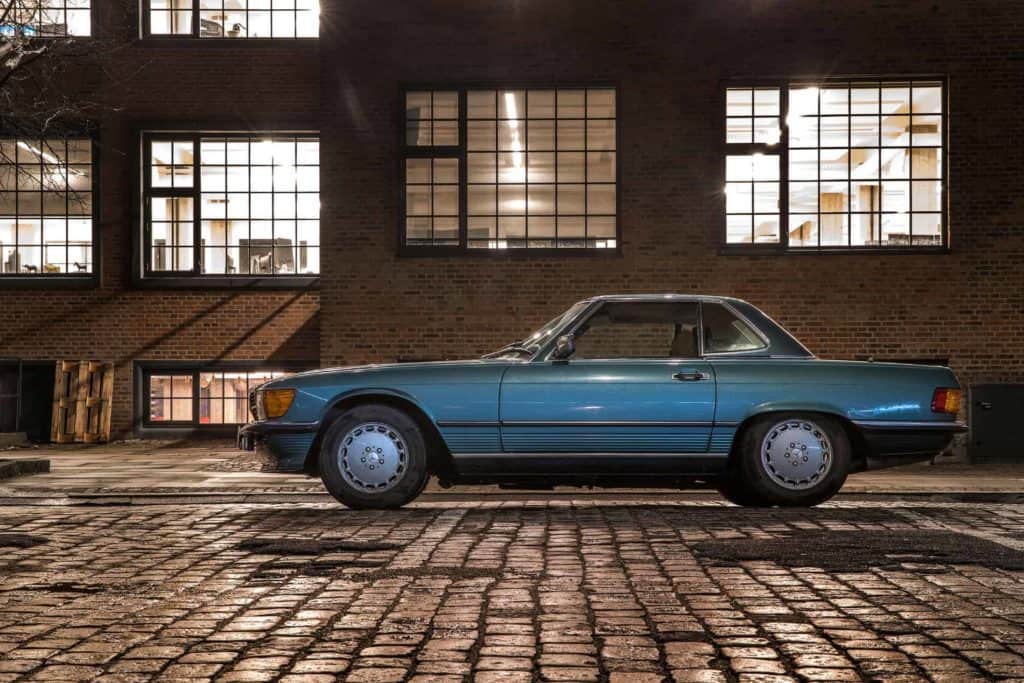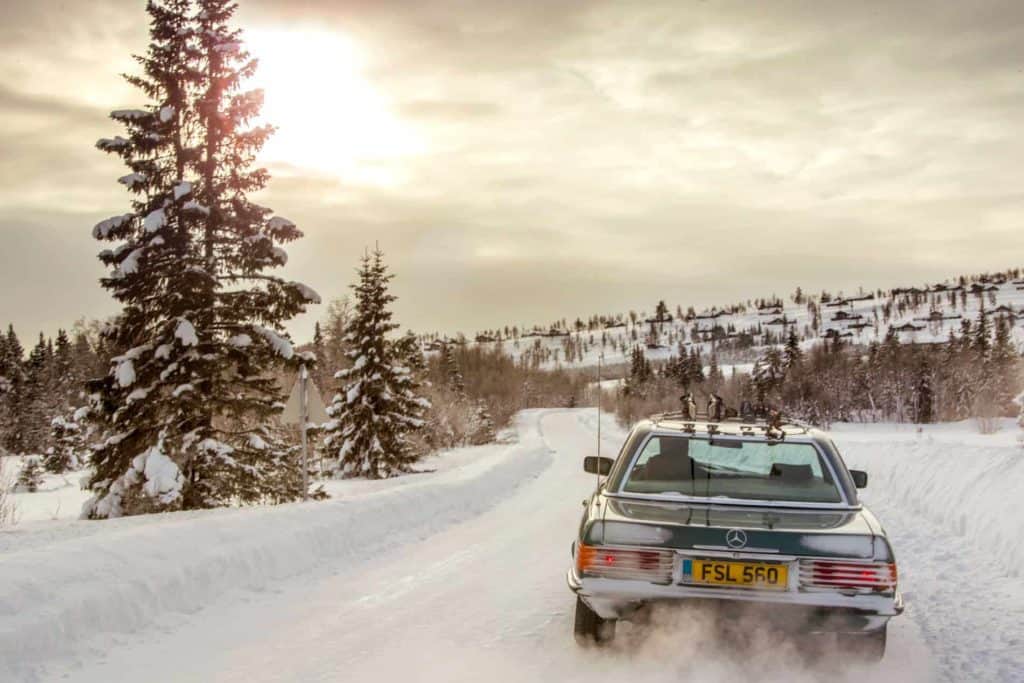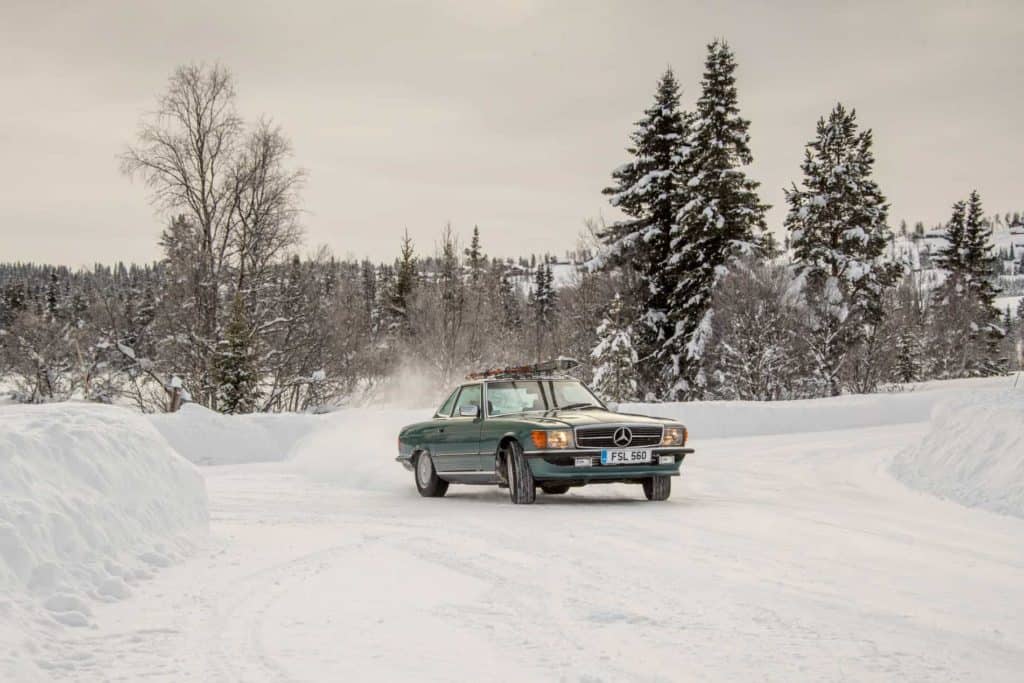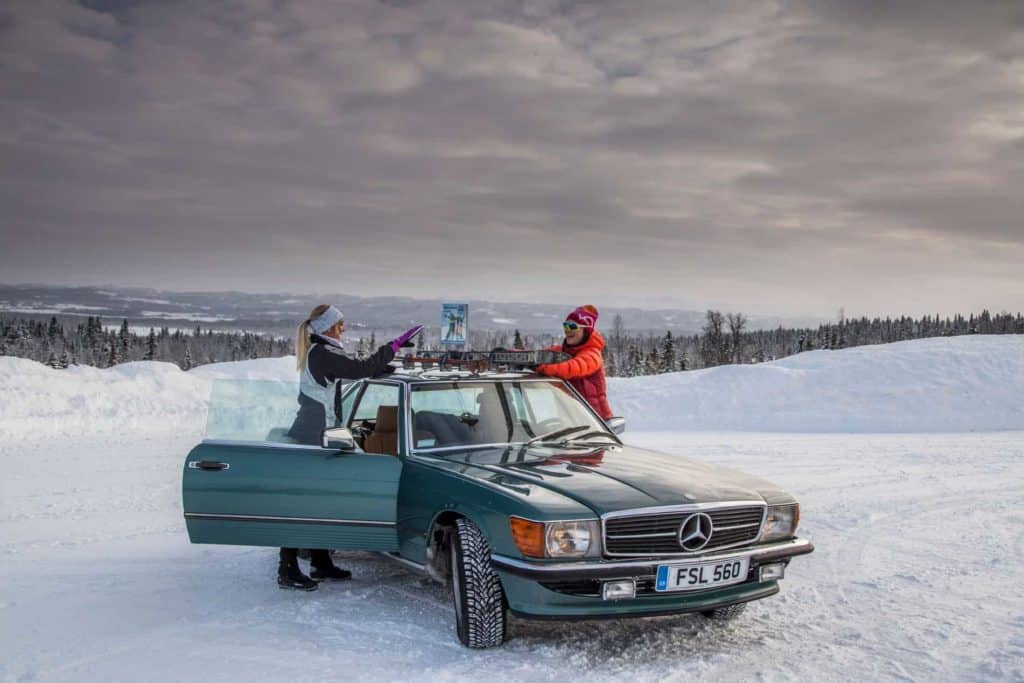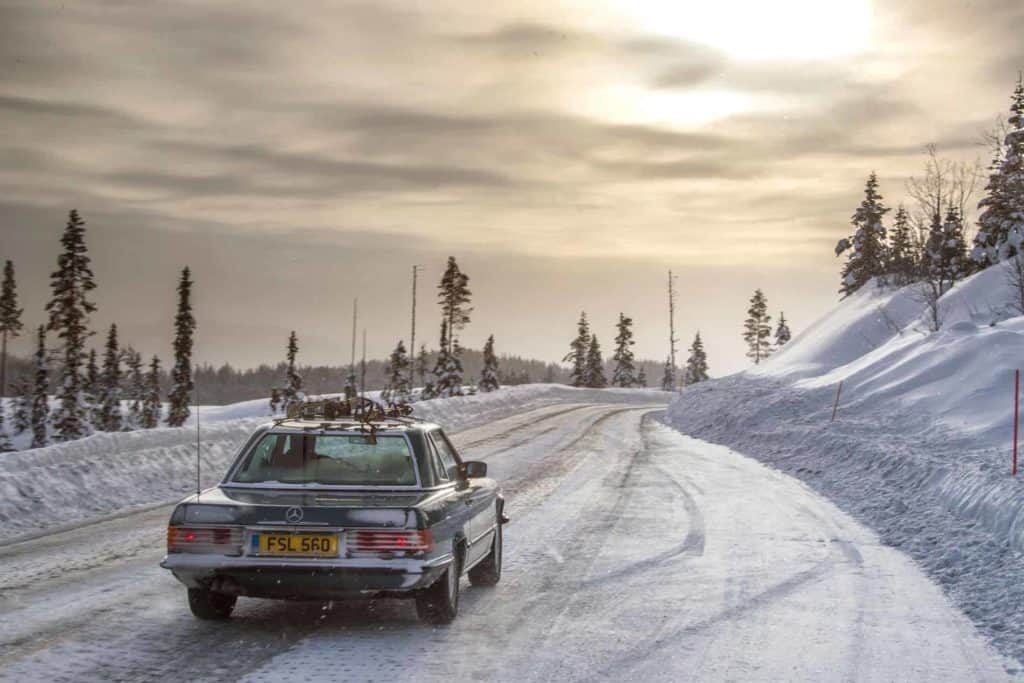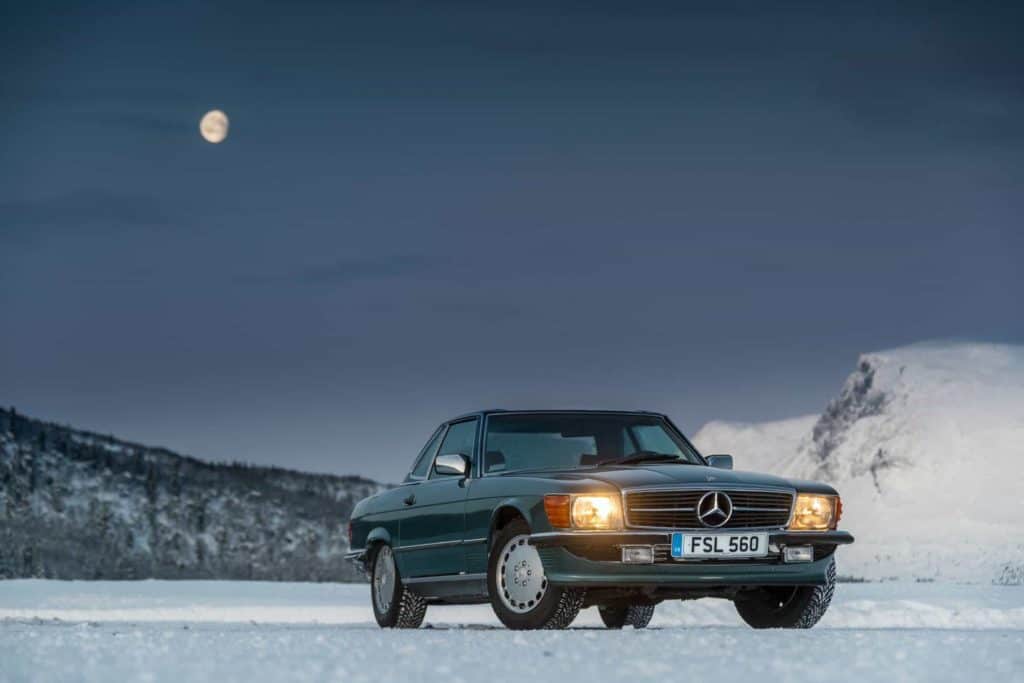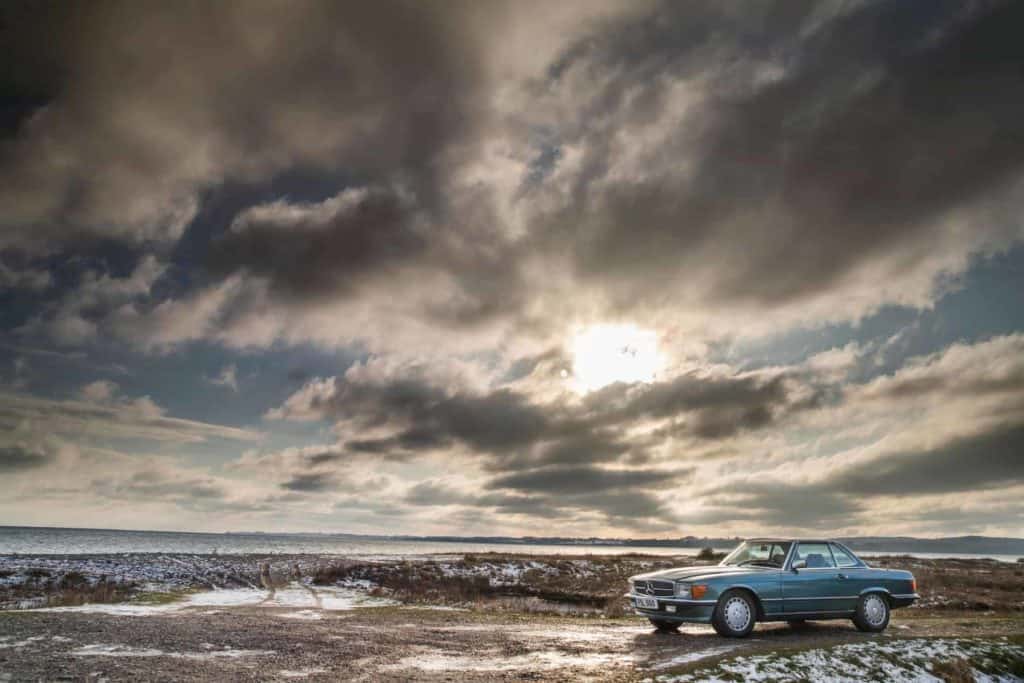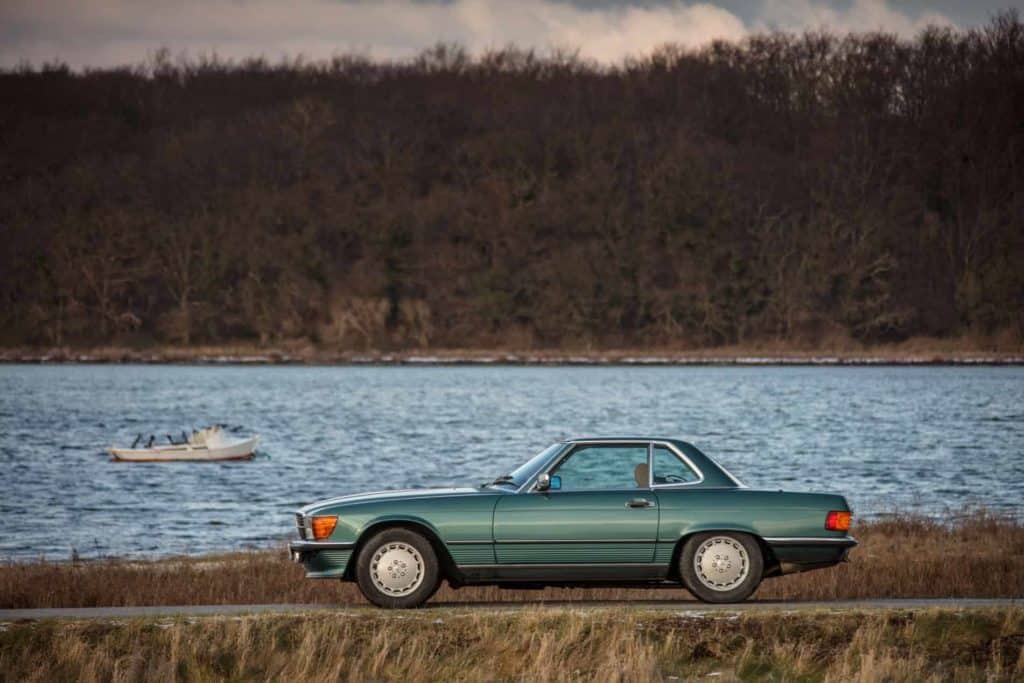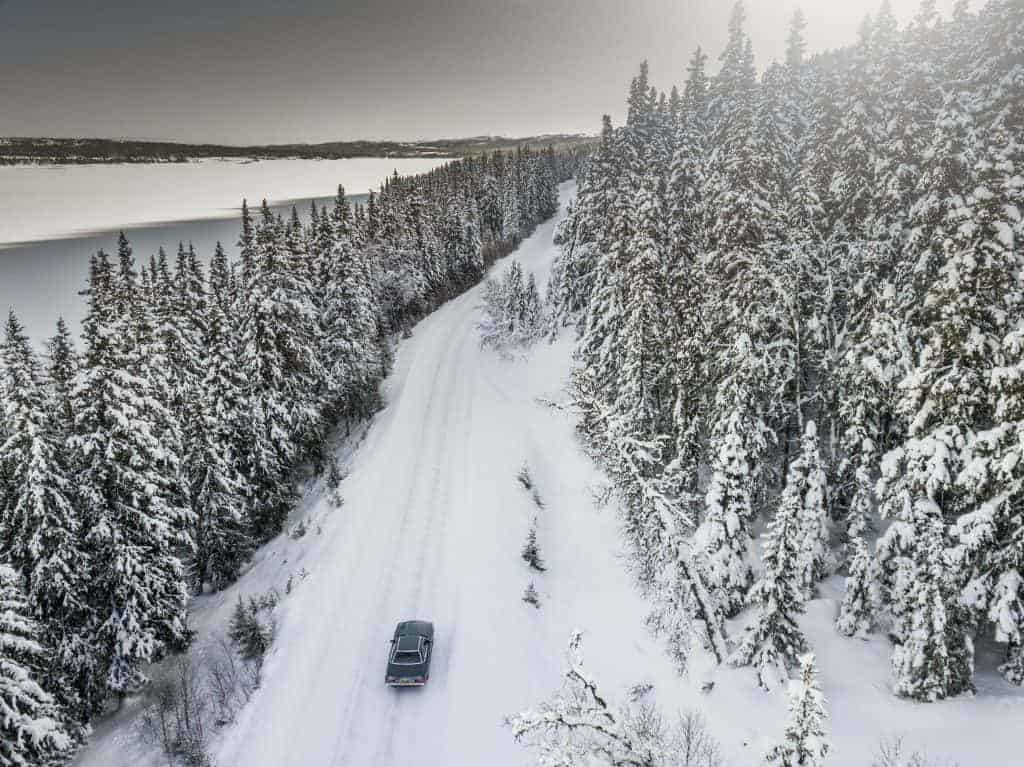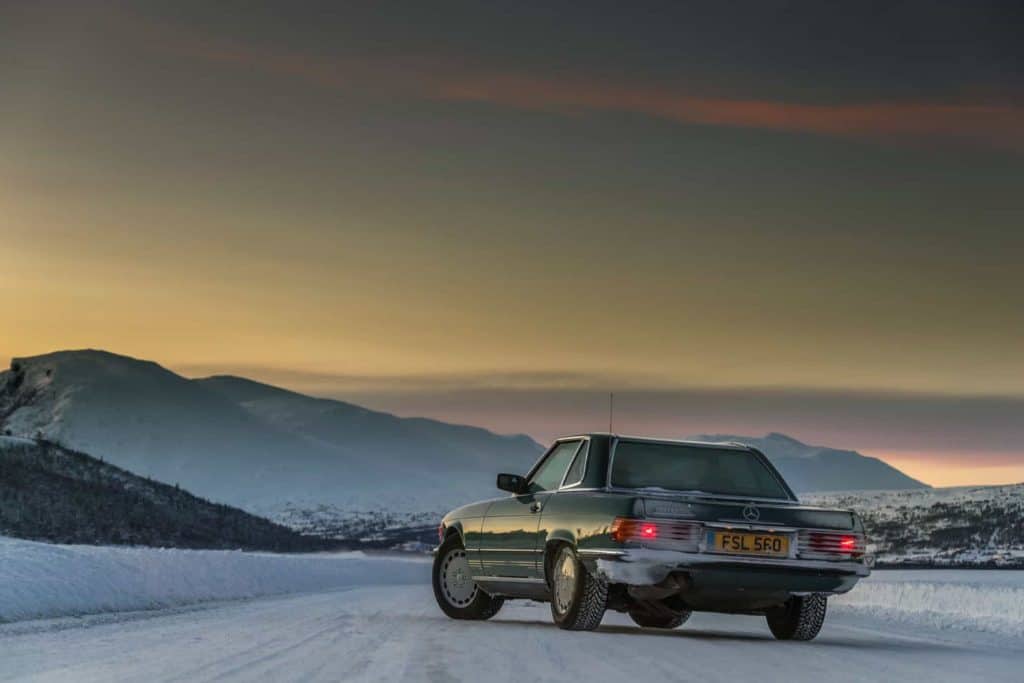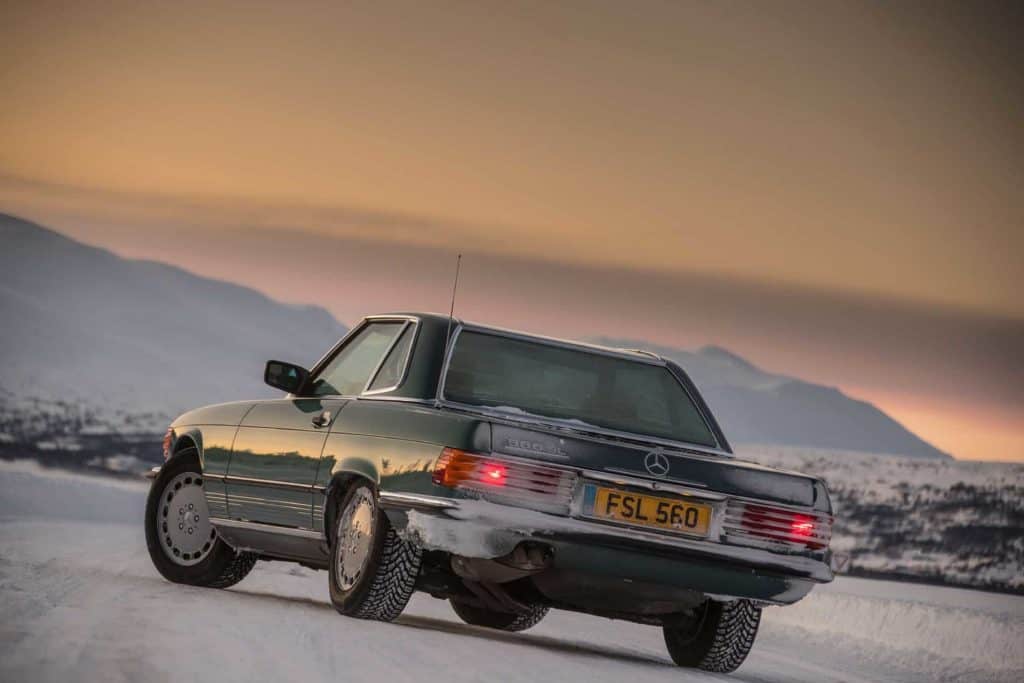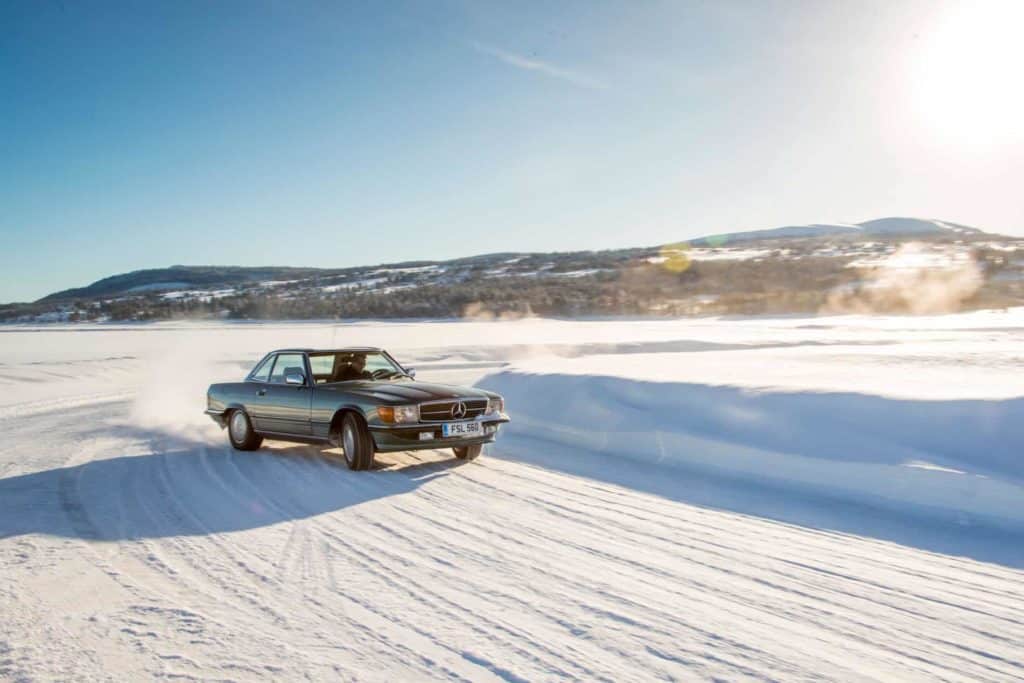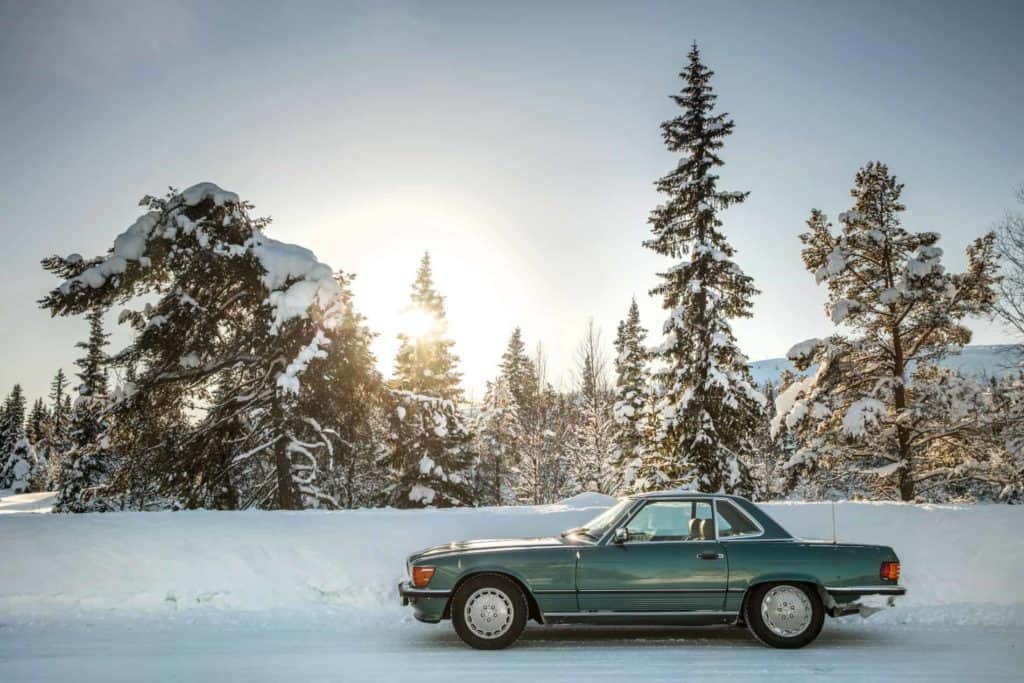 Increase the value it brings you
For every SL owner we have met, the key aspect in ownership and running these amazing motorcars is ensuring that this prized possession remains a joy to use whenever, wherever and however; protecting and increasing its value over time.
As the World's largest specialist in classic SL's we have drawn upon our experience with our customers, with hundreds of cars and thousands of hours behind the wheel and under the ramp to develop CARE; a way of engaging a community of owners and protecting the value of their investments as well as enhancing their cars condition, reliability and desirability.
Be the First to Know
We don't mind whether you are in the market for one of our awesome cars or just interested in seeing whats new and whats going on in the market. Pop your details in here to receive updates on all thats "hot" in the showroom.