Knowing the R129 – The SLSHOP View
The R129 is a beautiful car and one that is very popular with collectors of classic Mercedes cars.
At SLSHOP, we have seen many of these cars over the years and have come to know their strengths and weaknesses, areas for concern and the things to watch out for. With every restoration project on an R129, new challenges are met.
From our experience working with these wonderful cars, here is SLSHOP's guide to owning and restoring an R129 SL: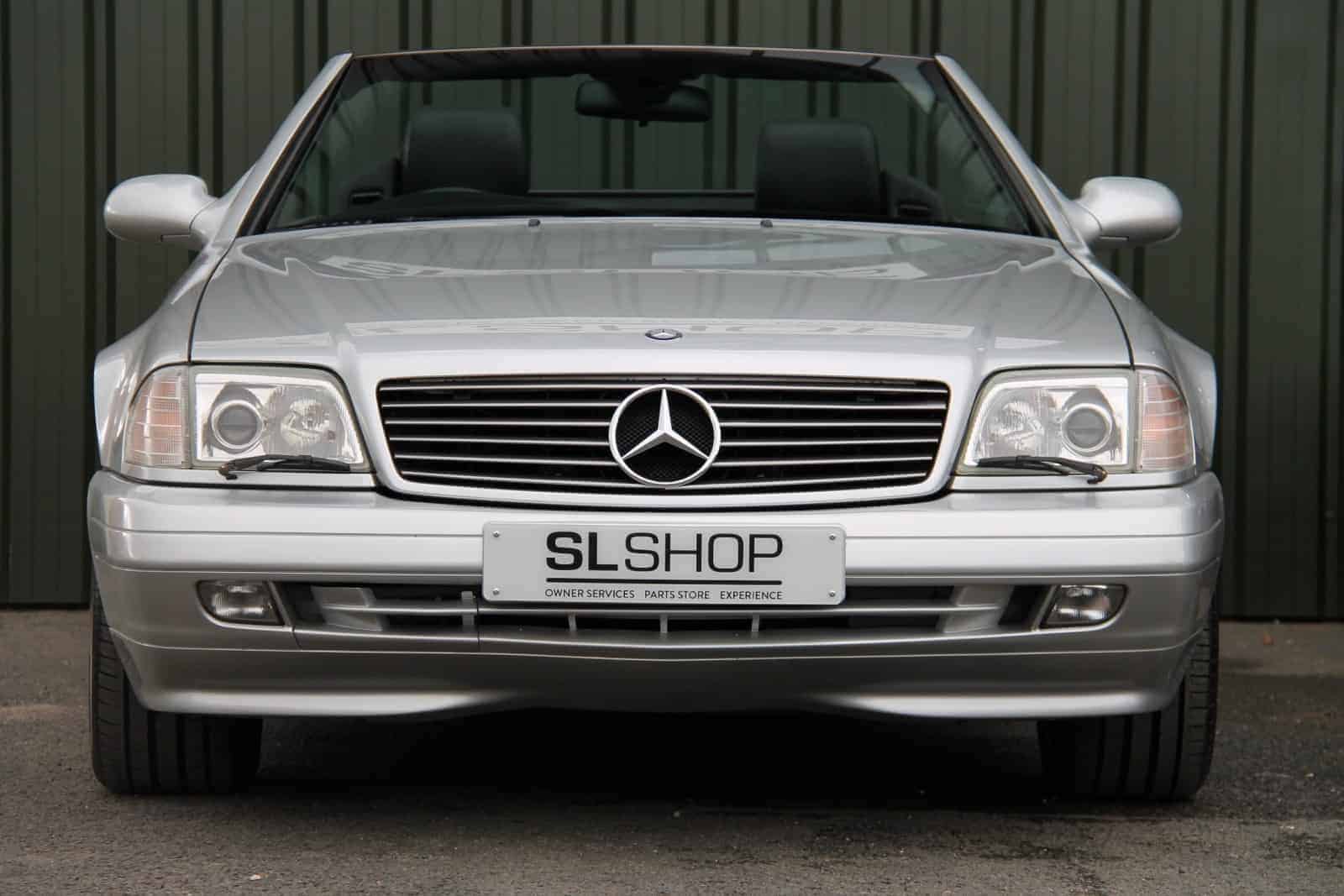 Bodywork
We start with the bodywork. While it's the first thing people see when they set eyes upon an R129, it's also a place often overlooked when it comes to initial damage reports and inspections.
Thankfully, the R129 suffers from just a few areas of concern, less so than on other classics of its age. One area of concern is from accident damage, mostly relating to the front-end of the vehicle.
R129's will often have been driven with haste, owners enjoying the power and handling that these fine vehicles are blessed with. When analysing one of these cars, it's important to inspect for accident damage; slam panels and rear bumpers probably suffer the most with the rust appearing along the leading edge of the lower front wing where it joins the bumper.
There areas also attract a lot of debris down the years that is rarely cleaned out and which then goes on to produce rust, so keep an eye out for that during your inspections. The rust will often occur from the inside out in these scenarios.
Also pay attention to the boot lock area, door edges and rear wing lips which can all suffer from scuffs, scrapes and other damage on cars which are used frequently, and even those that are maintained.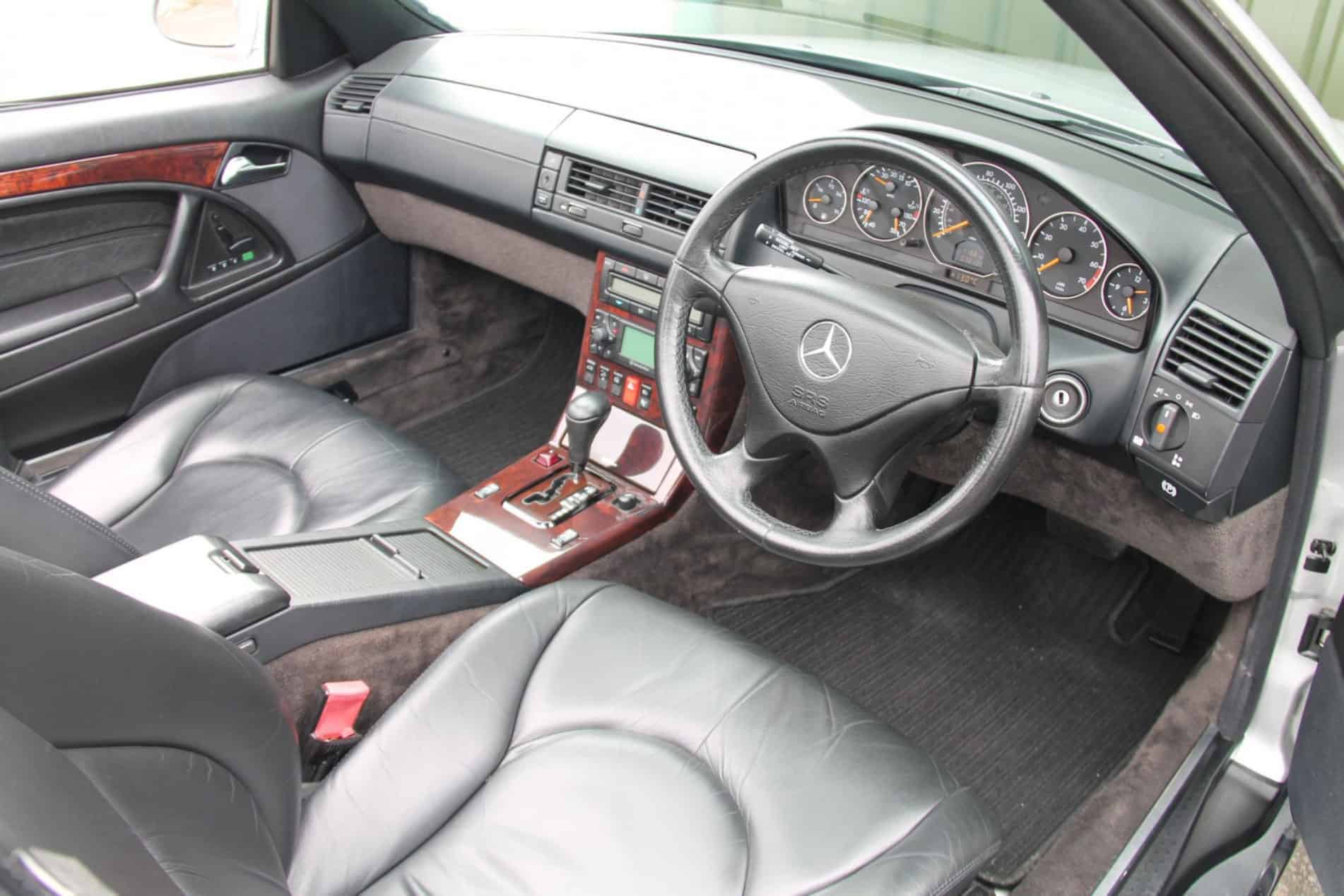 Interior
Moving from outside to inside, the trim on seat bolsters and the inner door sill carpet can be areas which attract wear and damage. The door handles inside the car will often pick up scratches and dirt from regular usage while the adjusting knob always breaks off the sliding centre console armrest. This is a common repair we perform on R129s.
The leather upholstery on the seats does not always wear well. The later post-1998 models use Nappa leather and this does perform much better. However, if the car has regular usage, even the Nappa will not stand the test of time and will require replacing as part of a thorough restoration project.
Moving upwards, your attention needs to turn to those elements above the line of sight. The overhead light panel that adjoins the mirror sections can become sticky over a period of time. This is due to sustained heat penetration, something which also causes the sun visor models to crack on nearly every single model. The earlier examples of the R129 features perforated seat centres. These models were actually much more durable, including all of the materials and plastics around the cockpit.
Post-1998 models
Looking more specifically at the post-1998 R129s, there are a few differences to be aware of which will help you to identify them. Firstly, these feature chrome rings around the instrument dials inside the car. There is also a four-post steering wheel featuring a chrome star in the air bag centre which really helped give the feeling of prestige when you're behind the wheel.
The best type of radio to have in a post-1998 model is the original. Nothing else really fits in with the vehicle, although if you're looking for something a little more modern including the likes of Bluetooth technology, then that's another story.
The most desirable options are for a panoramic roof for the hardtop in winter, folding mirrors so that it comfortably fits in a garage, rain-sensitive wipers as well as most of the options that are available or included on standard models.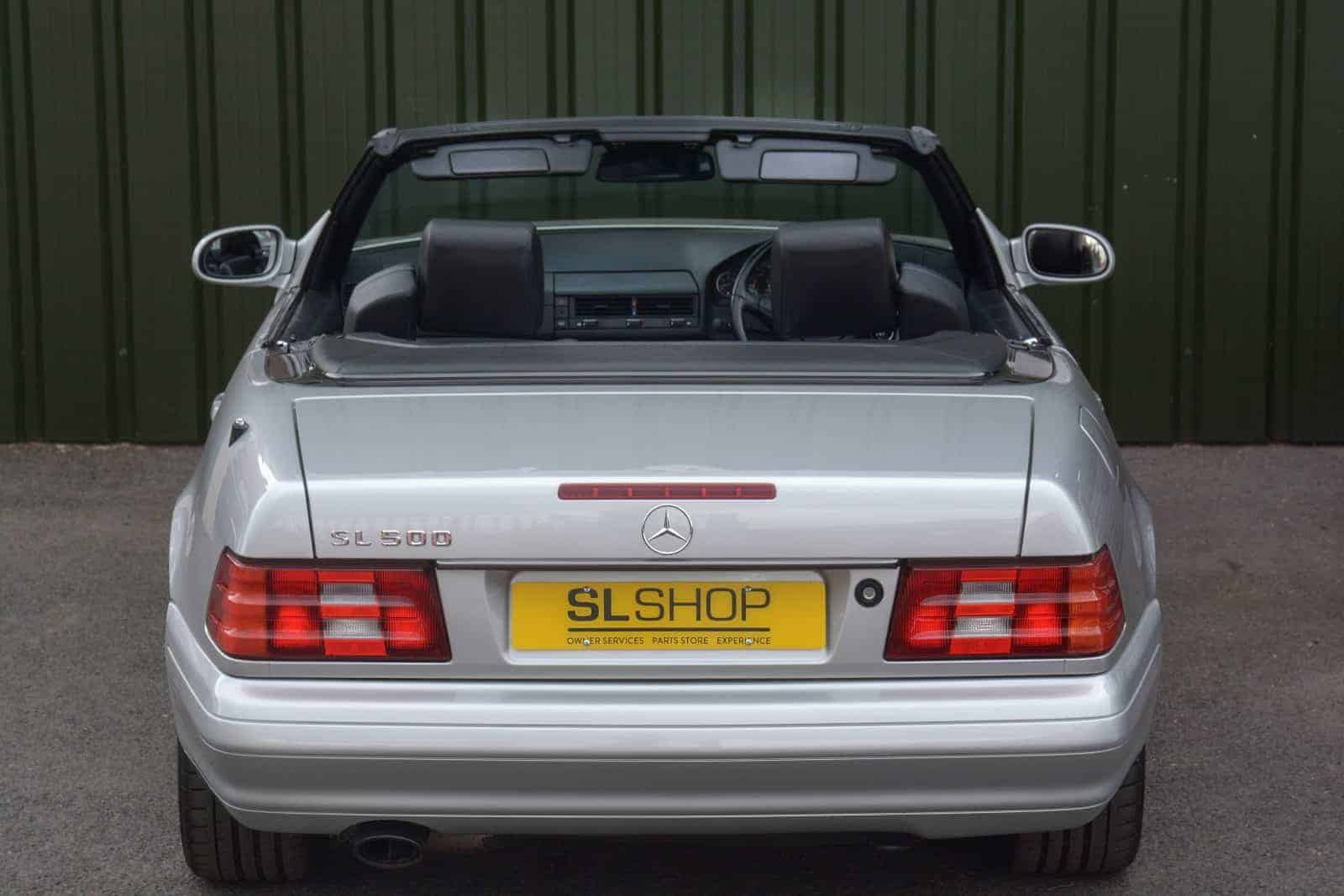 Common issues
Some of the common issues that you may come across relate mainly to the early R129s on which the straight-six suffers from head gasket leakage followed by a degradable wiring loom. The V8s also suffer from throttle body wiring which causes rough running and ASR problems.
Battery drainage can also be a problem as a result of malfunctioning old alarms, while central locking failure is also fairly common. There may be issues with the soft-top roof not working and the roof module under the rear seat can be damaged if the battery is spike by jump starting. Also beware of windows not working.
One of the most expensive issues with an R129 can be the catalytic converters breaking up inside the car. These cause a rattle when the car is ticking over.
Moving on to the gearbox, and these are pretty robust for the most part. The four-speed option is probably the most solid, whereas the electronic five-speed can suffer on the electric plate inside the gearbox. Oil can seep in to the wiring loom through electric plugs causing a total failure of the gearbox (i.e. inability to select gears). This can be eliminated by regular filter changes every 35-40,000 miles.
The suspension components take a much greater strain on the V8s due to the increased weight of the cars. The front lower ball joins and top strut mountings take most of the weight, while occasional broken springs on the front due to rust can be an issue. Also, check out the brace support bars on the underbody of the car – these can break over time.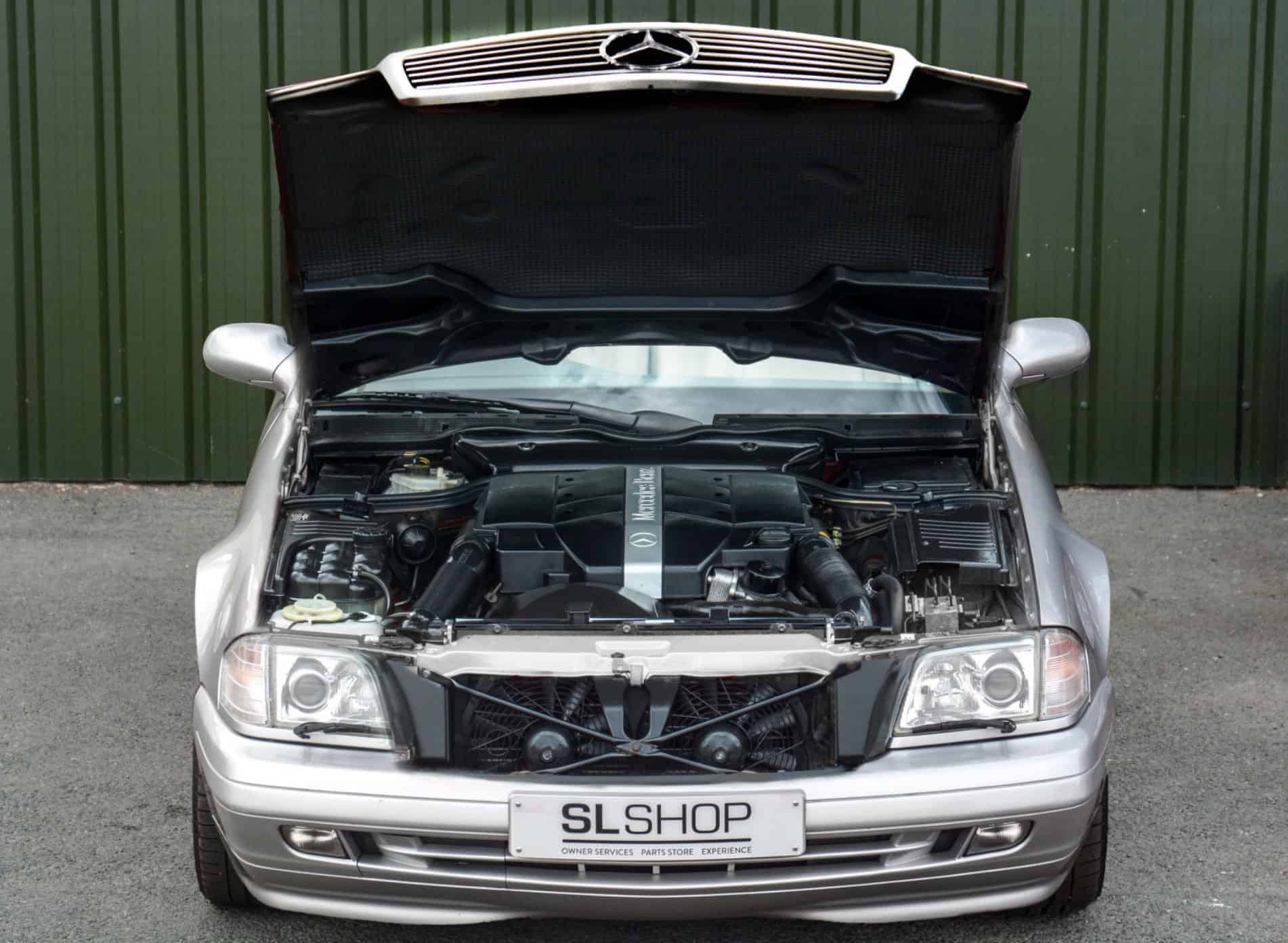 Engines
The engines used on the R129s vary, and so to do the issues you can most commonly come across with each. The following table breaks down the main features of each.
M103 300

A fine engine, simple but underpowered.

M103 300 24V

Boasts great character and nice performance, albeit with older technology.

M104 280 and 320

Boasts straight-six performance with a smooth, nice delivery of power. HFM I injection system is more modern and feature wiring looms and head gaskets which may need attention.

M112 V6 280 and 320

These are more reliable when it comes to maintenance, and also boast much better fuel economy. They are smooth engines but lack that old-school Mercedes feel which so many of us adore so much.

These can also suffer from the crank pulley breaking up and the air mass sensors failing.

M119 V8 500

These early engines have distributors which produce a verty smooth and powerful delivery of power. They're brilliant engines for cruising at speed.

They can suffer from a few issues though, including the failure of the distributor caps, misfires and oil delivery pipes to tappets failing which produces an engine tapping.

M119 V8 500 and later

A later version of the same engine, it's very nice and a favourite of R129 owners. It's one of the most powerful and does not have any distributor caps.

M113 V8 500

A more modern engine again which in turn has given it increased reliability and great fuel efficiency.

M120 V12

An absolute beauty, this is a very modern engine which packs fantastic performance. They can be quite heavy to drive but are ghostly quiet.

The downside is that they can be very expensive to repair when they go wrong. Access is difficult, meaning repairs are tricky. Early V12s can suffer with throttle body problems and internal corrosion due to lack of ant-engine corrosion inhibitor. It's an eye-watering cost, and task, to repair.

There is nothing to upgrade on these engines as when working, they are good enough for the task at hand.

SL320 V6

Another engine which it's a safe bet. It's very usable and comes with a good specification to boot. The late SL500 model is very well appointed and absolutely perfect for long-distance cruising. It has a beautiful delivery of power but it is expensive to run.
What to pay?
A late model 500 with nice colours, such as black, blue, grey and silver and with a mileage of less than 50,000 will be fairly expensive. With a panoramic roof as well, you're looking at a cost of £20-25,000.
The late model SL320 will probably set you back around £15-20,000. They are best judged on their originality, with the most original being more expensive.
The limited edition models are very desirable now, as are the final editions that were produced. Expect to pay 10% more for one of these than you would for a standard model. If you're in the market for a Silver Arrow, if all of the documents are correct and mileage in low then you're going to be looking at a hefty price tag. They're increasing in value and sale price each year, but £35-40,000 is a good ball park figure.
Finally, AMG models. These are more expensive again but are also fascinating models. The market for the AMG models is also interesting in itself.  
The late SL500 in the best colours and with low mileage are good news. If you are brave enough to go for a rare late model 600, they are certainly attracting interest at the moment and can attract an owner who is looking to invest significantly.
Inspired?
Visit our showroom to see R129 SLs currently on offer
Contact us to enquire about having your R129 SL appraised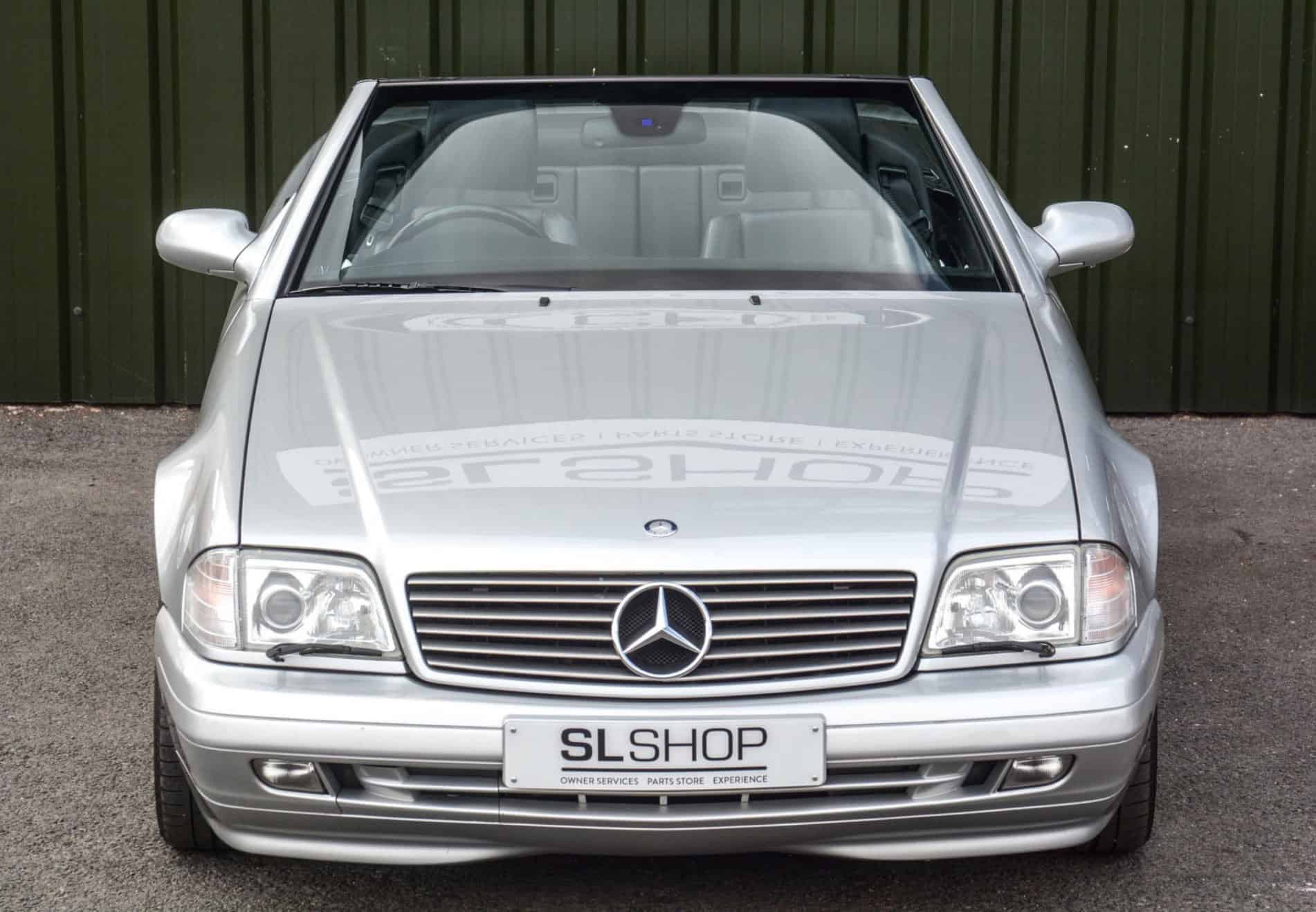 Increase the value it brings you
For every SL owner we have met, the key aspect in ownership and running these amazing motorcars is ensuring that this prized possession remains a joy to use whenever, wherever and however; protecting and increasing its value over time.
As the World's largest specialist in classic SL's we have drawn upon our experience with our customers, with hundreds of cars and thousands of hours behind the wheel and under the ramp to develop CARE; a way of engaging a community of owners and protecting the value of their investments as well as enhancing their cars condition, reliability and desirability.
Be the First to Know
We don't mind whether you are in the market for one of our awesome cars or just interested in seeing whats new and whats going on in the market. Pop your details in here to receive updates on all thats "hot" in the showroom.