This week we are excited to introduce six new additions to our showroom. These cars offer a range of colours and styles; spanning different price points. Each car has it's own unique appeal, meaning there's an SL for every driveway. Which is your favourite? Let us know in the comments which of these cars takes your fancy.
So, without further ado, here they are… In age order.
---
1968 Mercedes-Benz 280SL Auto Pagoda (W113) 
White (040) with Black Leather (241)
This beautiful 280SL Pagoda is the top of the tree when it comes to desirability, being an originally supplied UK car with verified mileage. Boasting some key originality statements such as factory paint runs down the inside of the wings, this is a car that hasn't been overly restored, fettled or repaired. A nice original 280SL Right Hand Drive car that the new owner can take in any direction they please – further restoration or simply to a new destination. Ready to be used and enjoyed exactly as it is.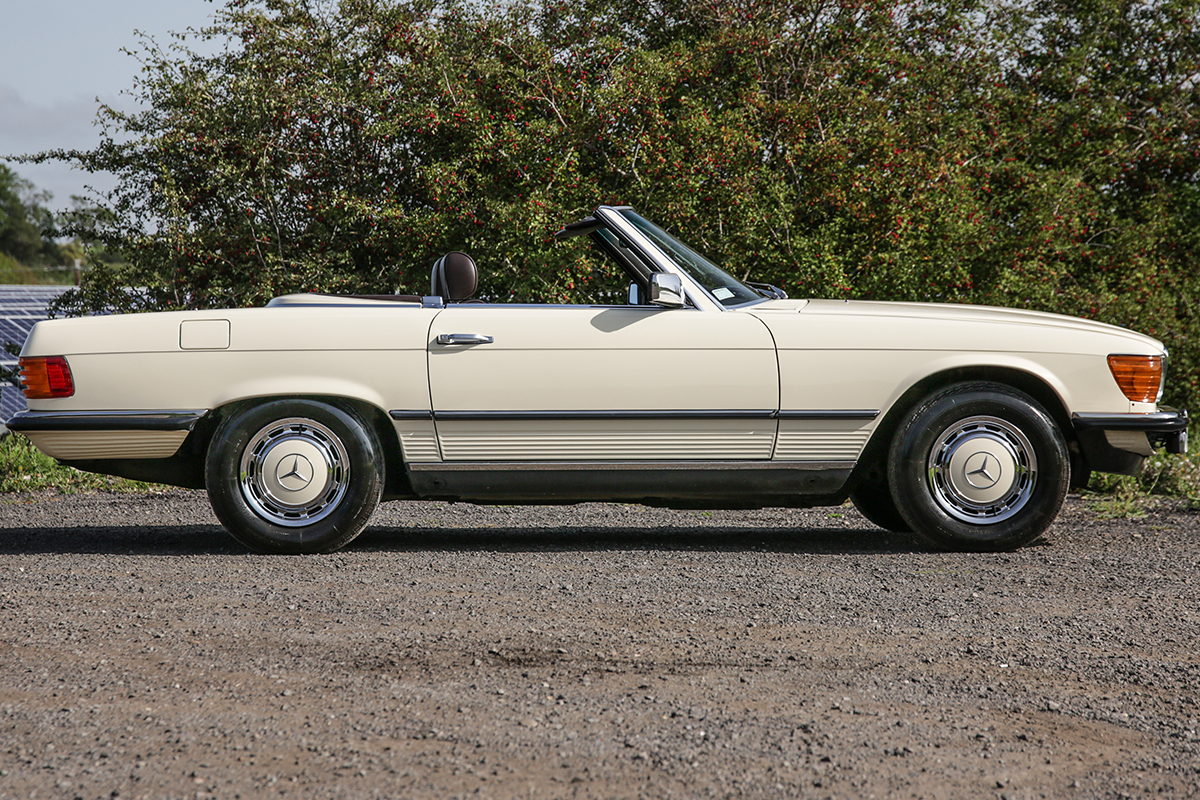 1982 Mercedes-Benz 380SL (R107)
Light Ivory with Brazil Brown Leather and Brown Fabric Soft Top
These early style cars are growing in popularity, and the more 'retro' the colour scheme the more interest a car seems to generate. It doesn't get much more retro than this wonderful 'coffee and cream' 380SL. We love how the Ivory coachwork combines with the dark brown Brazil interior to present an R107 SL that quite simply looks delicious.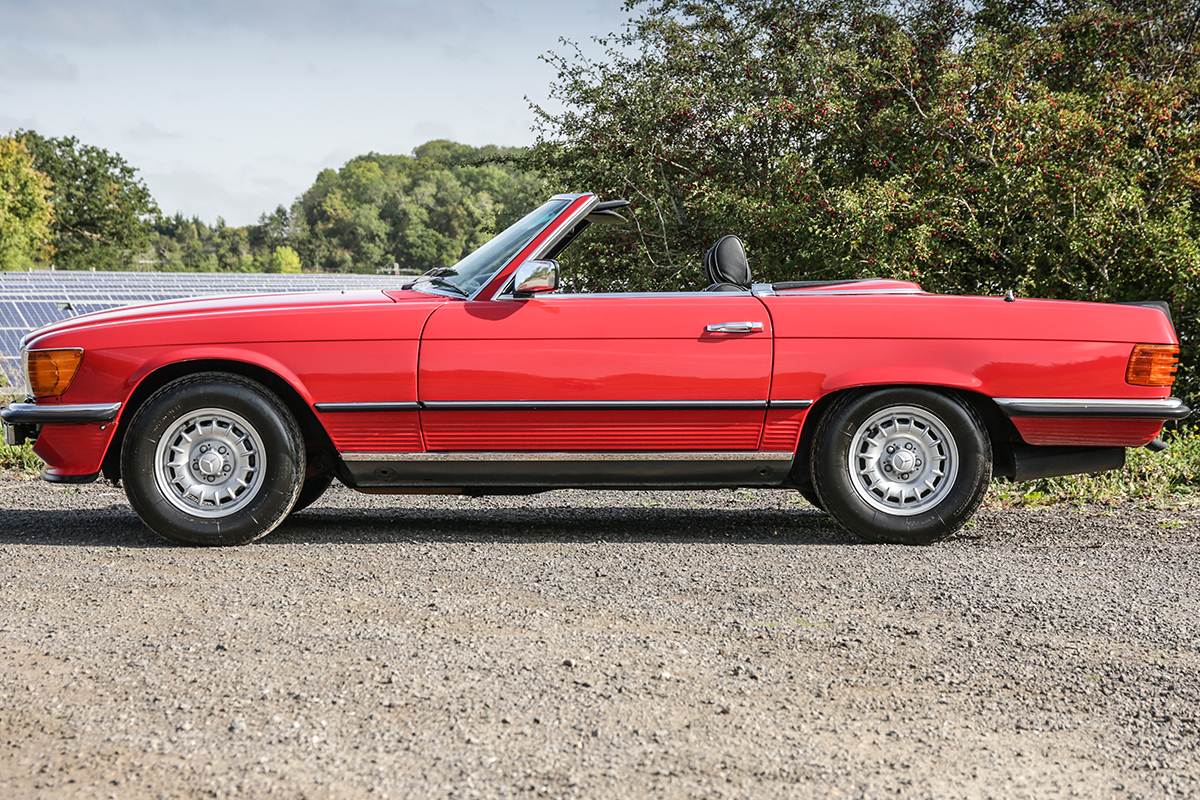 1985 Mercedes-Benz 500SL (R107)
Signal Red (768) with Black Leather (9000)
A Signal Red, the ever popular shade of Retail Red! What a colour, what an icon, what a car. Do we really need to say more about this one? It's Signal Red with a V8 engine and a black leather interior, perfectly complimented by Mexican Hat alloy wheels. Coming from a friend of SLSHOP, we know this car well and can absolutely vouch that it's still hoons along exactly as it should.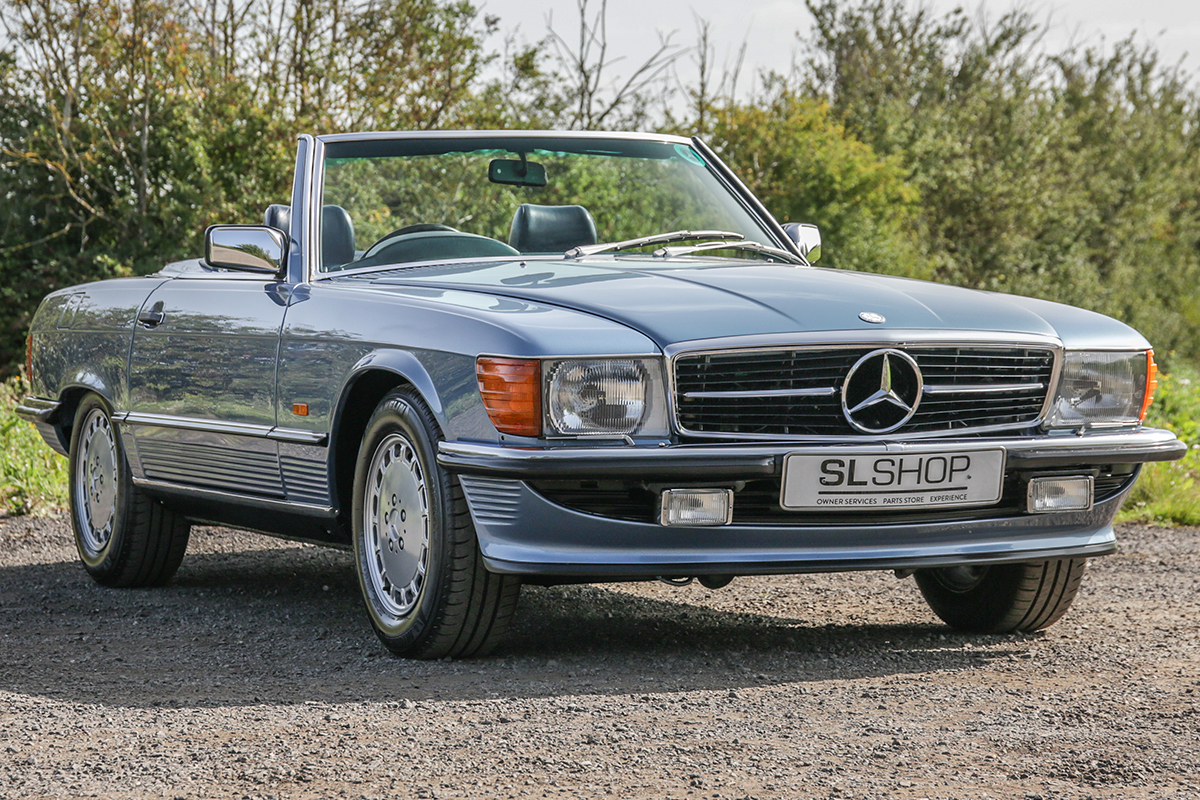 1988 Mercedes-Benz 300SL (R107)
Diamond Blue (355) with Royal Blue Leather (272)
Metallic Paint was an expensive option back in 1989, and that isn't the only box that the first owner of this car ticked. Leather Seats, Seat Heating for the Front Seats, Rear Seats, Cruise Control, Air Conditioning, Headlamp Wash / Wipe and a Fire Extinguisher were also added on top of the standard equipment! With 103,000 miles on the clock, this car needs to go to an owner who fully intends to use it to cross continents. A lovely long distance tourer.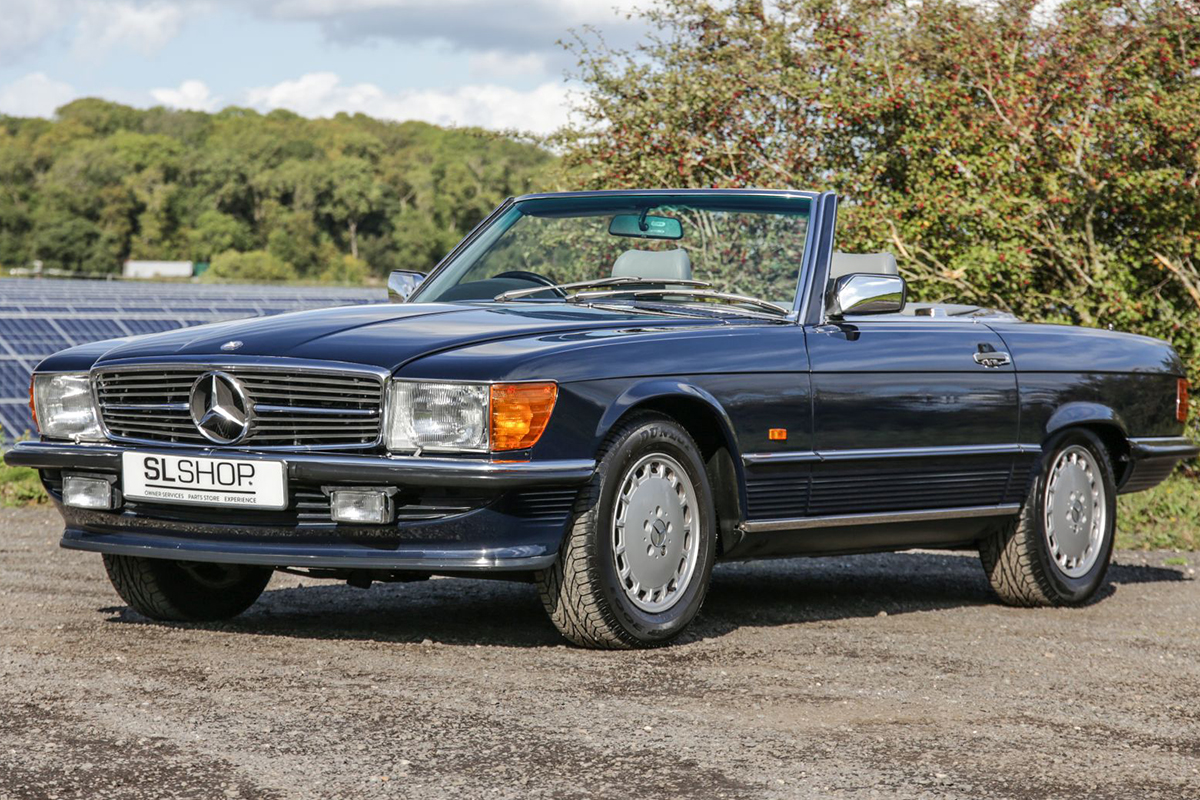 1989 Mercedes-Benz 300SL (R107)
Midnight Blue (904) with Grey Leather (278)
You've read about the Diamond Blue car above and now you're thinking 'but what else could it have?'… Well, here's the answer. This car is the highest specification R107 SL we've ever come across. The only options that weren't ticked are Metallic Paint (Midnight Blue is not a metallic paint and therefore a none-cost option) and a Tow Bar! Simply delightful and we're unlikely to see another.
2000 Mercedes-Benz SL320 (R129)
Azurite Blue Metallic (366) with Saffron Nappa Leather (234)
You aren't seeing double, we really have sourced no less than THREE Azurite Blue R129 SLs in recent weeks. Why is that? Well, firstly it was a popular colour when the car was new, and secondly it remains very desirable even today. This is a delightful colour that seems to change with the light – we've photographed three of these recently and not one of them looks the same. With 66,000 miles and full, verified Mercedes-Benz only service history, this is a lovely car to add to your collection.
1991 Mercedes-Benz 500SL (R129)
Pearl Grey Metallic (122) with Grey Leather (278)
The R129 is the last of the dinosaurs, an early incarnation of the modern grand tourer, understated and yet glamorous, capable and refined. They make excellent second, third or fourth cars, offer intercontinental luxury and an impressive turn of performance regardless of which engine you choose.
The beautiful paintwork on this early R129 is perfectly matched with the grey leather. This very smart and 'Germanic' combination suits the elegant shape of the R129, giving it a modern look for the car that heralded the beginning of the electronic generation.
A very detailed folder of history accompanies this car, containing a plethora of invoices and receipts, the large majority of which are Mercedes-Benz official documents for either parts purchases or service and maintenance work.
This early SL500 is an exceptional find, complete with full documented Mercedes-Benz history from new. A well organised folder accompanies the car, complete with invoices and receipts that detail three decades of care and attention.
Increase the value it brings you
For every SL owner we have met, the key aspect in ownership and running these amazing motorcars is ensuring that this prized possession remains a joy to use whenever, wherever and however; protecting and increasing its value over time.
As the World's largest specialist in classic SL's we have drawn upon our experience with our customers, with hundreds of cars and thousands of hours behind the wheel and under the ramp to develop CARE; a way of engaging a community of owners and protecting the value of their investments as well as enhancing their cars condition, reliability and desirability.
Be the First to Know
We don't mind whether you are in the market for one of our awesome cars or just interested in seeing whats new and whats going on in the market. Pop your details in here to receive updates on all thats "hot" in the showroom.