Some time ago we posted about a 560SEC that had arrived in the showroom, noting that it was one of the most expensive 'new' price cars ever to be sold at SLSHOP. Well, it's time we resisted the theme, as another wonderful C126 Coupe has landed at SLSHOP… with an original list price that's even more reassuringly expensive than the last!
Built from 1989 to 1991, the W126 was the second generation of the S Class – the ultimate large luxury saloon. Sitting at the top of the Mercedes-Benz model hierarchy, this was the S Class was (and has been since) the absolute pinnacle of fine motoring.
As a luxury automobile, the W126 introduced a world of firsts for Mercedes-Benz. This S Class was the first Mercedes-Benz to use power seats, and the first to have an option of a factory fitted theft deterrent system. This included a neat feature whereby turning the key in a particular way bolts the doors to make them difficult to pry open, with a secondary option of the same feature for the boot – Mercedes-Benz knew their clientele and target market well indeed!
If the W126 S Class was the peak of automotive experience in it's day, then the 560 SEC Coupe was the fluttering flag sitting proudly atop the peak. With a price before options* of £63,200, the 560SEC was one of the most expensive motorcars one could buy. For a little context, a Lotus Excel in the same year had a recommended retail price of £27,800, whilst the more exotic Ferrari Testarossa had a window sticker showing £62,666.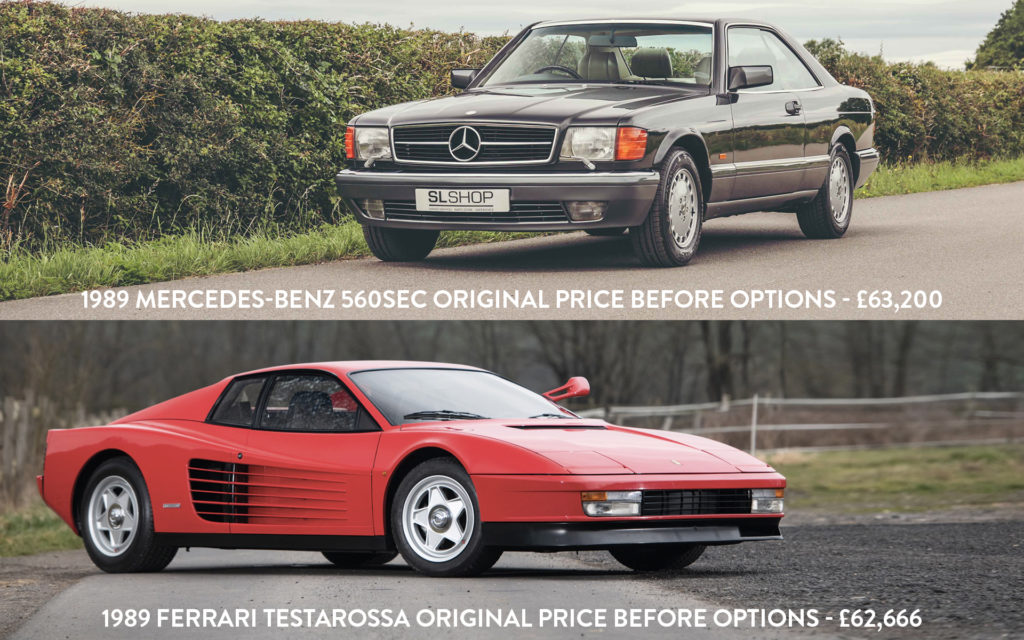 Adjusted for inflation, an equivalent figure for the car in our showroom in today's money would translate as £166,713 – this was a highly exclusive car.
Our showroom car benefits from Acceleration Skid Control (£1198 list price) and a driver Airbag (£1227 list price) giving a total price with options of £64,427.15, or £169,950.19 in today's money.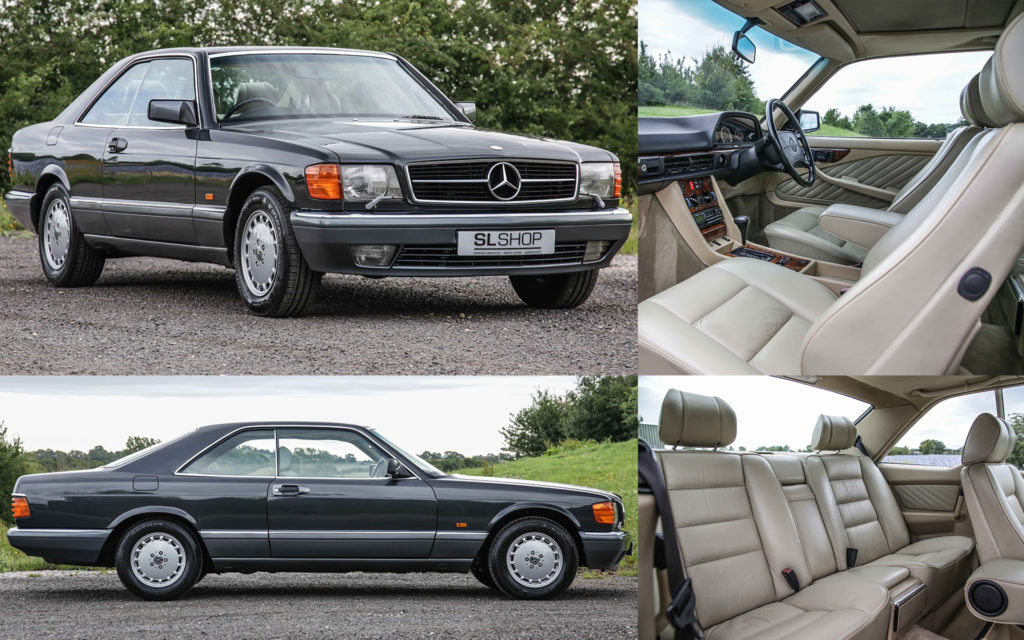 That's a large enough number to make it the most expensive car we have ever sold… As the saying goes, they don't make them like they used to… Climb aboard this 560SEC and you'll immediately fall in love. This is one fantastic motorcar, a relic of a time now forgotten, a time before easy finance and hire purchase, a time when a Mercedes-Benz was reassuringly expensive… after all, this car cost more than a Ferrari Testarossa.
Click here to view the Mercedes-Benz 560SEC for sale in our showroom.
(You can see a full list of factory equipment and optional extras for the C126 here)
Increase the value it brings you
For every SL owner we have met, the key aspect in ownership and running these amazing motorcars is ensuring that this prized possession remains a joy to use whenever, wherever and however; protecting and increasing its value over time.
As the World's largest specialist in classic SL's we have drawn upon our experience with our customers, with hundreds of cars and thousands of hours behind the wheel and under the ramp to develop CARE; a way of engaging a community of owners and protecting the value of their investments as well as enhancing their cars condition, reliability and desirability.
Be the First to Know
We don't mind whether you are in the market for one of our awesome cars or just interested in seeing whats new and whats going on in the market. Pop your details in here to receive updates on all thats "hot" in the showroom.