The year may not be quite over, and what a year it has been! A raft of SLs have found forever homes through The SLSHOP, we have continued to service and restore your cars… in the process we have made many more friends thanks to our continued dedication and your continued support for the SL.
Our Open Day this year was a huge success, and for 2020 we'll be focusing on doing more with your classic car. We've put together a number of events for the year ahead, and look forward to sharing more information on these in the near future. Each event has a different focus.
DRIVE events are a chance for you to push your SL and experience the joy of touring. TALK events encompass a special guest, an opportunity to learn more about the SL, the marque and the market. MEET events are open to all classic car enthusiasts, and are just as much an opportunity for newcomers to our hobby to meet these cars as they are a chance for you to meet like minded SL owners.
Apr – DRIVE event, Donington Park
May – DRIVE event, Cotswolds Tour
Jun – TALK event, SLSHOP
Jul – MEET event, Open Day, SLSHOP
Sep – DRIVE event, Europe Tour
Oct – DRIVE event, Donington Park
You can register your interest in any of these events to ensure you'll be the first to know about times, locations and booking details using the links below.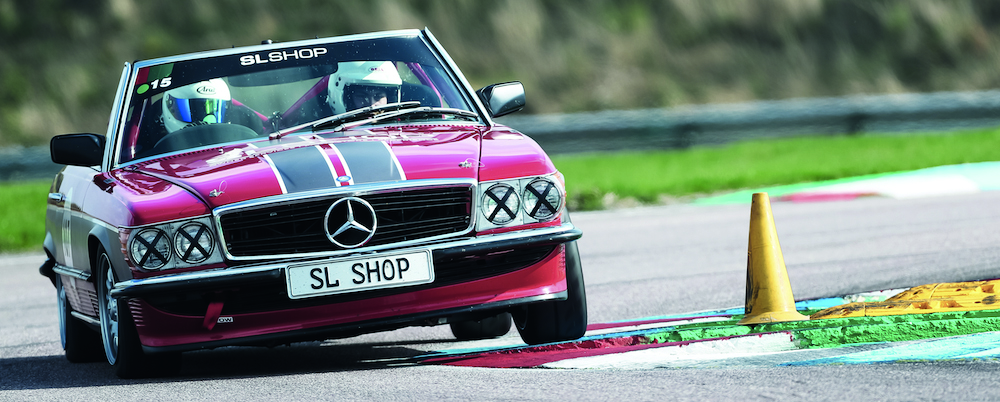 The DRIVE Event – Donington Track Day – April 2020 and October 2020
Join us for a day of high speed classic motoring. An SLSHOP track day is a chance to experience our cars, our expertise and our hospitality at one of the UKs leading race circuits.
Strap yourself into the hot seat of our 450SL or Ponton racing cars and experience the thrill of track driving without the pressure of competition. We want our guests to enjoy the exhilaration of driving a classic car quickly without the constraints of the road.
The event takes place on a public track day. For those of you unfamiliar with the format, it's a 'none racing' public day hosted by Donington Park. Our classics will share the track with a plethora of other vehicles. No experience is required and all equipment and tutoring will be provided.
We'll meet at Donington Park for coffee before the driver and passenger briefing. The day will be based around our pit lane garage, where refreshments and drinks will be available. Throughout the day all guests will have ample opportunity to drive and be driven in these purpose built racing cars, a chance to experience the thrill of classic motor racing in a friendly and relaxed atmosphere. Our track days are all about enjoyment, trying something new, meeting like-minded people and pushing your automotive boundaries.
Spaces are limited to ensure guests have a good amount of access to both driver and passenger seats. Want to read more? Take a look at our 2019 event here.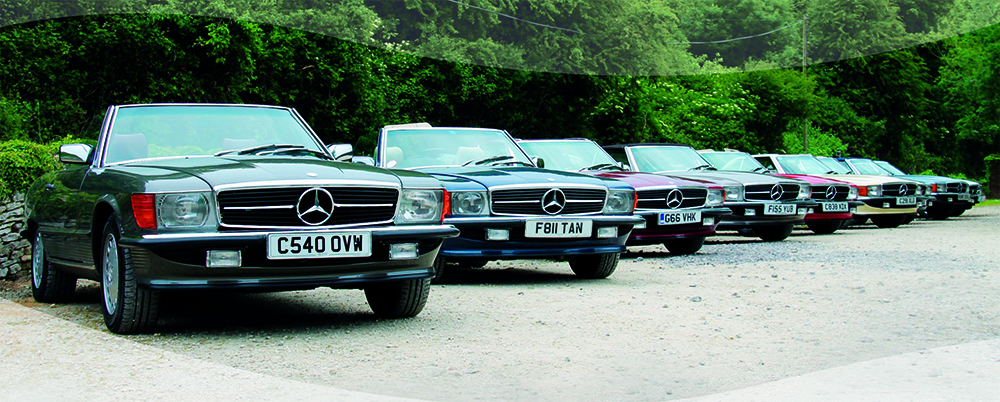 The DRIVE Event – Cotswolds Tour – May 2020
Taking place in early May, our first tour of the year sees a convoy of classic Mercedes-Benz cars converging on the Cotswolds. Spread over two days, we'll sample some of the finest roads in the region whilst taking advantage of the numerous attractions and fine dining that the Cotswolds have to offer. Taking in iconic spots such as Broadway, Bourton On The Water and Stow On The Wold, this tour will set a leisurely pace, a great mix of driving and relaxing suitable for all classic Mercedes-Benz enthusiasts. Full details to be announced in the New Year. Want to read more? Take a look at our 2015 event here.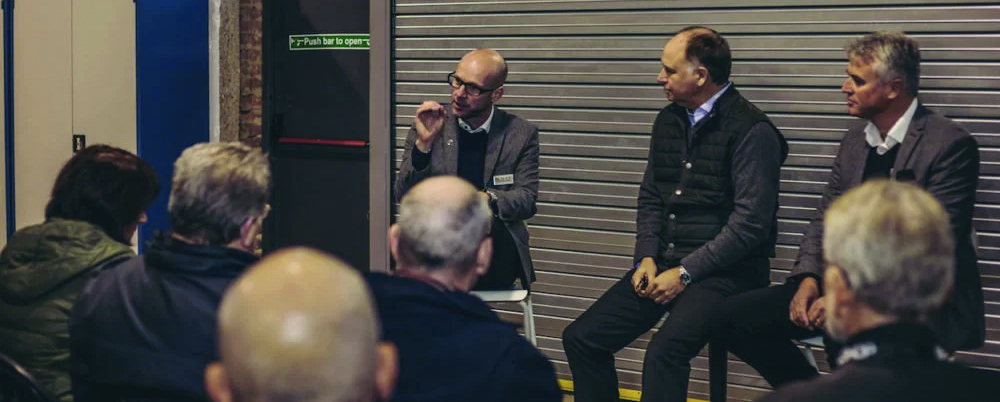 The TALK Event – An evening at SLSHOP – June 2020
This is an evening of SL entertainment. Enjoy a summer evening in our showroom, with a talk given by (Special Guest To Be Announced). We'll have catering on hand, as well as various products from local businesses to sample. A relaxed evening shared with other enthusiasts, an exclusive chance to speak with the team and hear from our specially selected guest.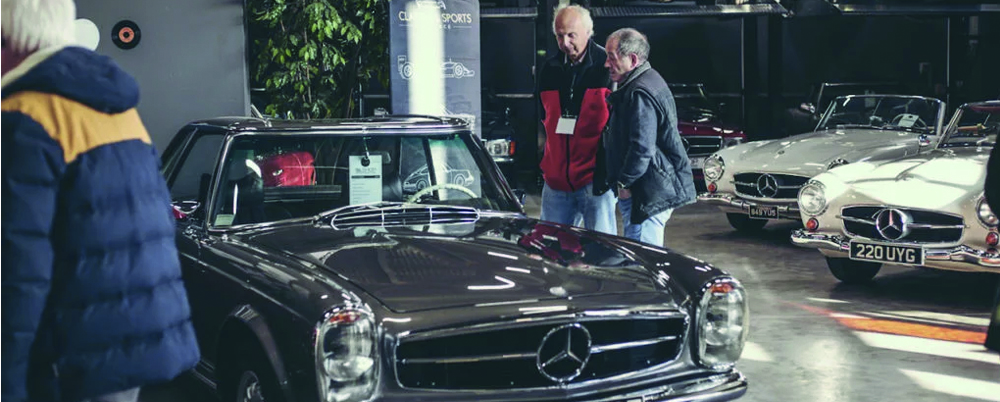 The MEET Event – Open Day – July 2020
Building on the success of our 2019 event, the 2020 Open Day is set to be bigger and better. Based at our Stratford Upon Avon HQ, it is a chance to see the inner workings of The SLSHOP in a relaxed and informal way. There will be a full schedule of activities, talks and demonstrations throughout the day, all of which will be announced nearer the time. Local businesses will be on hand to provide coffee and refreshments, and of course our Car Of The Day and Tourer awards will return for another year. A great chance to meet the team, talk shop and see the showroom over a cup of tea and maybe even a slice of cake. A delightful day open to all. Want to read more? Take a look at our 2019 event here.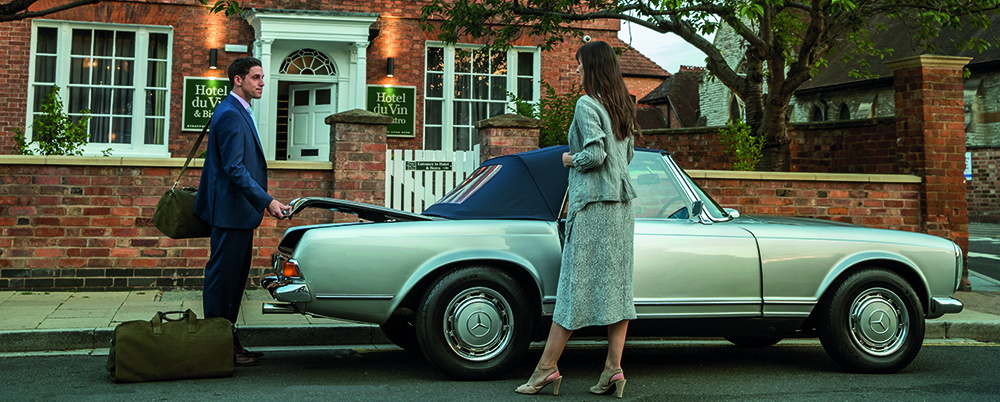 The DRIVE Event – European Tour – September 2020
Stretch the legs of your SL this September with our European adventure. This strictly limited tour is a chance to drive your SL through some of the most breath taking scenery that Europe has to offer, following a convoy of classic Mercedes-Benz cars setting a leisurely and enjoyable pace. Starting in the historic city of Bruges, we'll take our time meandering through Luxembourg, France and then Germany. The final destination is The Mercedes-Benz museum in Stuttgart, where we'll enjoy a tour including access to some areas the are closed to the public. Throughout the trip there will be scheduled stops for sight seeing, culture, markets and of course dining.
Increase the value it brings you
For every SL owner we have met, the key aspect in ownership and running these amazing motorcars is ensuring that this prized possession remains a joy to use whenever, wherever and however; protecting and increasing its value over time.
As the World's largest specialist in classic SL's we have drawn upon our experience with our customers, with hundreds of cars and thousands of hours behind the wheel and under the ramp to develop CARE; a way of engaging a community of owners and protecting the value of their investments as well as enhancing their cars condition, reliability and desirability.
Be the First to Know
We don't mind whether you are in the market for one of our awesome cars or just interested in seeing whats new and whats going on in the market. Pop your details in here to receive updates on all thats "hot" in the showroom.