A guest post, written by an attendee of our Cotswolds Tour:
Despite the lack of Lotusness, when I heard that Steve McCullough of Classiccarjourneys was organising a long weekend in conjunction with the SL Shop we were keen to go. We`ve been on a few of Steve`s excellent trips, they`re great fun, and knew of the SL Shop as being THE place for everything SL. Ben Beardshaw has bought one from there quite recently and our great pals; David and Hillary Westaway bought an SL about a year ago. David`s bringing out a book soon; "Picos Europa, The Westie Way", but that`s another story.
David has a `61 Elite too, so he`s a proper bloke, and I suggested they might enter and we would ride in the back and act as free windbreaks. David`s a proper Yorkshire lad so the offer of something free was too good to miss. There were those who scoffed, Ben Beardshaw`s dad, King Scoffer, for one, not realising that 2+2=4. In fact, not suffering from tallness, we fitted in quite easily. The front seats moved forward a little, I thought it suited David wearing his knees around his ears, and luckily Hillary didn`t have a summer cold as I don`t think the demister would have coped with nasal fluids clinging to the inside of the windscreen. I exaggerate, it was fine and the very likeable Sam from the SL Shop had us pose for a photo to demonstrate the car`s versatility. No, Alan, it wasn`t for John West sardines, you scoffer.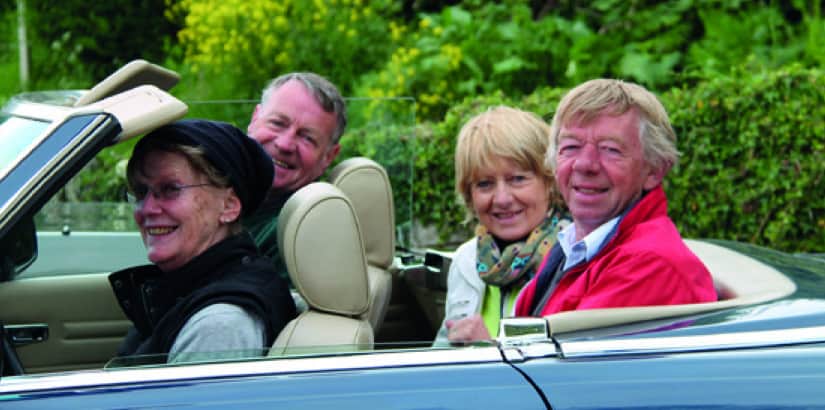 We all met up on Thursday evening at Stratford upon Avon, the birthplace of England`s finest writer. Strange! I thought Benny Hill was born in Southampton, and on Friday morning with the Tulip route firmly grasped in Hillary`s hands we were off on a lovely route through the Cotswolds. Sat regally in the back with no navigation or driving to do, we were free to comment on David`s car control. Marvellous.
First stop was the tower at Broadway with a lovely coffee shop. They didn`t open until 10a.m. and as it was 9.58 said we had to wait. So we didn`t. It wasn`t far, anyway, to Bibury Trout Farm which I love. Apart from breeding and rearing trout for sale they have a lovely coffee shop and gift shop and ice cream shop and fish shop and you can pay to look around the trout lakes. They`ll sell you fish food to feed their fish and rent you a fishing rod to catch fish which you then have to buy. What a great, model business. As The Bay City Rollers sang; Kerching-a-ching-a-ling. I love it. The fish seethe like piranha as you feed them, its fascinating.
We stopped for lunch at Bladon and visited Churchill`s grave. It was no good for a picnic though, there was no headstone so no-where to rest your cup and we went to the pub instead. We were eager to get back on the road, back in the SL, in the back. Hillary was keen to swap places but I refused. I didn`t want to sit next to Road Rage Dave either. Where we come from, up north…sort of, where men are men and the ladies look like Cheryl Cole…sort of, people are very friendly. It was very noticeable that the further south we travelled, the less polite other drivers were. Around here, if you give way to another car, very rarely would the other driver fail to offer thanks. We noticed, well, Road Rage Dave did, that increasingly, as we travelled south, this was less common. The following day, skirting to the west of that there London, almost no-one did. How rude?
Back to Friday, leaving Bladon, we had another delightful route to Bletchley Park where we had 2 or 3 hours to look around. It just wasn`t enough, there was so much to see, movingly presented, you got a real feel of the hardships of wartime Britain. I really recommend a trip there. Steve always arranges fascinating visits, he`s just a top bloke, I think I love him……but not as much as Cheryl Cole. It was a short drive to that night`s hotel, Pendlington Manor was it? We all got together for dinner which was great, I felt like one of the SL boys, whoever they are.
The next day was drizzly, what people in the south-west call mizzly, and northern lads call ****! We had to have the roof up on David`s SL which was, surprisingly, no hardship for the +2 two. Steve had arranged for those who wanted to, and who wouldnt? to receive some training in terrorist avoidance driving at Bovington airfield.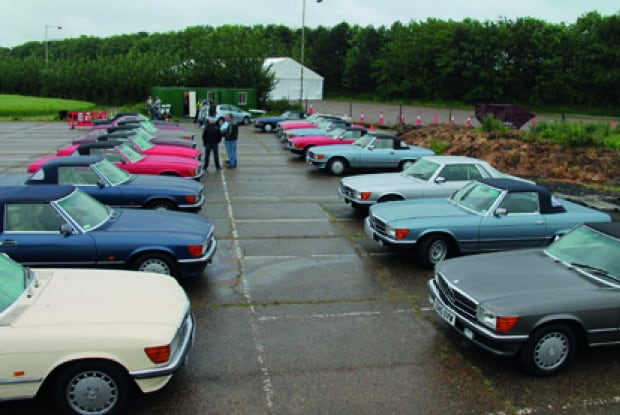 A team of ex-police instructors have set up a facility there where you rag around in their cars under strict instruction to behave like hooligans, i.e. like normal. I now feel more confident that if any paparazzi mistake me for a rock legend, and surely they will, sooner or later, I`ll be able to make good a tyre burning escape.

The afternoon route, inevitably, took us, eventually, through built up areas west and south-west of London which was still quite interesting. Apart from Runnymede and the edge of Windsor the place names were familiar but not somewhere we`d ever had reason to visit and the traffic not bad. Our destination was Brooklands and, would you believe it? Mercedes Benz World. I`d never been to Brooklands, it`s not very handily placed for us, so that was good and (dare I say?) I don`t have a particular Mercedes fetish, but the whole thing was very interesting. Two things of note: I`ve seen a picture before, but there, hanging on thousands of thin wires, were the individual components of a Mercedes Formula 1 car. Thousands and thousands of beautifully engineered bits of mysterious engineering. It`s my birthday this week and I want one. Carole says no, she couldn`t stand the dusting. I have a very real interest in F1, not many people, well apart from everyone I`ve ever met, know that I wrote to Colin Chapman in 1975 to suggest the basis for ground effect aerodynamics. Even fewer believe that I`m a rock legend but the first bit is true, though I doubt my suggestion got past the secretary`s waste basket. The other thing, next to a 1961 SL300, sadly not 722, was a rolling chassis of the same. I`m always intrigued by the, somewhat agricultural, engineering in older cars. Bearing in mind that these cars were produced between `54 and `63, and in no-way wishing to make a propagandist point, they were produced concurrently with the Lotus Elite. Say no more, alright one thing; SL? Super Lightweight? I don`t think so.
Looking at the matrix of substantial, triangulated tubing, if the Tipo 61 Maserati is a bird cage, I reckon these would cage a gorilla, or even Road Rage Dave.
We ended the trip at the rather excellent Brooklands Hotel. I`m not a fan of posh, modern hotels desperately trying to triumph design over function but this was really stylish. My one gripe (David probably has more) is hotel bathrooms. At home we`ve arranged matters so that you can turn on the shower without being stood under the initial burst of icey water. It`s not difficult. At Brooklands, the only annoying thing was the overly elaborate system for plugging the wash basin. Frankly, the idea just didn`t hold water.
The farewell dinner, like the whole trip was great, good food and great company. I'm tempted to buy an SL!
Increase the value it brings you
For every SL owner we have met, the key aspect in ownership and running these amazing motorcars is ensuring that this prized possession remains a joy to use whenever, wherever and however; protecting and increasing its value over time.
As the World's largest specialist in classic SL's we have drawn upon our experience with our customers, with hundreds of cars and thousands of hours behind the wheel and under the ramp to develop CARE; a way of engaging a community of owners and protecting the value of their investments as well as enhancing their cars condition, reliability and desirability.
Be the First to Know
We don't mind whether you are in the market for one of our awesome cars or just interested in seeing whats new and whats going on in the market. Pop your details in here to receive updates on all thats "hot" in the showroom.