Each week we take a close look at one car from our showroom:
This week it's a delightful 'late early' V8 equipped Ivory coloured 380SL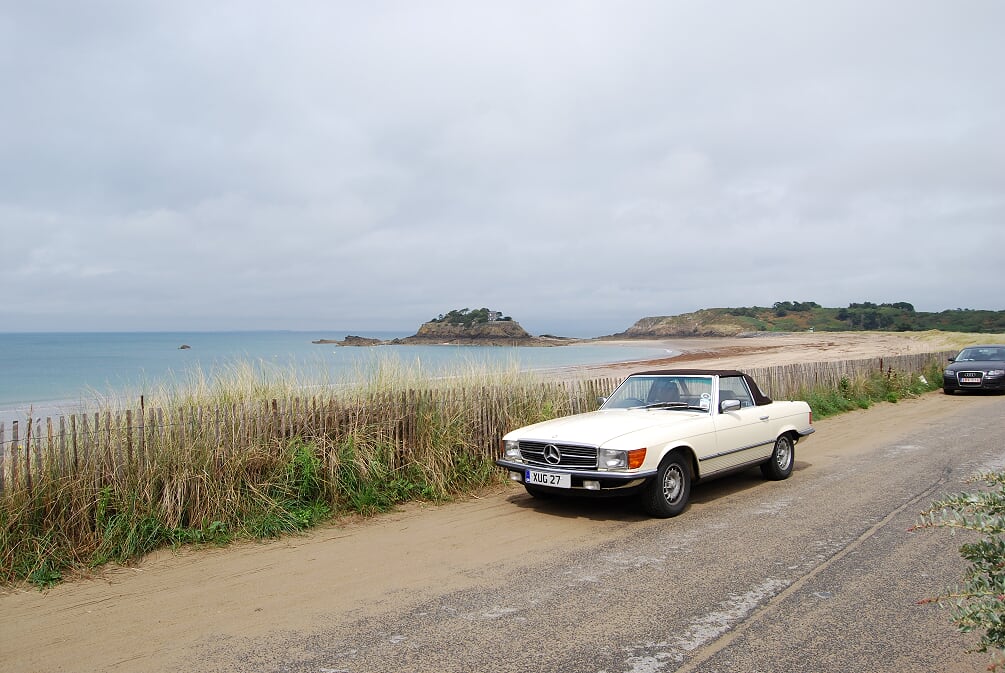 1985 Mercedes-Benz 380SL
Click here to view this car in our showroom
A superb and hard to find 'late model early car' from 1985. The timeless combination of Ivory coachwork with Palamino Leather gives this car an incredibly luxurious look.
The lazy-but-potent 3.8 litre V8 engine coupled with Ivory coachwork and early style interior gives this car the feel of an early 1970s American muscle car, a distinguished and different feel to the later R107s.
This lovely early car has been absolutely cherished by the former keepers, who purchased it in 2009.
Bought as a second car for trips and tours, this Ivory SL has toured Ireland numerous times, visited Jersey, Northern France and Scotland – as can be evidenced by the photographs shown here.
During this time extensive work has been done to keep this car in top condition. As part of the key role of 'holiday transport', this SL has always been maintained to the highest standard. Any suspect noises, vibrations, hums or whirrs that have arisen during the last 10 years have been resolved correctly, with the owner always ensuring the car was ready to go at a moments notice.
The next owner of this car will benefit from the time and dedication shown over the last 10 years.
Prospective buyers should not be deterred by the mileage on this car – it really is a wonderful example.
The engine fires at the first turn of the key, the car feels responsive and ready.
This SL is longing for a new owner to take the wheel and aim for the horizon, a new best friend with which to share many more miles of happy touring.
Increase the value it brings you
For every SL owner we have met, the key aspect in ownership and running these amazing motorcars is ensuring that this prized possession remains a joy to use whenever, wherever and however; protecting and increasing its value over time.
As the World's largest specialist in classic SL's we have drawn upon our experience with our customers, with hundreds of cars and thousands of hours behind the wheel and under the ramp to develop CARE; a way of engaging a community of owners and protecting the value of their investments as well as enhancing their cars condition, reliability and desirability.
Be the First to Know
We don't mind whether you are in the market for one of our awesome cars or just interested in seeing whats new and whats going on in the market. Pop your details in here to receive updates on all thats "hot" in the showroom.