At launch in 1989, the R129 SL was available in 300SL, 300SL-24 or 500SL variants, representing two six-cylinder engines (M103 12 valve 188bhp or M104 24 valve 228hp) and a 5.0 litre 322hp V8 (M119).
Four years later In 1993 the 300SL and 300SL-24 were replaced by the SL280 (M104 Inline 6 24 Valve 190hp) and SL320 (M104 Inline 6 24 Valve 228hp).
From 1993 until late 1998 buyers had a choice of these new engines, with the range then comprising SL280, SL320, SL500 and SL600 models.
The final incarnation of the R129 arrived late 1998, with all-new engines rolled out across the range.
The range topping V12 continued unchanged, whilst the 5.0 litre lost its M119 engine in favour of the all-new M113.
Both the SL280 and SL320 moved from the M104 straight six engine to the all-new M112 V6. This capable engine which would be the first V6 ever produced by Mercedes-Benz.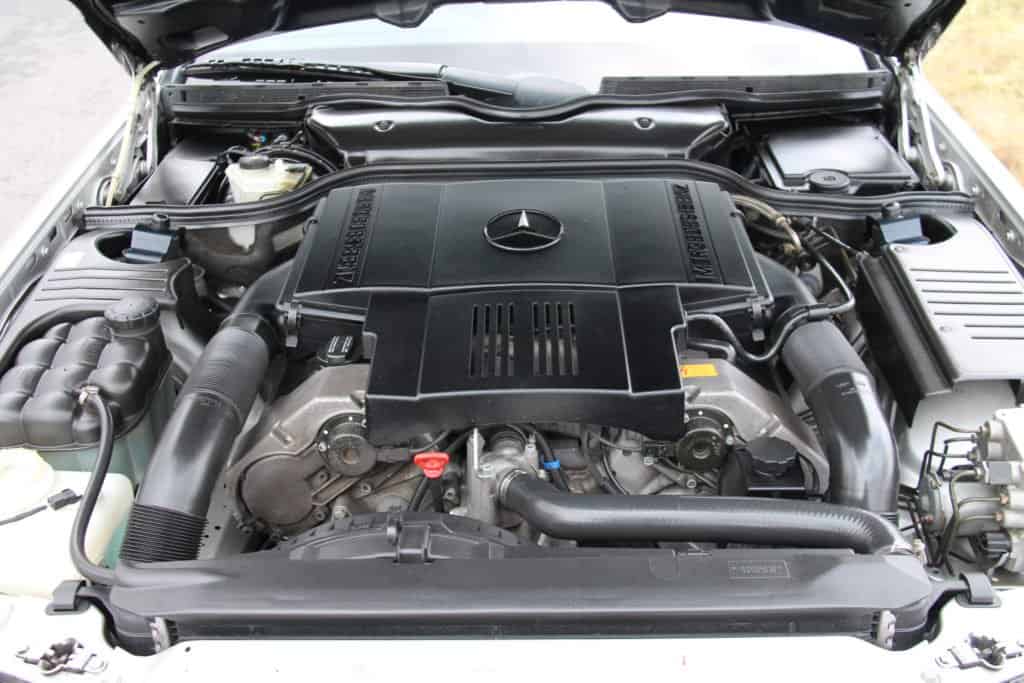 Late R129 with 5.0 litre M113 V8 engine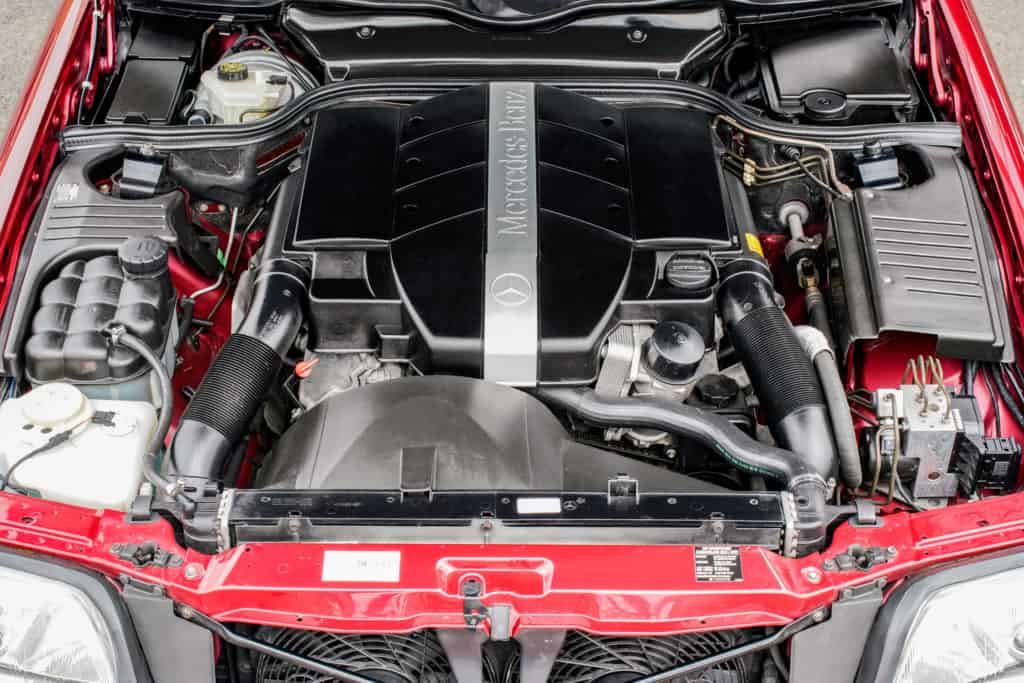 This new direction for Mercedes-Benz signalled the beginning of the V6 movement. The M112 engine would go on to feature in many, many models from Mercedes-Benz, proving to be a superbly reliable and dependable unit, offering excellent performance and an enjoyable driving experience.
These late R129 V6 models are highly prized, none more so that the beautiful Amber Red car we see here.
From launch in 1989
300 SL (M103 3.0 L 12-valve SOHC I6 188 hp)
300 SL-24 (M104 3.0 L 24-valve DOHC I6 228 hp)
500 SL (M119 5.0 L 32-valve DOHC V8 322 hp)
Added in 1992:
600 SL (M120 6.0 L 48-valve DOHC V12 389 hp)
From Autumn 1993:
SL280 replaced the 300SL (M103 2.8 L 24-valve DOHC I6 190hp)
SL320 replaced the 300 SL-24 (M104 3.2 L 24-valve DOHC I6 228hp)
500 SL continued unchanged but becomes SL500
From late 1998 – The Final Facelift
The R129 gets new mirrors, new wheels, new bumpers and all-new engines
SL 280 with all new V6 (M112 2.8 L 18-valve SOHC V6 201hp)
SL 320 with all new V6 (M112 3.2 L 18-valve SOHC V6 221hp)
SL 500 with all new V8 (M113 5.0 L 24-valve SOHC V8 302hp)
Increase the value it brings you
For every SL owner we have met, the key aspect in ownership and running these amazing motorcars is ensuring that this prized possession remains a joy to use whenever, wherever and however; protecting and increasing its value over time.
As the World's largest specialist in classic SL's we have drawn upon our experience with our customers, with hundreds of cars and thousands of hours behind the wheel and under the ramp to develop CARE; a way of engaging a community of owners and protecting the value of their investments as well as enhancing their cars condition, reliability and desirability.
Be the First to Know
We don't mind whether you are in the market for one of our awesome cars or just interested in seeing whats new and whats going on in the market. Pop your details in here to receive updates on all thats "hot" in the showroom.