We thought a little blog was in order as our showroom currently has a full house… meaning we have in stock at least one of each badge designation the R107 SL wore during it's lifetime. In numerical order these badges were 280SL, 300SL, 350SL, 380SL, 420SL, 500SL and 560SL.
280SL

300SL

350SL

380SL

420SL

450SL

500SL

560SL
R107 Engine Timeline:
R107 SL Production began in 1971 with the 280SL, 350SL and 450SL.
In 1980 the 350SL and 450SL were replaced by the 380SL and 500SL.
In late 1985 the 280SL was replaced by a new 300SL, and the 380SL by the 420 SL.
The 500SL engine continued and a new 5.6 litre V8 was added for export markets, notably the USA and Japan.
Our Stock – A Full Range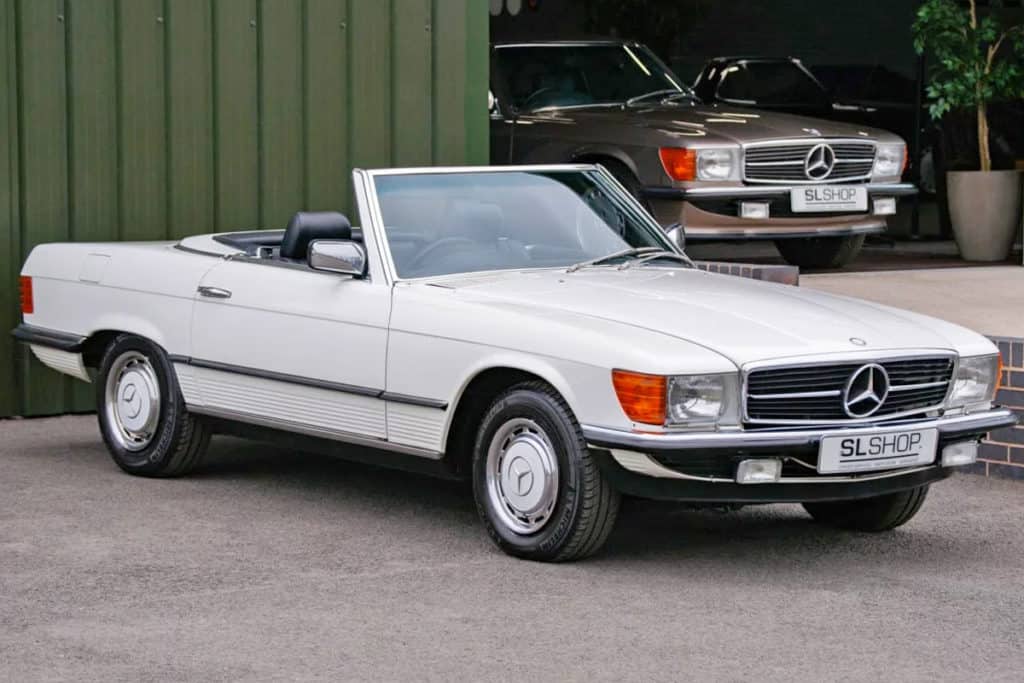 1984 Mercedes-Benz 280SL (R107) #2074
Classic White (737O) with Black MB Tex (151)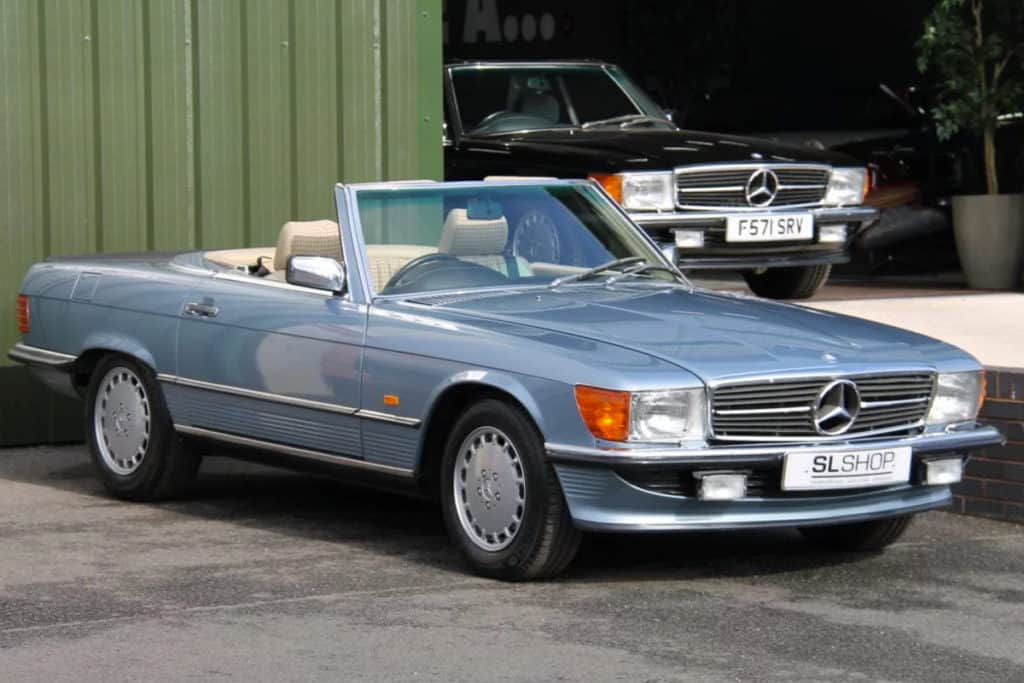 1987 Mercedes-Benz 300SL (R107) #2090
Diamond Blue (355) with Mushroom Sports Check (075)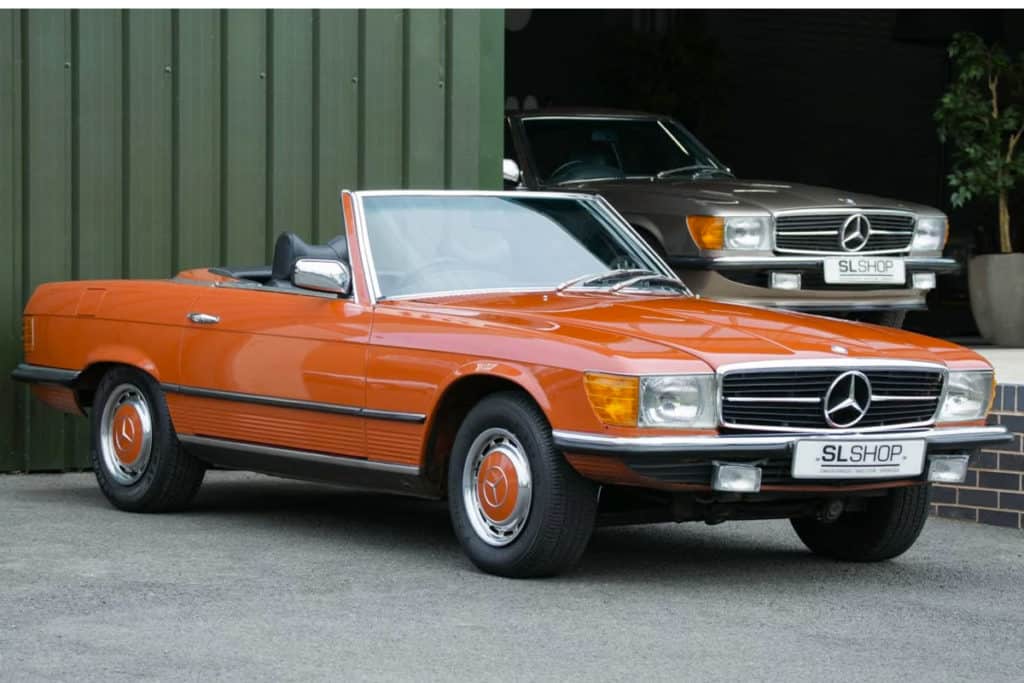 1977 Mercedes-Benz 350SL (R107) #2111
Brilliant Red (525U) with Black Leather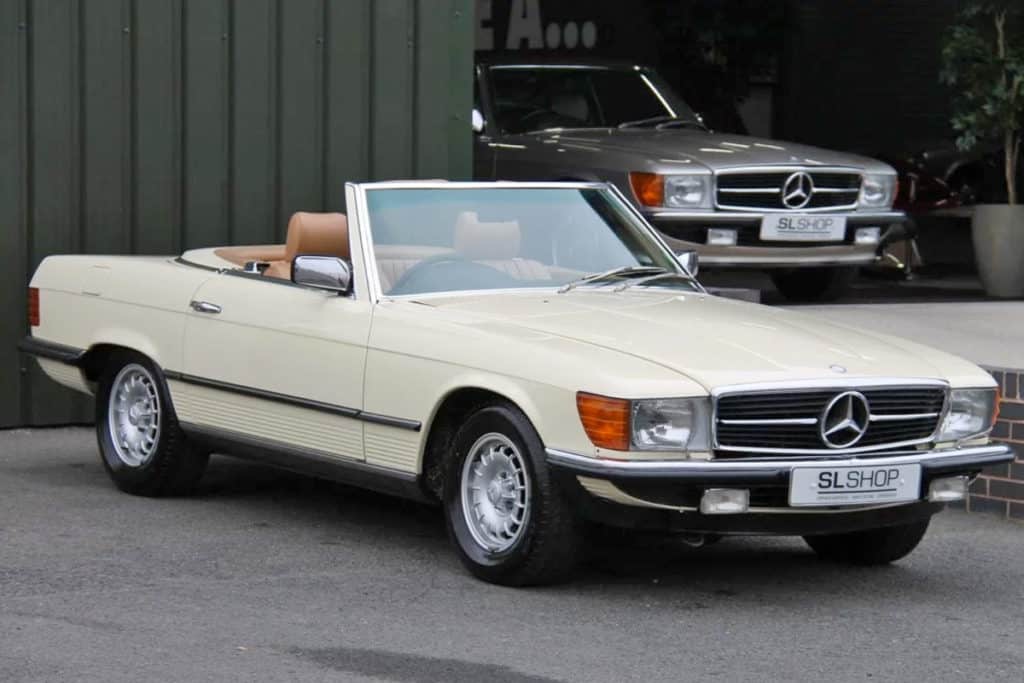 1985 Mercedes-Benz 380SL (R107) #2059
Light Ivory (623) with Palomino Leather (274)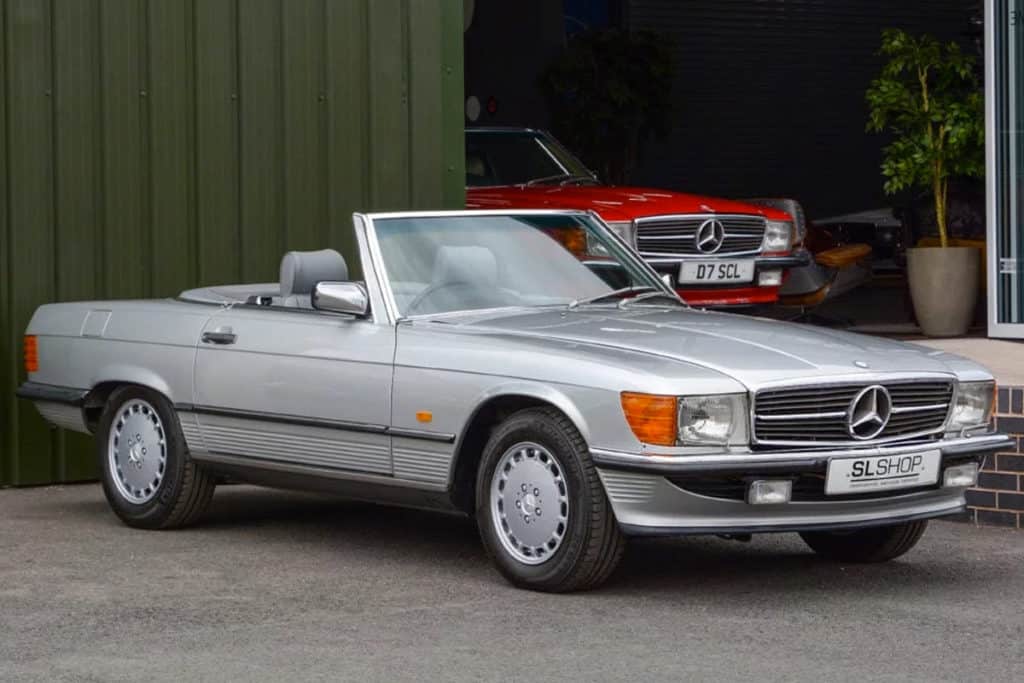 1986 Mercedes-Benz 420SL (R107) #2045
Astral Silver (735) with Grey Leather (278)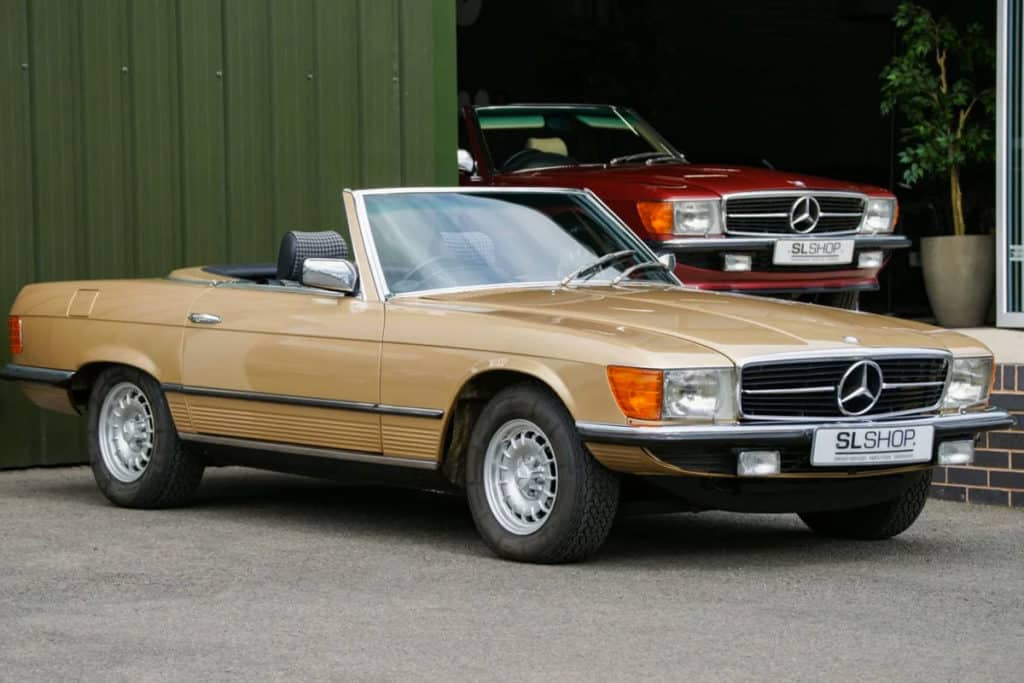 1981 Mercedes-Benz 450SL (R107) #2135
Champagne Metallic (473) with Black Sports Check interior (031)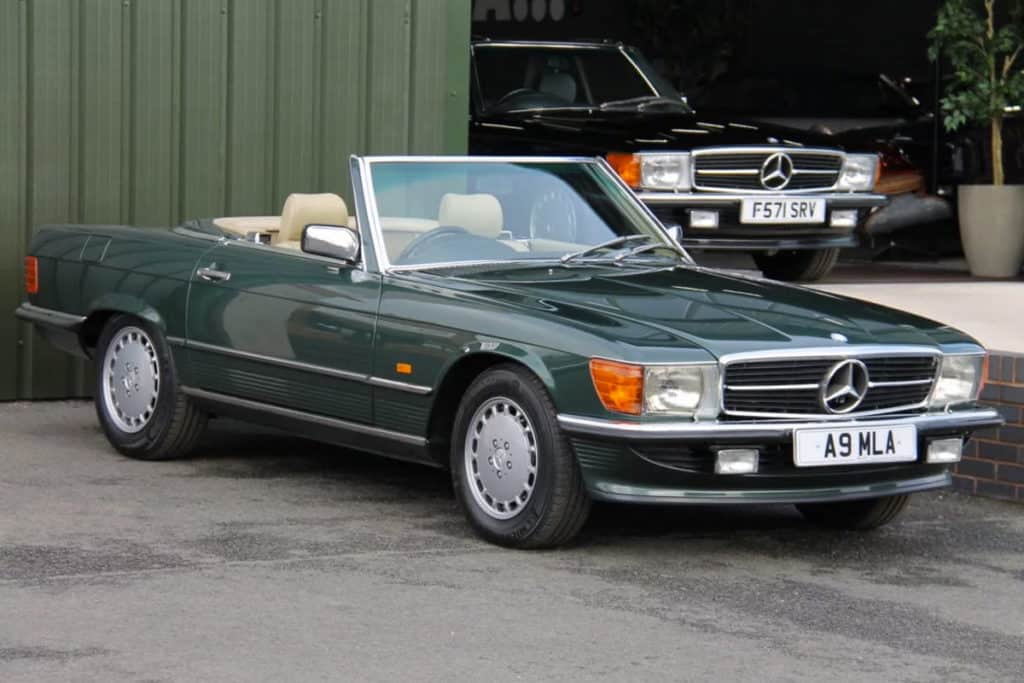 1988 Mercedes-Benz 500SL (R107) #2104
Pine Green (254) with Beige Leather (275)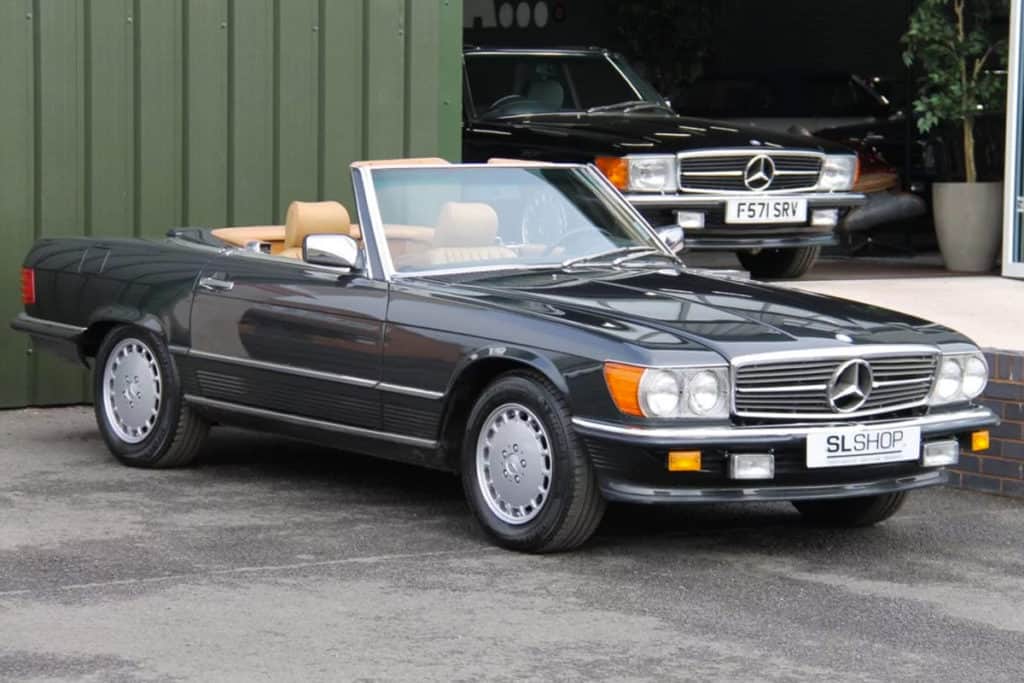 1988 Mercedes-Benz 560SL (R107) #2075 Left Hand Drive
Blue-Black Metallic (199) with Palomino Leather (274)
Want to know more about factory fitted options and prices when new for cars built from 1986-1989? Check out the links below:
Mercedes-Benz R107 1986-1989 Price When New
Increase the value it brings you
For every SL owner we have met, the key aspect in ownership and running these amazing motorcars is ensuring that this prized possession remains a joy to use whenever, wherever and however; protecting and increasing its value over time.
As the World's largest specialist in classic SL's we have drawn upon our experience with our customers, with hundreds of cars and thousands of hours behind the wheel and under the ramp to develop CARE; a way of engaging a community of owners and protecting the value of their investments as well as enhancing their cars condition, reliability and desirability.
Be the First to Know
We don't mind whether you are in the market for one of our awesome cars or just interested in seeing whats new and whats going on in the market. Pop your details in here to receive updates on all thats "hot" in the showroom.