Graham Laing decided to retire 10 years earlier than planned to enjoy an epic driving tour with his SLC. The plan, inspired by conversations with his Father, was to drive the SLC from the southern most tip of mainland Europe in Spain to the northernmost tip of mainland Europe in Norway.
When he told his children, they said 'you should write a blog about it'… So that's exactly what Graham is doing. Graham approached the SLSHOP and asked whether we would be interested in hosting his work, and we were only too happy to share his story. The SLCenic Route was born!
In this episode Graham discovers an SLC is definitely not a campervan.
The SLCenic Route
Episode 21 – Middle of forest in middle of nowhere (Overbygd) to Alta 220 miles
After last night's fiasco of nowhere to stay in the middle of a forest, it turns out that the back seat in an SLC is better than a cold tent. Who knew it was also a campervan! Can I just say, it isn't; and I wouldn't recommend it too often, but when you are off on mad adventures, it's good to know.
The nowhere to stay option also gave me the opportunity to see the sun at midnight. I drove down to the main road and gently cruised along the emptier than usual roads to find a spot beside a fjord. Norway has very strong right to roam laws; it's worth looking them up before travelling here with the main thing to watch for is not camping within 150 metres of an inhabited house. There are lots of campervans parked up for the night in the rest areas so it felt very safe.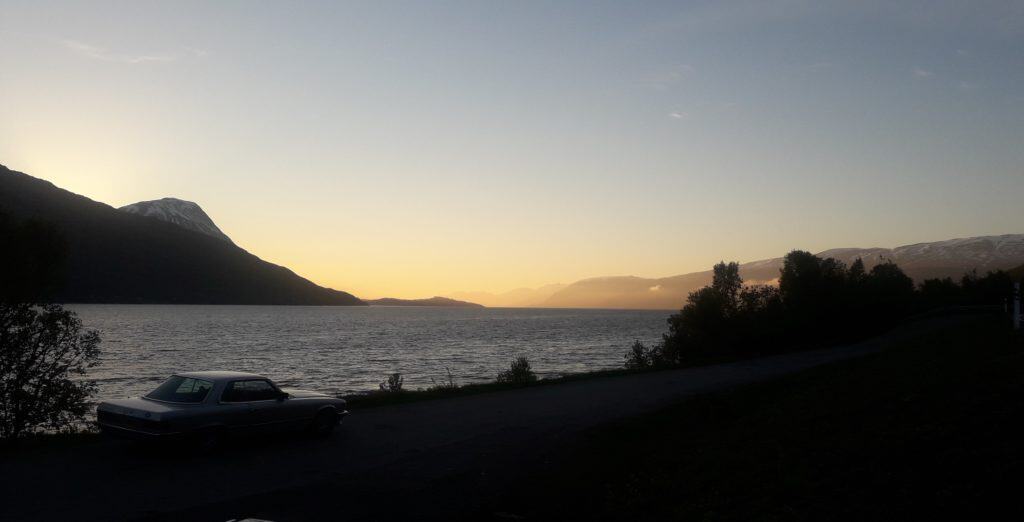 The wildlife around midnight was even more varied, an arctic fox, white tailed eagle (I think) and a herd of Reindeer with calves all wandering about near the road.

Took some pictures around midnight, just to show what it's like, but being a wee bit nerdy, midnight in Alta isn't the time the sun reaches its lowest point, it's more like 12:30am (if you're interested in the exact time, you need to be a proper nerd). What I do know about driving here at midnight on a clear night is; driving due north into a sun 3 or 4 degrees above the horizon, is blinding.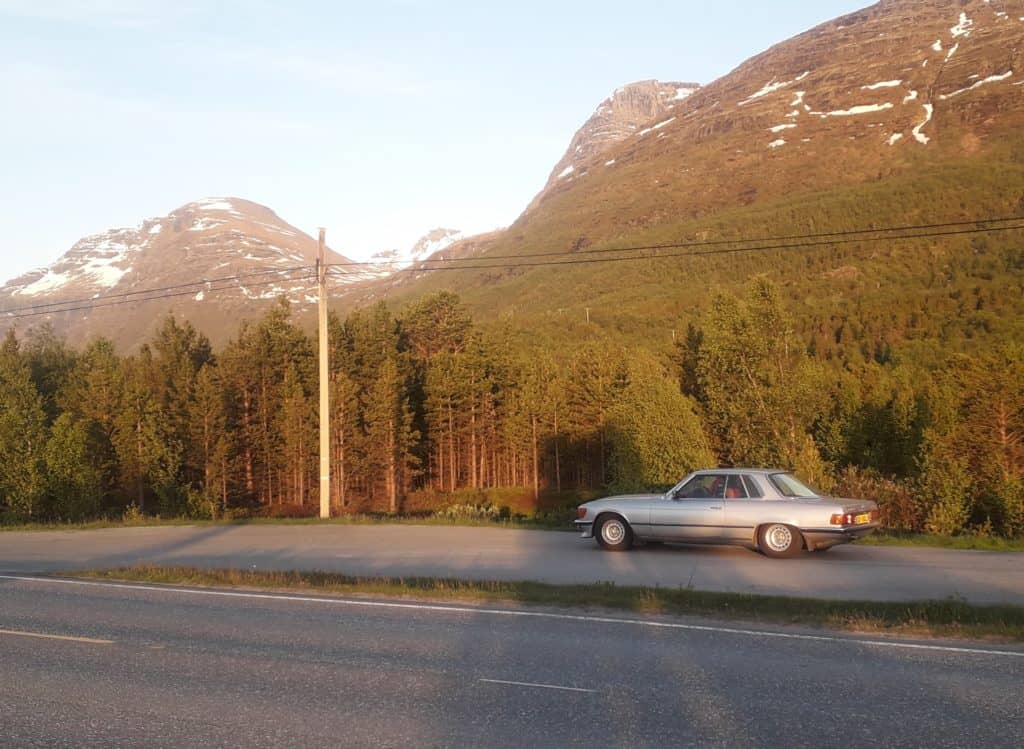 In the morning, the E6 road wound its way round the northern fjords and once again delivered stunning views. I also remembered what I forgot from yesterday's list, wonderful waterfalls, so many noisy beautiful, mesmerising waterfalls. Climbing up over the pass through the Kvænangsfjellet Mountain range at 1315ft may not seem that high compared to the Andorra Pass at 7900ft, but because everywhere else is at sea level rather than a high plain the mountains and climbs are just as impressive.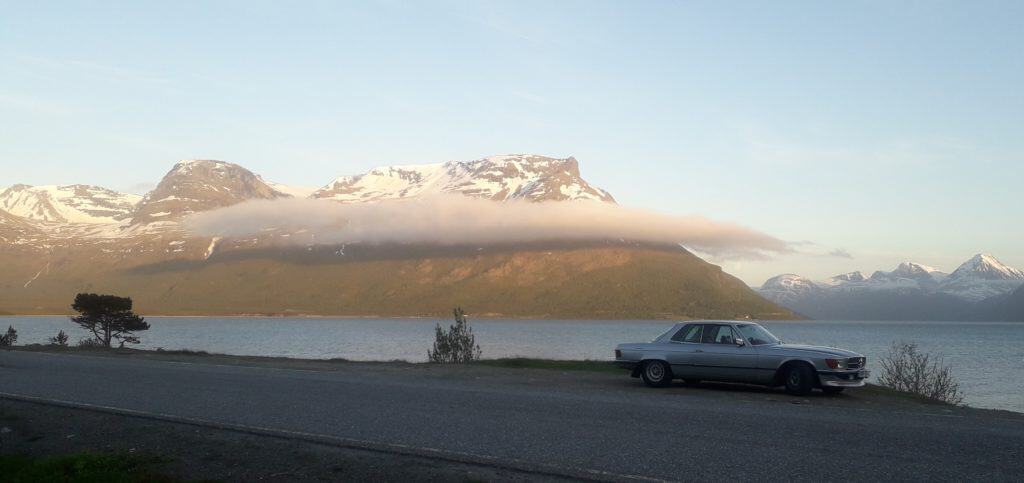 As always in Norway, there were plenty of tunnels linking the remote villages together. I looked up Norwegian tunnels; since finding oil in the North Sea in the late 70's they have dug over 800 miles of road tunnels with more being proposed and finished all the time. That would be like the UK digging a tunnel from Lands' End to John o'Groats. Puts the channel tunnel of 31 miles into perspective. Even the tunnelling expert Swiss only have 250 miles of road tunnels. The money the Norwegian government has spent on infrastructure is awesome, it's not just tunnels, there are bridges, great roads, airports, train lines and not just round Oslo, the rich capital in the south east; Alta is after all 900 miles north of the capital.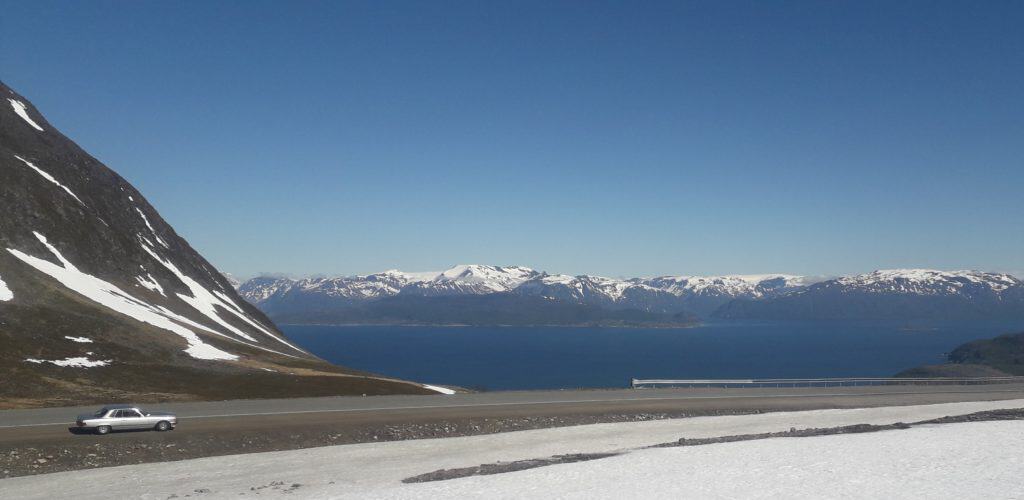 After working up along the Norwegian fjord west coast, with each town since the fabulous Trondheim getting smaller and more remote, it was a shock getting into Alta; it suddenly feels bigger and more energetic. "Bigger" in northern Norway means 15,000 people. So not exactly massive, but it does have an airport a university and on a bright warm sunny day, didn't feel like the north of Norway I was expecting. Alta has a Wild West feel; this is a cosmopolitan town with lots of youngsters, green spaces, quad bikes, motorbikes, scooters and pickup trucks. A town that deserves the natural beauty of a midnight sun.
Increase the value it brings you
For every SL owner we have met, the key aspect in ownership and running these amazing motorcars is ensuring that this prized possession remains a joy to use whenever, wherever and however; protecting and increasing its value over time.
As the World's largest specialist in classic SL's we have drawn upon our experience with our customers, with hundreds of cars and thousands of hours behind the wheel and under the ramp to develop CARE; a way of engaging a community of owners and protecting the value of their investments as well as enhancing their cars condition, reliability and desirability.
Be the First to Know
We don't mind whether you are in the market for one of our awesome cars or just interested in seeing whats new and whats going on in the market. Pop your details in here to receive updates on all thats "hot" in the showroom.