Our white 300SL recently spent a weekend in the Malvern Hills
Like any good Bank Holiday, the weather forecast was touch and go. The intention was to collect the SL and spend a weekend around the Malvern Hills, enjoying top down motoring, country pubs, and Ragley Hall Classic Car Show. Having spent the last few years in and around classic cars, I wanted to understand why the R107 is held in such high regard by owners and enthusiasts alike. After taking an R129 to the Evo Triangle, I was overdue some quality time with an R107.
The white 1987 Mercedes-Benz R107 300SL is part of the SLSHOP's long term fleet, used for photo shoots, test drives and occasional courtesy car duty. It has covered just over 105,000 miles and is kept in fine form by the team at The SL Shop.
Fetching the car on a Thursday meant this SL had a number of roles to play – on Saturday and Sunday the 107 would be in it's element, sweeping along B roads looking leisurely, but on Friday it just had to be a car… That meant dropping child #1 at school, taking child #2 up the motorway to stay with Grandma, popping to the office for a few hours then heading back down the M5 and into Malvern during thick Bank Holiday traffic.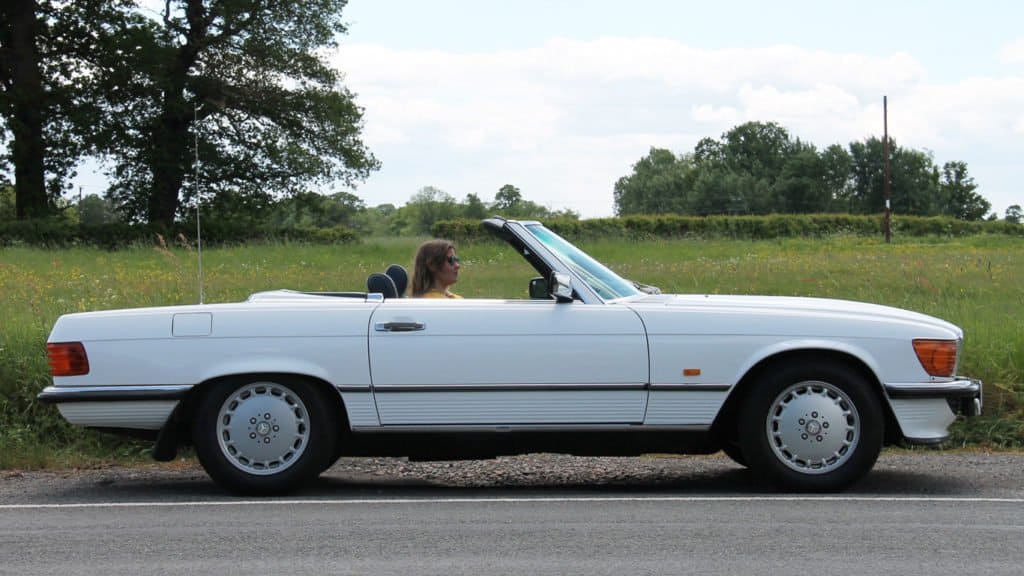 The top down school run was a hoot – the SL stood proud against a backdrop of Evokes, Picassos and Qashqais. It's not every day you see a car like this outside the school gates. Once the school whistle had blown, it was time to join everyone else in Worcestershire's favourite bottleneck – the bridge over the River Severn.
Crawling at 10mph in thick traffic on a hot day is a classic car owners worst nightmare. Having owned and driven all manner of old cars, I watch the temperature and fuel gauges like a hawk, half expecting one to jump and the other to sink as we approach Carrington Bridge – but of course this isn't an old British car or a classic Volkswagen, it's a Mercedes-Benz. The fuel and temperature gauges refuse to budge, and eventually the road opens up.
The next challenge for the SL is a busy, fast flowing motorway. There are classic cars we see at shows where we think 'that looks wonderful – wouldn't want to drive it home'. The R107 SL is not one of those. With a top speed of 130mph, it eats the miles without a hitch. Perhaps we have become so accustomed to seeing these cars crawling around or static at shows, but it's easy to forget just what a well cared for SL can do. An Audi Q3 appears in the rear view mirror expecting the old car to indicate and pull over. Instead I mash the pedal into the carpet, the SL kicks down a gear and begins to sing as the revs climb and the generic SUV disappears back from whence it came. The sound from the six cylinder engine is addictive, the exhaust note has an old fashioned reverb to it, a resonance and a hollowness that you can't find in modern vehicles. This car really can put a grin on your face!
Friday evening brings another challenge – can the SL hold it's own against modern metal at the health club? We park next to a limited edition Jaguar FF, opposite a Ferrari 488 Spyder and BMW 6 Series, yet somehow the SL gets all the attention.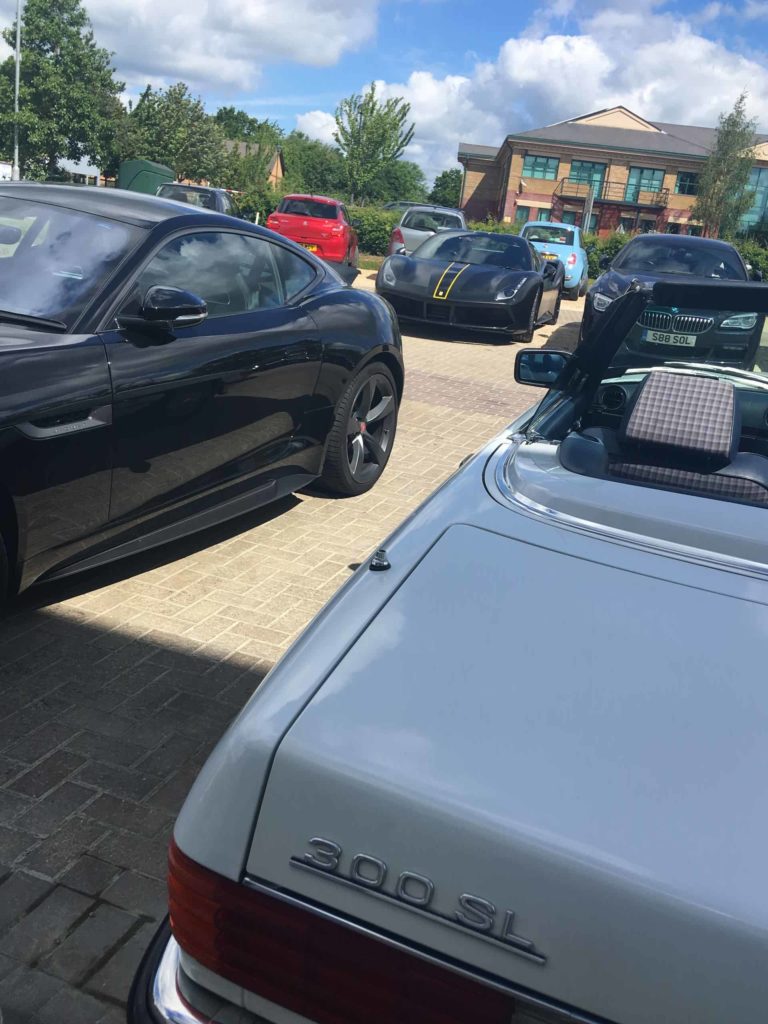 24hrs into our SL adventure and we've established that an R107 can do the school run, rush hour, busy motorways and posing. I'm beginning to be converted…
The weather remains predictably unpredictable and we've got child #2 with us for Ragley Hall Classic Car Show. With a boot large enough for a full size push chair, picnic, rain coats, wellies and space left over, the SL scores yet more practicality points. There can't be many classic convertibles that could say the same.
Mercedes-Benz 230E

Ferrari Mondial

Lotus Esprit Mk1

BMW 635

Humber Super Snipe

Lotus Esprit Turbo
Between showers we admire the classics on display, including an immaculate W123 230E. Despite the number of SLs in the UK we only count 3 at the show, an early 280, a late 300 in a rare shade of Burgundy and ours. The white 300SL gains admirers at the show, and we watch people sidle up to it for a closer look. Rain stops play and we discover that the rear seats of an R107 SL make an excellent place for a 2 year old to play while waiting for the rain to pass. Is there anything this car can't do?!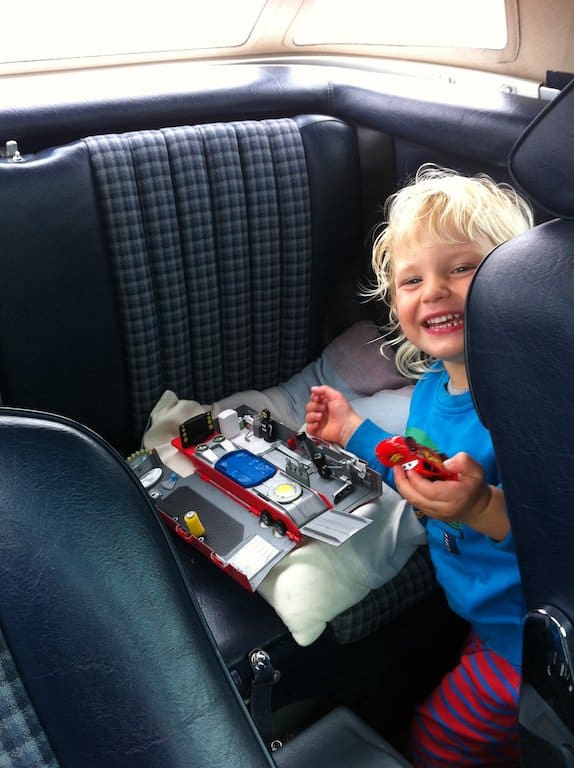 The following day the weather gods are in a better mood so we take the SL hunting. Well, hunting for coffee, pudding and B roads.
The Malvern Hills flow neatly into Herefordshire via Eastnor and Ledbury, and the combination of lush greenery, wonderful views and sweeping country roads make this a fine motoring destination.
With the top down and wind deflector in place, the cabin of an R107 remains refined at any speed. With the windows up there is no buffeting, and with the sun blazing down there is no finer place to be.
Compared to modern soft tops, the operation of the R107's fabric hood may seem laborious, but the efficient and elegant design is not only sturdy and well executed but secure at any speed.
With a little practice the roof operation can be done rather quickly, and the reassuring action of clicking the front mechanism into place with the supplied roof handle is rather satisfying.
As fabric soft tops age, they tend to billow and balloon, but the way the SL roof fastens firmly to the windscreen and rear deck means there is no significant movement even as speeds increase. The longer you spend with an R107 the more you notice just how good these cars really are, and how easy to live with.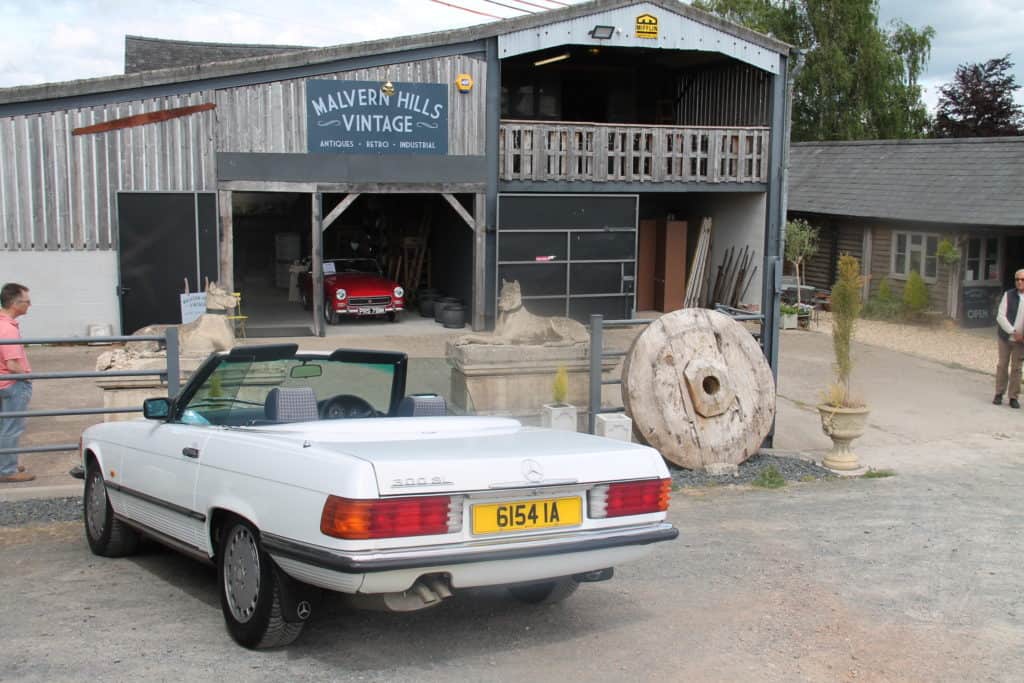 The cabin is plenty spacious, with pockets in both doors, and the beautifully carpeted recess where the handbrake sits is the natural location for sunglasses, wallet and mobile phone. Other than cupholders, it's hard to point to things that this 1980s SL lacks. Remote central locking would be nice, although this is often found on SLs of this age.
Seating inside the SL is plenty comfortable, and once you've covered a few miles with a 107 you learn to flow with the car. The trick is to progress at speed whilst minimising input, maximise the undulations of the road and anticipate the curves before they happen. An SL is not a Mazda MX5, but by properly considering your route the SL will surprise with it's capabilities.
This car features the Sports Check interior. Leather and MB Tex were also available, with leather tending to be the most desirable choice. Specifcation and finish really comes down to personal preference. Through the almost two decade production run Mercedes-Benz offered a wide range of interior and exterior swatches, including some interesting vintage hues – some of which have aged better than others! The cabin itself got a mild overhaul in 1986, refining the design and layout of the central console and dashboard, adding more wood and chrome.
Sports Check suits this car remarkably well. It doesn't get too hot in the sun, is comfortable over long distances and despite being 30 years and almost 110,000 miles old, appears to have aged remarkably well.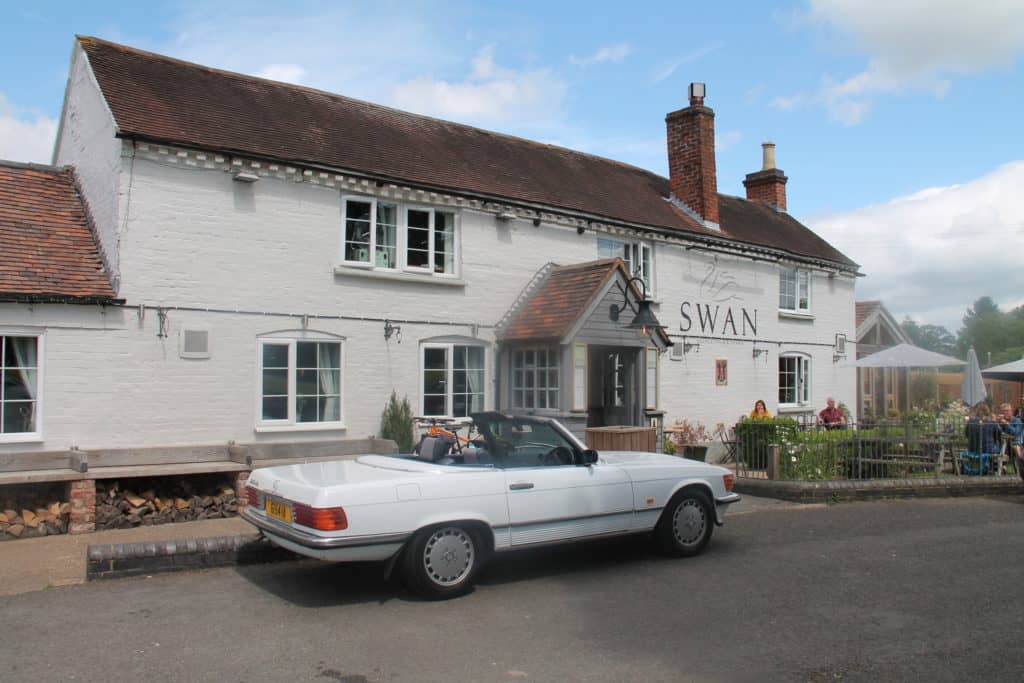 Pondering the car over a slice of Honeycomb Cheesecake and a warm Sticky Toffee Brownie at The Trumpet Inn, I wonder if this really is the ultimate classic car. Renowned for reliability and longevity, the SL has universal appeal and the car enjoys admiring glances and comments from people of all ages. It hasn't drunk fuel at an alarming rate, has been incredibly easy to live with and has performed everything we've asked of it with aplomb.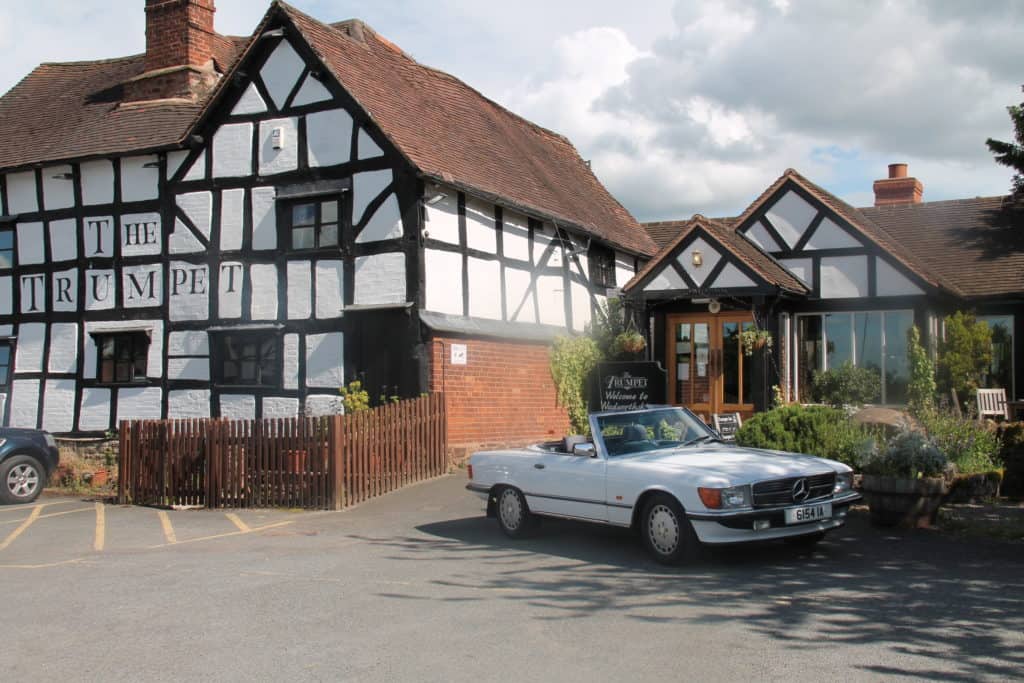 The real beauty of an R107 SL is that it combines effortless style with just enough modern technology to be a very usable classic car. The final 4 years of production saw improvements to the range of engines, the suspension and the brakes, and at no point during our time did we find it lacking in power, handling or stopping ability.
Being a child of the 1980s, I've always been more interested in the R129 and hadn't expected to fall in love with the R107 quite the way I did – But three days and three hundred miles later, that's exactly what happened. This was an entirely unexpected love affair.
One long weekend with an R107 SL left me completely convinced – you should buy one of these cars, but more than that you should get out there and enjoy it.
England is full of beautiful countryside, Europe is just a train ride away. Why not make the most of thousands of miles of superb roads and coastlines, viewed from the best seat in the house… behind the wheel of a classic SL.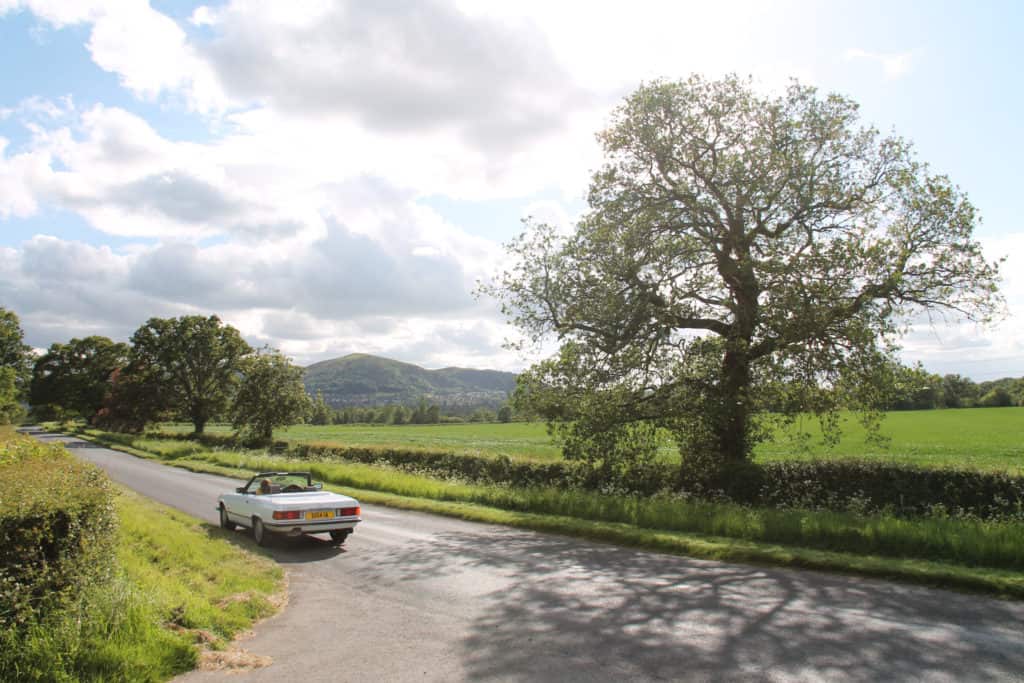 Fancy owning on of these iconic classics?
Take a look at the latest offerings in our showroom.
Increase the value it brings you
For every SL owner we have met, the key aspect in ownership and running these amazing motorcars is ensuring that this prized possession remains a joy to use whenever, wherever and however; protecting and increasing its value over time.
As the World's largest specialist in classic SL's we have drawn upon our experience with our customers, with hundreds of cars and thousands of hours behind the wheel and under the ramp to develop CARE; a way of engaging a community of owners and protecting the value of their investments as well as enhancing their cars condition, reliability and desirability.
Be the First to Know
We don't mind whether you are in the market for one of our awesome cars or just interested in seeing whats new and whats going on in the market. Pop your details in here to receive updates on all thats "hot" in the showroom.