Graham Laing decided to retire 10 years earlier than planned to enjoy an epic driving tour with his SLC. The plan, inspired by conversations with his Father, was to drive the SLC from the southern most tip of mainland Europe in Spain to the northernmost tip of mainland Europe in Norway.
When he told his children, they said 'you should write a blog about it'… So that's exactly what Graham is doing. Graham approached the SLSHOP and asked whether we would be interested in hosting his work, and we were only too happy to share his story. The SLCenic Route was born!
In this episode Graham takes his SLC to the Mulsanne Straight.
The SLCenic Route
Episode 3 – The Epic Trip Begins
Day 0:
A bit weird having a day 0 for my trip, but driving from Rochester down to Newhaven and catching a ferry didn't seem to justify a proper days report.
Anyway, for those that know me, saying I rushing about at the last minute will come as no surprise.
Car was packed with everything I think I will need and everything that the car probably won't need.
Ferry was due to depart at 23:30 for a 5 hour crossing to Dieppe. I got to Newhaven at 23:00. Loads of time to spare.
Luckily I can sleep anywhere so I didn't book a cabin, however looking round the passengers as we got into Dieppe, there were 2 different groups, those that looked like death had been sleeping in seats, those that looked half normal had booked a cabin.
Day 1:
Into Dieppe at 5am with a 400 mile journey ahead. I intend to only book accommodation 2 days in advance and the destination tonight was a hotel just outside La Roche sur Yon. With no detours and using the French toll roads I would me here by lunch time. But this trip is about exploring and seeing the continent, not just another motorway verge flashing past. So I set the satnav to avoid toll roads and set off to the first detour of the Normandy beaches. Stopping for breakfast at a Patisseries in one of the many quaint villages, it only occurred to me later that at 6:30 am they weren't actually supposed to be open for business, but the door was open and they were happy to take my money for 2 lovely croissant type things.
Lion-sur-Mer looks and feels like a typical seaside town, except it is covered in D-Day memorabilia and the odd WW2 tank. In my childhood, we spent many a long summers day getting sunburnt on the fabulous Fife beaches and remember seeing what was left of the anti-tank defences that Britain installed along them. (Lundin Links beach still has them). The beaches of Normandy seem to have removed anything similar but the beaches themselves are awesome, I thought the west sands at St.Andrews were massive, at least they were when I tried to run the length and back, but Normandy beaches simply go on forever.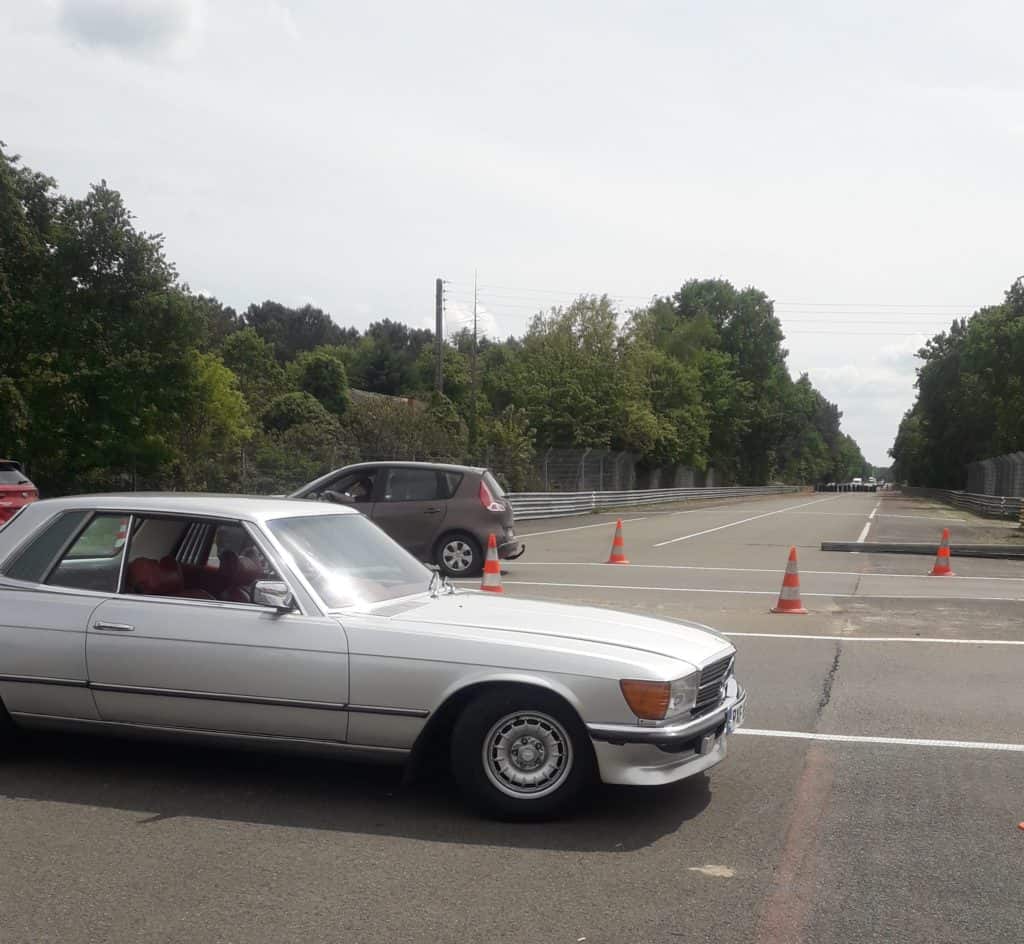 Next stop was Le Mans, I had read the Mulsanne straight was a public road, and couldn't resist the temptation to drive down it. I didn't expect much on the drive down to LeMans, but how wrong I was. Once again the toll roads were avoided and the Sat Nav took me through the wonderful hills of the Normandy countryside. One thing I noticed was the lack of fences at the side of the road. Why after all does a field of wheat need a fence? It isn't going anywhere.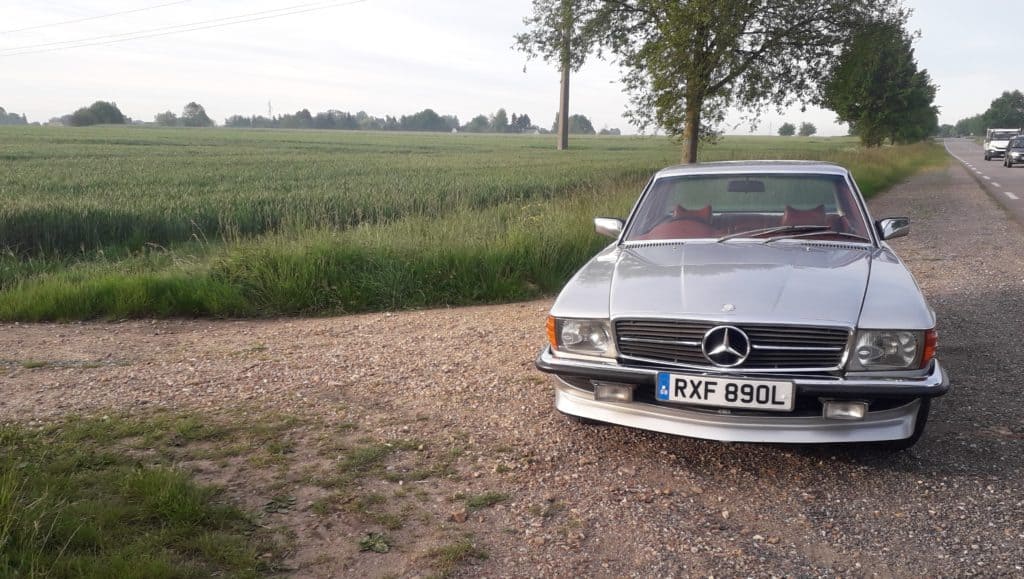 Part of route to Le Mans reminded me of the A68, just bigger. The French don't seem to worry about blind summits though, or at least if there is a sign saying blind summit, I didn't see them.
In Le Mans, it's not just the Mulsanne straight you can drive along; other parts of the circuit are also on public roads. The thing that is talked about the straight it's that it is so long, but after driving through this part of France, I'm not surprised. In the UK if a road is very straight for more than a couple of miles, we assume it is based on an old Roman road. It looks like the Romans were in France for a lot longer than they were in Britain because once off the new motorways, the roads crisscross the countryside in beautiful straight lines. A number of times I would come to a picturesque valley and see the road dead straight for 3 miles to the brow of the next hill.
A long day in the SLC but as always comfortable and easy.
Increase the value it brings you
For every SL owner we have met, the key aspect in ownership and running these amazing motorcars is ensuring that this prized possession remains a joy to use whenever, wherever and however; protecting and increasing its value over time.
As the World's largest specialist in classic SL's we have drawn upon our experience with our customers, with hundreds of cars and thousands of hours behind the wheel and under the ramp to develop CARE; a way of engaging a community of owners and protecting the value of their investments as well as enhancing their cars condition, reliability and desirability.
Be the First to Know
We don't mind whether you are in the market for one of our awesome cars or just interested in seeing whats new and whats going on in the market. Pop your details in here to receive updates on all thats "hot" in the showroom.