And other frequently asked R 107 questions. Here's all the questions you're dying to ask about the Mercedes-Benz R 107 SL:
Can I drive an R 107 SL every day?
Can my R 107 SL keep up with modern traffic?
Is the R 107 SL a safe enough car for long journeys both at home and abroad?
Is the R 107 SL reliable?
Can I drive my R 107 SL with the roof down at speed?
Which R 107 SL should I buy?
Can I drive an R 107 SL every day?
The Mercedes-Benz R107 SL is an established icon, but when compared to other classic cars of the same age, the strong performance, comfortable ride and superb build quality tempt owners into using them more and more – and who could blame them?
Here's what you need to know about using an R107 SL on a regular basis
Many of our customers ask us: Can I use my SL every day?
Our answer is a resounding YES!
These cars were built to last, and provide a sumptuous drive in all conditions. Spend a few hours at the wheel of one and you can't fail to appreciate their all-round ability. Whether you choose a six or eight cylinder engine, the R107 SL remains totally unflustered by today's roads.
Can my R 107 SL keep up with modern traffic?
Strong, six and eight cylinder engines coupled with a superb chasis and excellent build quality make the R 107 SL one of the most usable motorcars of the 1970s and 80s. The timeless open top looks will give you hours of top down enjoyment, coupled with oodles of time spent chatting at the roadside with strangers who admire your choice of transport! The SL has such mass appeal you may find yourself welcome just about anywhere.
Is the R 107 SL a safe enough car for long journeys both at home and abroad?
With a wider stance and more advanced suspension than the earlier Pagoda, the R 107 feels much more planted and sure footed on the road, making cross country driving much more enjoyable.
If you do intend to use your SL daily, then it would be wise to consider a later, facelift R107.
Manufactured from September 1985 (and registered in the UK from 1986) the 'facelift' cars were built for the last three years of R107 SL production. These later cars offered better braking, sharper handling, more creature comforts and ABS. The revised front suspension, ventilated discs, larger wheels and the addition of ABS make these cars an ideal choice for those wishing to drive an SL regularly.
Designed by Mercedes-Benz with safety, comfort and performance at its heart, the R107 SL is a peerless classic grand touring roadster.
Is the R 107 SL reliable?
The R 107 SL has a number of things going for it when it comes to achieving mega mileage.
Relative simplicity
Large, usually under stressed engines
Shared underpinnings and technology with other stupendously reliable Mercedes-Benz cars
Relatively speaking, the straight six and V8 engines are fairly simple. There are no complex ECU or electronic issues and very few modules to let you down. These engines only require regular maintenance to give you many years and miles of happy motoring.
All models of SL use a fairly large displacement engine (2.8 litres at the small end a 5.6 litres at the large end). All of these engines offer plenty of power, torque and acceleration for under stressed daily driving, meaning most SLs have spent their entire lives in the lower end of the rev range. Because of the sort of car that an SL is, they've also largely been owned by people who love and cherish them. Although this isn't always the case, on a balance of probability we can usually say categorically that your average 500SL has enjoyed more care, attention, maintenance and lazy motoring than something like Citroen Saxo 1.2.
The R 107 SL came from an era of stupendously reliably Mercedes-Benz cars. Think of Top Gear's James May driving his W123 230E across Africa's Kalahari Desert, or Greek taxi driver Gregorios Sachinidis, whose 1976 240D saloon has covered a fully certified 2,800,000 miles! (This car now belongs to Mercedes-Benz and is displayed in the company's museum in Stuttgart)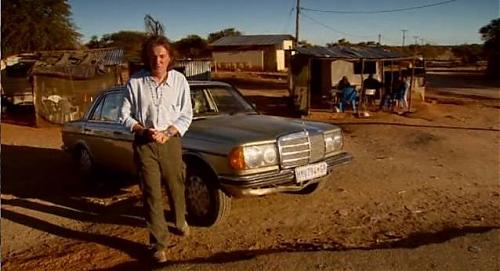 Reliability can never be completely guaranteed, however if we had to drive a car from SL Shop HQ to Italy at 6am tomorrow morning, we'd rather take an SL than any of it's contemporary rivals.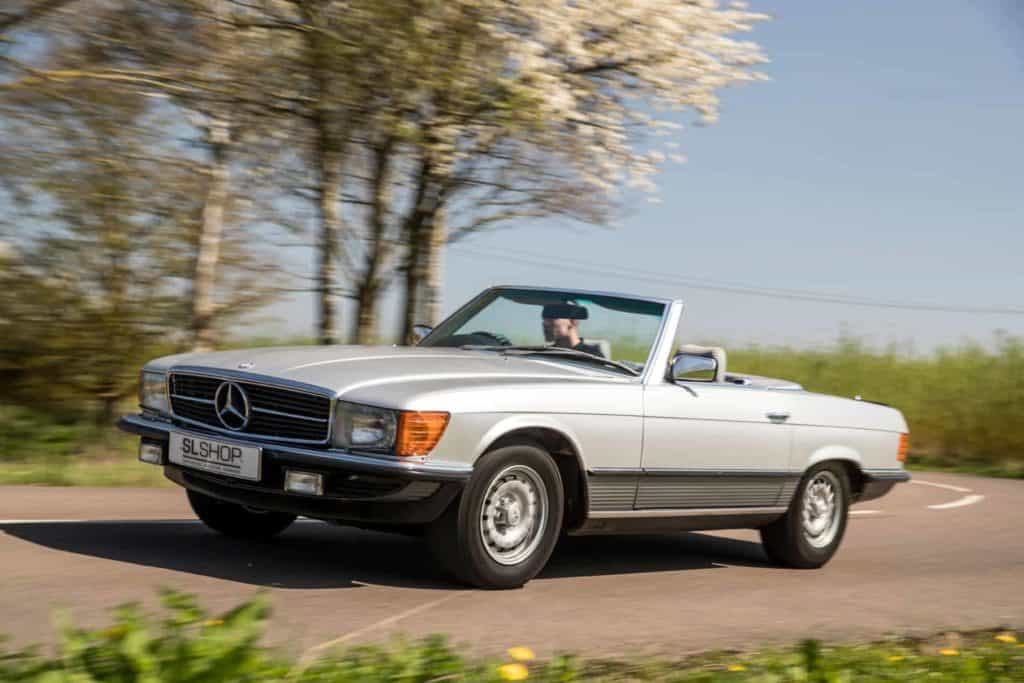 Can I drive my R 107 SL with the roof down at speed?
The design of the cabin of an R 107 SL is a superb place to sit, whether the factory hard top is in place, or the fabric hood, or no hood at all. With the windows up, front seat occupants are not particularly affected by buffeting even at speed. For anyone who has done a fair amount of driving in soft tops, especially older cars, you will be familiar with the array of different noises that usually emirate from around the cabin as decades-old plastics and vinyls flex and move with the wind – not so with an SL. The quality of these cars is so good that the driving experience varies little no matter which state of play the roof is in.
If you do prefer driving with the wind in your hair, we would of course recommend one of our wind deflectors. A wind deflector makes a huge difference to the way air flows over and around the cabin of the car, helping airflow to go over the back of the vehicle instead of down through the seats and directly on to your legs… (And that line was written by a gentleman with a lot of experience covering great distances in many different soft tops.)
Of course, the real piece de resistance for a well equipped late model SL would be seat heaters. This expensive factory option would have been a real indulgence in the 1970s and makes a wonderful addition to your SL today.
For more information on R 107 SL roof configurations, view our Hard Top Soft Top How To
Which R 107 SL should I buy?
Ah, we've convinced you, so now it's just a case of choosing your car! Although the aesthetics remained largely unchanged throughout the production lifecycle (other than the aforementioned 1985 facelift), there are a number of engines to choose from.
Six cylinder engines are found in the 280SL and 300SL, while the meaty V8 lurks within the 350SL, 380SL, 420SL, 450SL, 500SL and finally the 560SL.
From a performance standpoint, the honest truth is that unless you are playing a game of Top Trumps or involved in some sort of Cannonball Run, you'd be hard pushed to notice the differences between later versions of both the 6 and 8 cylinder engines. All of them are excellent and all have superb grand touring capability.
Our R 107 SL buying advice can be summed up in one sentence – buy the car you want to own and drive, in other words, don't get too hung up playing Top Trumps when what you really want is Signal Red with Black Leather!
Looking for your dream Mercedes-Benz R 107 SL? Contact Bruce with your requirements.
Increase the value it brings you
For every SL owner we have met, the key aspect in ownership and running these amazing motorcars is ensuring that this prized possession remains a joy to use whenever, wherever and however; protecting and increasing its value over time.
As the World's largest specialist in classic SL's we have drawn upon our experience with our customers, with hundreds of cars and thousands of hours behind the wheel and under the ramp to develop CARE; a way of engaging a community of owners and protecting the value of their investments as well as enhancing their cars condition, reliability and desirability.
Be the First to Know
We don't mind whether you are in the market for one of our awesome cars or just interested in seeing whats new and whats going on in the market. Pop your details in here to receive updates on all thats "hot" in the showroom.