The R129 SL replaced the much-loved R 107 SL in 1989, bringing the SL up to date with class leading safety and technology. With all new styling and a modern interior, the latest SL was an instant hit. The electronically retractible folding roof and elegant hard top completed the picture, while a new batch of engines ensured the SL range was competitive in every aspect.
So, taking a look back in time, what were your options for alternative transport at the time of the R129's launch?
Join us as we delve into the past with a full wallet and a thirst for an automotive adventure.
(This is a 2 part blog post, we also visited 1975 looking at R 107 SL alternatives)
The Automotive Market Place – 1989
It's 1989 and the world is changing fast. Computers are creeping towards us, George H. W. Bush is in the White House. Poll Tax went up and both the Berlin Wall and Exxon Valdez went down. Manuel Noriega clings to power in Panama as Mikhail Gorbachev begins to lose all of his. N.W.A's hit album Straight Outta Compton might be playing on your car stereo… or not, but Fine Young Cannibals certainly would have been!
For Context – Britain's best selling car of 1989 was the… Ford Escort
By March 1989 Mercedes-Benz dealerships were waving goodbye to the final R 107s and welcoming the R 129 with open arms. With completely new styling, incredible safety features and a range of fresh engines, the R 129 is the first SL to tentatively cross into the Sports Car category.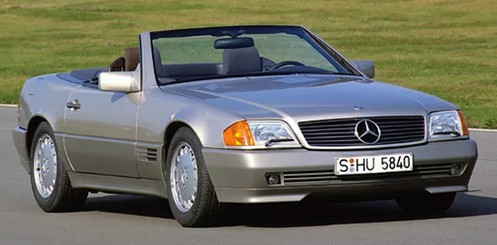 Mercedes-Benz 500 SL (1989-92)
5.0 litre V8 – 322 bhp
Cost for a good one now: Click Here
Available as a 300 SL or 500 SL from launch, the new six-cylinder engines produced 188bhp (or 228 bhp for the 24 valve), while the 5.0 litre V8 posted an impressive 322 bhp – the most powerful SL to that date. Technologically advanced with an electronic folding roof, the R129 was a huge leap forward from the R107, instantly making it's only direct rival, the XJS look archaic.
Also in showrooms back in 1975…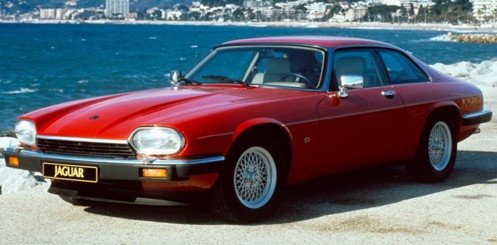 Jaguar XJS (1982-91)
5.3 litre V12
Cost for a good one now: Approx. £10,000
By 1989 the Jaguar XJS was available with a 3.6 litre straight six or 5.3 litre V12. Although it remained a good looking car, the now desirable 'Ford Update' was 2 years away and with rivals producing more advanced cars the XJS was showing grey hairs. The arrival of the six-cylinder engine helped Jaguar greatly, as the V12 was plagued with reliability issues largely down to fuelling – and of course it was incredibly thirsty. Over time the XJS developed a reputation for poor reliability and terrible build quality, but it really was never as bad as the hype would suggest.
With the XK8 not due to arrive until 1996, for the first four years of R129 production the XJS was arguably the biggest threat to the 'Benz.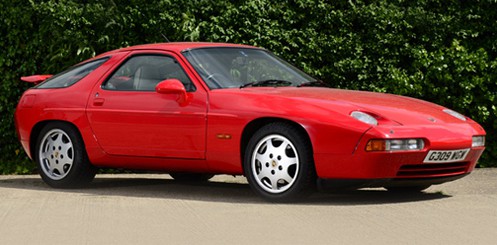 Porsche 928
5.0 litre V8 – 316 bhp
Cost for a good one now: Approx. £12,495
The Porsche 928 and R129 SL500 might look well matched on a Top Trumps card, but the Porsche is quite a different beast. Sure, it's a more focused driving machine, but who wants focused hardcore driving machine in this day and age? Anyway, the roof doesn't come off, so it's no good for the French Riviera.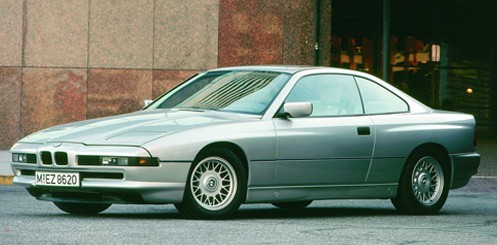 BMW 8 Series E31 (1990-99)
4.0 litre V8 – 282 bhp
Cost for a good one now: Approx. £10,000
One wouldn't normally compare the BMW 8 Series with the R129 SL, but this is 1989 and the W140 based CL500 coupe didn't arrive until 1992. So, for a few short years before the CL class and BMW's 8 Series ran off to play luxury super coupes together, an 840ci was a good alternative V8 German made GT. Excellent though the 8 Series was, Munich never removed the roof, leaving the four-seat-convertible slot in that stable to the humble E30 – a car that was never in the same league as an SL. Like the Porsche 928, the 8 Series looks a good match until the R129 plays the trump card – a removable roof. Many, many of these 8 Series BMWs have covered high miles thanks to their reliable and usable nature, so finding low mileage well cared for examples isn't easy.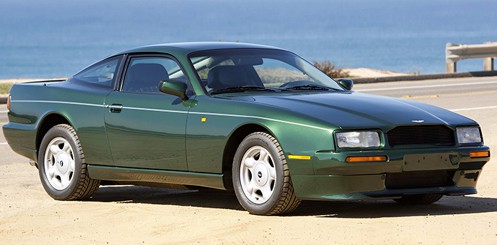 Aston Martin Virage (1989-95)
5.3 litre V8 – 330 bhp
Cost for a good one now: Approx. £80,000
As a V8 grand tourer, this one deserves a mention. A Volante would follow, however this a time that Aston Martin would much rather forget. The Virage launched into the Supercar boom, which promptly turned into a bust. For a very long time these cars were incredibly cheap to buy and eye wateringly expensive to run and maintain.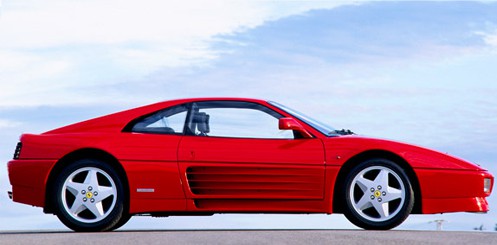 Ferrari 348 TB (1989-95)
3.4 litre V8 – 300 bhp
Cost for a good one now: Approx. £55,000
A Ferrari, compared to an SL? Surely not. Both V8, both around 300 bhp. One will start every time and run all day, the other one you'll need to remove the engine just to perform a service…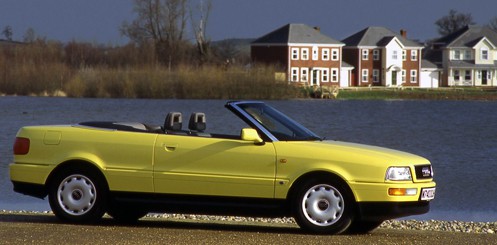 Audi Cabriolet (1986-91)
2.3 litre – 134 bhp
Cost for a good one now: Approx. £3,000
German build quality, German reliability, plush interior, power roof, seats for four… but even the 2.3 litre wasn't anywhere near SL territory. Princess Diana had one, after the kids had outgrown the rear seats of an SL… but that's our only rather tenuous link between the R129 and the Audi Cabriolet!
Did you enjoy our round up of contemporary rivals?
Read about R 107 SL rivals from 1975 here
Are there any cars you'd like to see in this list?
Tempted and want to hire an SL? Visit our hire page to see available cars.
Tempted and want to buy an SL? Visit our showroom to see available cars.
Contact us and tell us your choices!
Increase the value it brings you
For every SL owner we have met, the key aspect in ownership and running these amazing motorcars is ensuring that this prized possession remains a joy to use whenever, wherever and however; protecting and increasing its value over time.
As the World's largest specialist in classic SL's we have drawn upon our experience with our customers, with hundreds of cars and thousands of hours behind the wheel and under the ramp to develop CARE; a way of engaging a community of owners and protecting the value of their investments as well as enhancing their cars condition, reliability and desirability.
Be the First to Know
We don't mind whether you are in the market for one of our awesome cars or just interested in seeing whats new and whats going on in the market. Pop your details in here to receive updates on all thats "hot" in the showroom.