A trip to Bruges in the Mercedes R107 500SL
Any restoration project takes time, so the eventual the completion of Bruce Greetham's Mercedes 107 SL restoration was celebrated with a memorable trip to Europe.
SLSHOP Managing Director, Bruce, purchased the 107 SL back in 2011. While it wasn't an expensive car to buy, it was a restoration project which would require a significance investment of time, money and expertise for it to reach its potential.
It was a nautic blue colour which boasted cream interior. It was one of the later models of the 107 SL that were produced but arrived in a state requiring more than a little TLC. While on the outside the car looked in good condition, it would take nearly six years for the restoration to be fully completed. Read all about Bruce's epic restoration here.
Bruce recalls the condition of the car when he bought it, and what the aim was with it.
He said: "It was 500 with all options; cruise control, air conditioning, heated seats. You name it, it had everything, including a perfect colour combination.
"I got it restored to a level which I thought would be respectable for holidays and drives. It wasn't an everyday car. However, as I started to get in to the project I realised that I had a desire inside of me to do concours.  
"I find it very satisfying to prepare a car to that level. So, this relatively simple restoration turned in to a near six-year project."
A thorough restoration
The restoration had turned in to something much more thorough than first imagined. It's what Bruce refers to as a 'nut and bolt restoration' in which just about every part of the car is examined and worked on.
Bruce said: "Over the years I have been learning and understanding these cars. I've learned that corrosion is a killer to the point where it can ruin very good cars. Areas such as the bulkhead, weaker points of cars, jacking points, chassis legs and boot floors can all become susceptible to corrosion. To a large extent though, it can be hidden away.
"To untrained eye it may look okay, after all, it's nice and shiny on the outside.
"So, this is about putting the integrity back in to the car. Building the bulkhead and making an SL which would be fully restored. Engine, paintwork, trim. Nothing was left untouched. It was restored to the level of a brand-new car."
"I wanted to excel both for myself and the business. We wanted a car which could really show what we were about. It was partly showing off. If you're telling people you want the best, then this is what you've got to aim for. If you've got the funds, the enthusiasm, the drive, the commitment and patience to see a car to that level, this is what a 107 can be."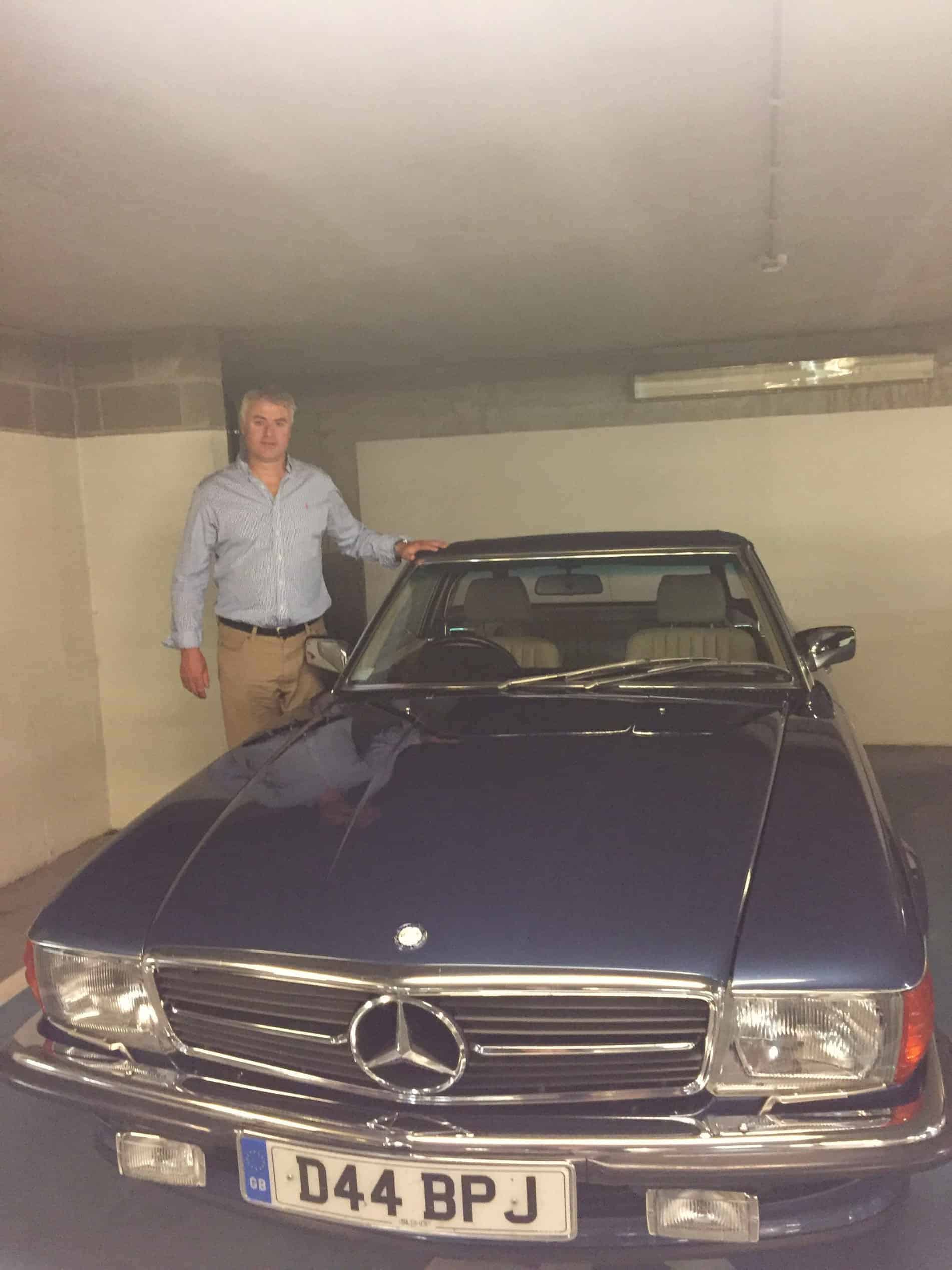 A maiden trip to Bruges
Upon completion of the restoration, Bruce and his wife had chosen to take a trip to Bruges in the 107 to celebrate their wedding anniversary.
Having worked on the car for so long, he had then made meticulous plans for this special trip. Bruges was specifically chosen as the destination and everything was falling in to place for a memorable trip.
Bruce recalls: "Bruges was where I wanted to go. It wasn't going to be the south of France.
I wanted to go somewhere which allowed us to spend a good day in the car. It was to be our maiden trip in the 107 SL and was also a celebration of our 20th wedding anniversary.
"It was exciting, yet as the trip grew closer, it made me nervous, as it always does. To drive over the continent in a car like that which you've rebuilt is a great pleasure but does not come without stress. As we got closer to departure day, the anxiety really did begin to build.
"The preparation gets a bit more intense. You need to convince yourself that the car doesn't just look good on the outside, but also does what it says on the tin. That was important to me that I had both, especially for a trip like this one."
Nothing was being left to chance. Everything had been planned out down to the clothes the couple would wear on the trip. Unfortunately, there was one element they couldn't plan for.
"When you've got a car to this sort of grade and level, you want everything to be perfect on it – especially on a trip like this. Everything including the weather, what you're wearing and of course the journey ahead.
"These trips are the reason that you have a car like this. it's a lifestyle thing."
"I was watching the weather like a hawk. Unfortunately, the weather turned for the worst. Not just rain, but a torrential downpour on the morning of our departure. That morning I had reached the point that I had to turn to my wife and had to question if were going in the right car?
"However, my heart said to me that it wasn't just about the driving. I wanted to be able to report back with a story to tell everybody about these cars. They can actually drive in the rain and they do work!
"So that was my intention, to come away with a talking point to say "I've done it"."
And do it, they did. Despite questioning whether to take his wife's black SLK 230 compressor, which he concedes would have been more comfortable, in the end Bruce stuck to his guns and the Mercedes 107 SL was taken out of the garage for the trip.
Bruce said: "We're a Mercedes family, we've always had them for years now. Both modern and classics.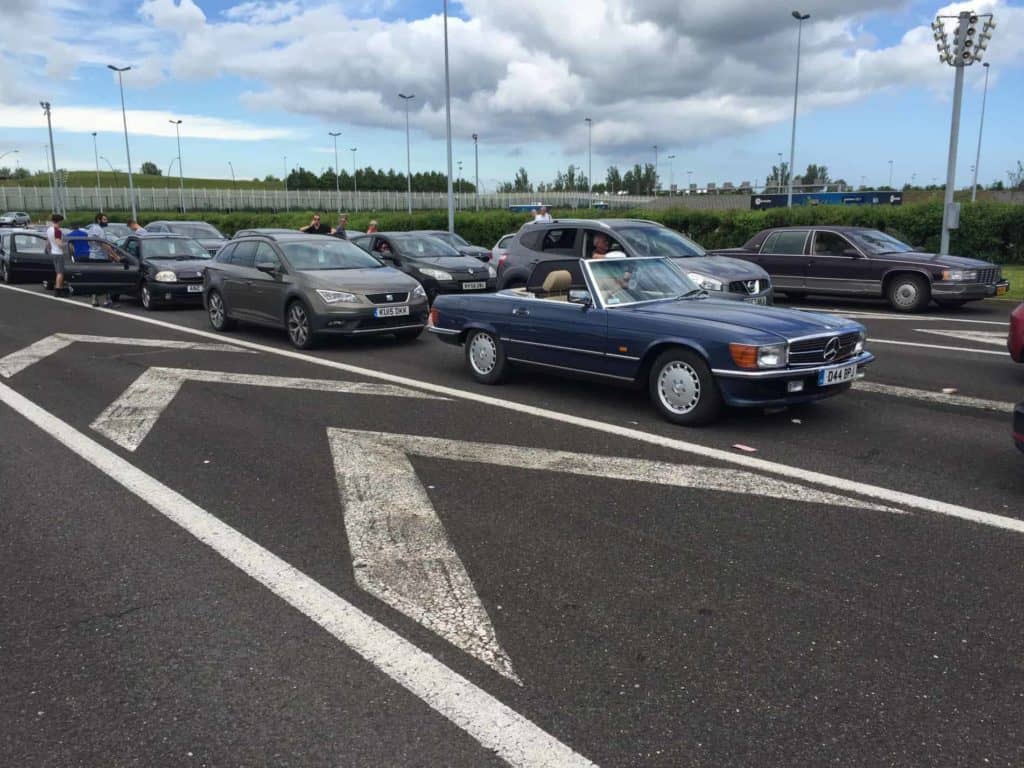 "I knew that this (the 107) was the one for this trip. I wanted photos and to show people who had known me for years and watched me restore the car. They were in anticipation for the trip as well, desperate to hear how we fared. So, I had to prove to everybody that it would work.
"I wanted to show them it could do it, did do the job.
"So, after six years of concours restoration, six years spent in the garage dreaming every day of driving down there to Belgium in fine weather, it wasn't meant to be.
"As I backed it out of the garage the rain was just bouncing off the top of the soft-top the likes of which you've never seen. It was a complete it was a disaster for me.
"Hitting the motorway with about 20 yards of visibility thanks to the spray coming off of lorries. A four-hour journey ahead.
"However, as the miles passed I was becoming more comfortable with it. I was driving at modern motorway speeds and the car was quite capable of doing it. It was enjoyable."
Anyone who has driven a classic car or been out on the road in a car that they have lovingly restored will know the kind of reaction you get from members of the public when they see it. Even on this wet and dull day, their was a lot of love for the 107 SL.
"We got lots of looks, thumbs-up and waves from people. It was nice. When I stopped for petrol and went to pay, I looked back toward the car and realised that it didn't look as good as it did when I took it out of the garage earlier that morning.
"I thought let's see the journey through and do something about it when we get there.
We got to the Channel Tunnel and unfortunately there was a long, long delay. I carry around a lot of the cleaning gear for the car all of the time, so, I thought it was a good opportunity to clean the car up – in the car park, outside the channel tunnel!
"I was cleaning it for two hours to get it to a point that satisfied my mind that I could continue the journey! My wife is used to me doing it, so she was happy that I was happy!
"At this point, the sunshine had come out as well, and so it looked like I had a dirty car. I had to clean it."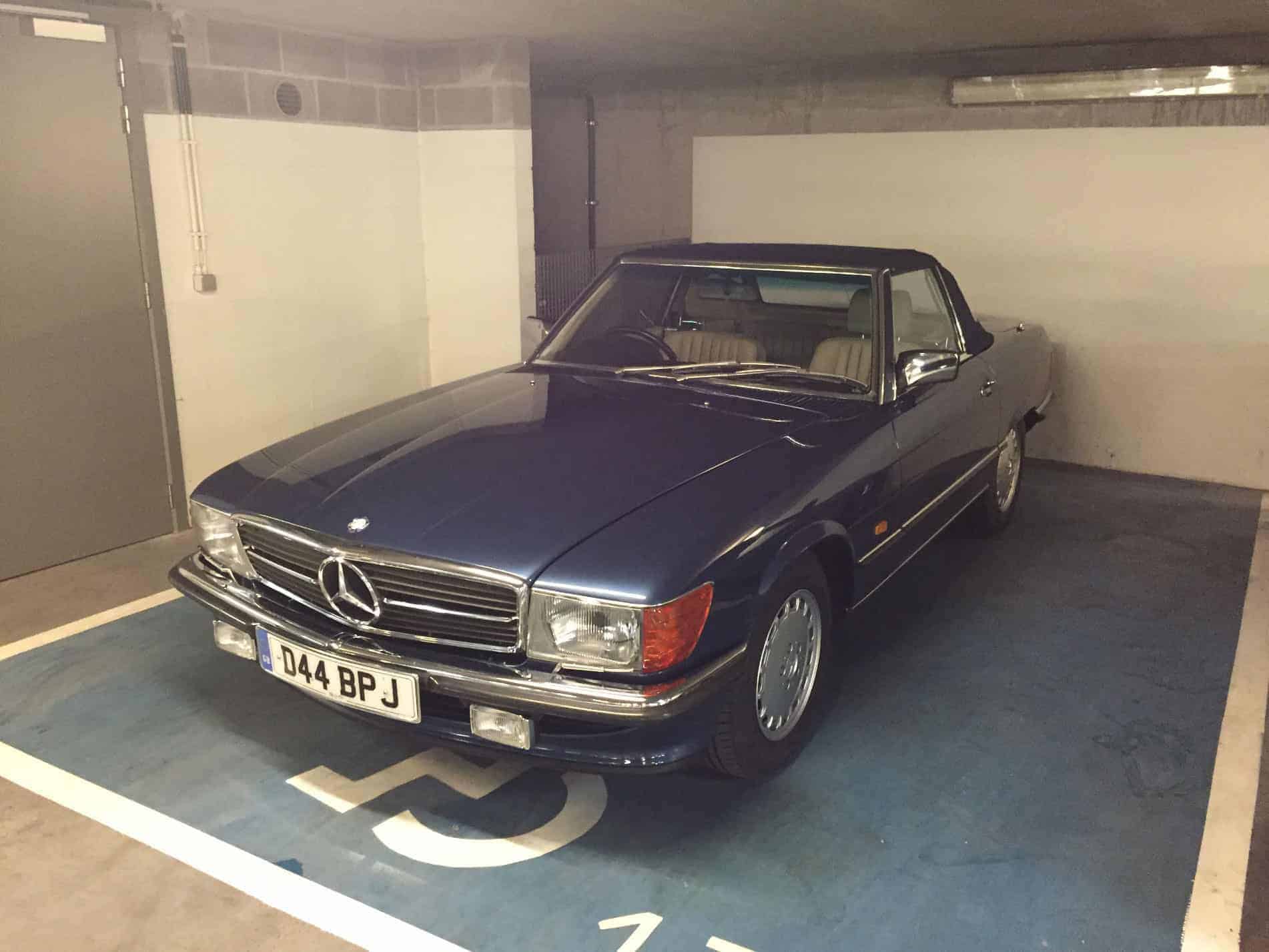 With the car cleaned and ready to hit the road again, this memorable anniversary trip to Bruges thankfully went without hiccups for the remainder of it.
Bruce said: "We arrived in Bruges after a long day. The car performed great, no oil leaks or anything which is great testament to the car really.
"We had a great car park – the concierge gave us a great parking area and I felt reassured that i wouldn't get damage to the car while there. I think that's important when you've invested that much time and money in to the car. Also, to take a trip like that, you want to enjoy your time there, not be constantly worried about potentially returning to a damaged car."
Inspired?
Make your own SL adventure:
Join us for a trip, or hire a classic SL for your own rain or shine road trip.
Increase the value it brings you
For every SL owner we have met, the key aspect in ownership and running these amazing motorcars is ensuring that this prized possession remains a joy to use whenever, wherever and however; protecting and increasing its value over time.
As the World's largest specialist in classic SL's we have drawn upon our experience with our customers, with hundreds of cars and thousands of hours behind the wheel and under the ramp to develop CARE; a way of engaging a community of owners and protecting the value of their investments as well as enhancing their cars condition, reliability and desirability.
Be the First to Know
We don't mind whether you are in the market for one of our awesome cars or just interested in seeing whats new and whats going on in the market. Pop your details in here to receive updates on all thats "hot" in the showroom.