W140 Series S Class Coupe – Mercedes Enthusiast Feature
This post was originally published in Mercedes Enthusiast Magazine.
Logic dictates that the 140-Series S-Class Coupes will be collectable cars in the near future. The youngest of them is nearly 20 years old no, and as well as being the technological flagship of the Mercedes-Benz range throughout the 1990s they're also rarer than you might think: just 26, 022 of these giant, pillarless four-seaters were built between October 1992 and September 1998.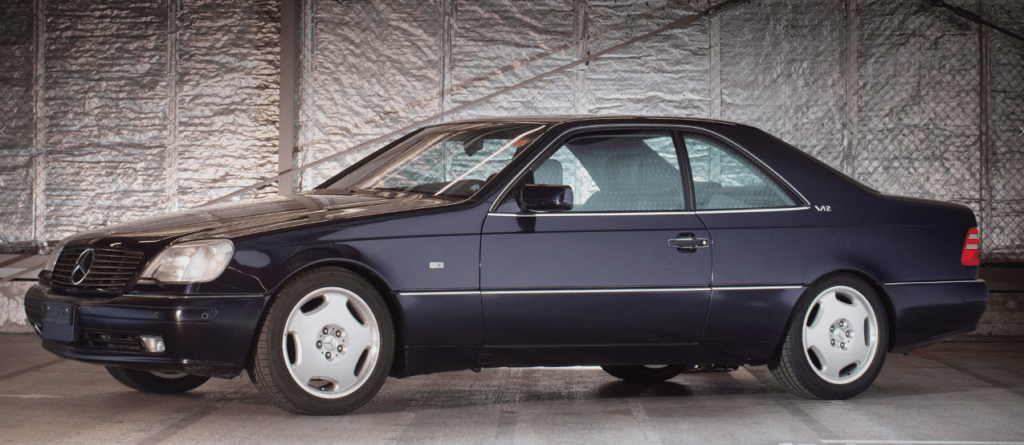 In fact, they are quite a lot rarer than Mercedes ever intended them to be. Like the four-door W/V140 saloon that begat them, these coupes had an image problem. Here was a vehicle that was somehow (in the eyes of certain self-righteous people) symbolic of everything that was wasteful about western society at the end of the 20thcentury; a car which, particularly in six-litre V12 form, became a poster child for four-wheeled capitalist excess in a world that was becoming increasingly aware of ecological issues. If Swampy (the UK's noted Newbury bypass protestor who shot to fame in 1996) had been asked to think of a prime example of glutinous, ecology destroying behemoth, he may well have imagined this big Mercedes-Benz two-door coupe.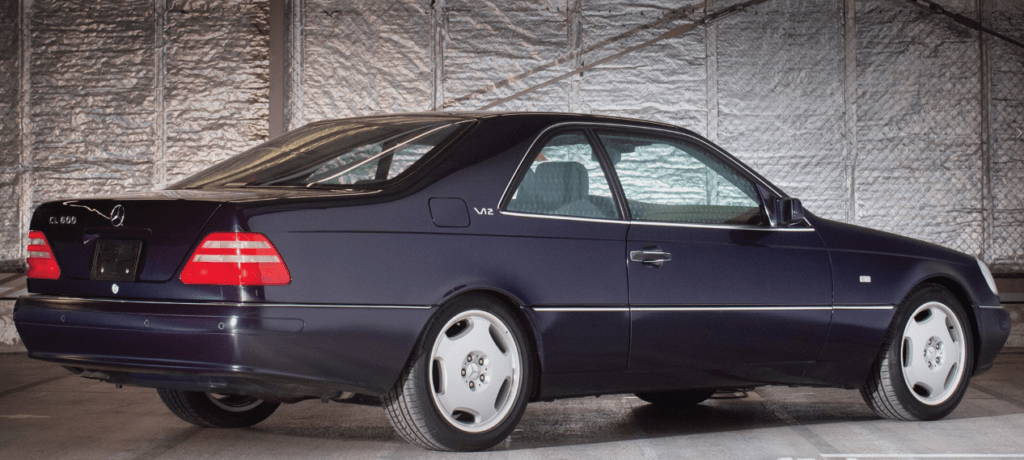 However, the 140-series did have a 'caring' side to its character in that it was the first Mercedes-Benz to feature CFC free plastics, and refrigerant for the air conditioning. However its detractors were more interested in pointing out that nobody really needed a near 400bhp, two-door coupe that was so long it required retractable antenna on its rear wings (to help its plutocrat driver to park it) or so wide that its (heated) mirrors had to electrically retract themselves when it was being transported by rail just in case they got damaged in a tunnel.
Chastened by the public reaction to the car (Greenpeace actually mounted a protest against it on the roof of Sindelfingen in 1995), Mercedes-Benz made sure that subsequent S-Class Coupes were more conventionally attractive, more apologetic in tone, and did not brim so gleefully with techno overkill. As one small example, I offer the fact that the subsequent C215 CL had side window glass that was not as tick as a single pane of the C140's famous double glazing.
Top of the Tree
The C140s were really the product of an arms race between Mercedes and BMW. Work on the design began in the mid 80s with a supposed release date of 1987. With double wishbones and coils up front, and the latest five-arm multi link suspension at the rear, it was a car for which five-litre V8 power was at first deemed sufficient: until, that is, it became obvious that the upstarts in Munich were about to trump Stuttgart with a V12 powered 7-Series.
Postponing the release date of the 140 saloon until 1991 gave Mercedes-Benz some breathing space to develop its own V12 (and bigger brakes) plus ramp up the refinement and luxury factors in the face of opposition from the big V8 Lexus that could no longer be ignored. This generation of S-Class is alleged to have cost $1 billion to develop; the production delays cost Mercedes-Benz's then chief engineer his job.
Some 90kg heavier and 38mm shorter than the saloon, the 140-series Coupe debuted at the Detroit motor show in 1992. The choice of an American show to launch the Mercedes reflected that nation's appetite for big, luxurious two-door cars – and the manufacturer's success there with previous incarnations of S-Class Coupe. However, the C140 was never imported to the US in huge numbers, strangely.
The C140 production history is a bit confusing, although styling barely changed in seven years. The initial SE nomenclature linked the model to the previous 126-series Coupes, but in June 1993 the model became known as the S-Class Coupe and then, confusingly, from the 1996 to 1998 the CL-Class.
Initially there was only the 500SEC and 600SEC; the short lived S420 Coupe would emerge in 1994 to extend the range downwards but would be by far the rarest variety with just 2,496 manufactured. There were no poverty variants of these grand two-doors, which were 25 per cent more expensive than the 126-series Coupes they replaced.
All the models had diamond cut alloy wheels, double glazing, 'close assist' doors (and boot lid), dual zone climate control and, on the 500 and 600, full nappa leather as standard. In fact the options list was very short no matter which engine you went for, and it's interesting to note that these were the first Mercedes passenger cars to come with a radio as standard.
The orthopaedic front seats, with inflatable cushions, were among the more pricey options, and the V12 version in it later years became the first Mercedes to have satellite navigation as standard, followed by a 'Linguatronic' voice control system.

No Less than eight
The 600, with its proud 'V12' C-pillar badges, was significant in that it was Mercedes' first production 12-cylinder in the company's history, and had several features as standard that were extra on the smaller engined versions including stability control. It was also the fastest four-seater production car in the world at the time, despite its 48-valve, four-camshaft (with adjustable inlet technology) engine running in derated 394bhp form to curb emissions. It was also one of the safest cars on the road, and from 1993 would be the first Mercedes with side airbags.
In truth, the 316bhp 500SEC/S/CL, with 32 valves and fully mapped ignition, had all the urge anybody really needed, and in the UK was £20,000 cheaper than the 600 model. It accounted for the bulk of sales at 14,953 sales. The pale blue car photographed is one of them, currently on offer for just under £15,000 at SL Shop in Warwickshire. It is a two-owner car with stacks of history, and is as beautifully preserved (inside and out) as its 43,000 miles suggest. Being an $500 Coupe rather than a CL, it has the early and more reliable four-speed automatic, plus telescopic parking aids.
The doors are long and heavy, with glass that drops an inch when you pull the handle. The C140 must have been one of the first Mercedes to have that feature, but the 'butler arms' for the seat belts are familiar from the 126-series. Inside, only the dashboard is shared with the saloon models. The ruched leather on the door panels and glossy Teutonic wood put the $500 Coupe in its era, and the dash is only really remarkable for the plethora of switches it presents: this is one of those cars that requires its owners to read the handbook.
Occupants in the rear will not have to fight for legroom, and there is a general feeling of width and spaciousness. This 1995 car just misses the rain sensing wipers but it does have the electric rear window blind and a heater that will blow warm air for 20 minutes after you have switched off the engine.
There is a feeling of total command about this car. Total competence too, with all features in rightful balance with each other so that it never feels large or unwieldly, soggy or soft.
With a drag coefficient of 0.30Cd, it is more aerodynamic than it looks, and slips near silently through the air, the double glazing effectively banishing the outside world. The ride is cossetting yet resilient, and you could probably run over a speed bump and not realise it. The 'Brake Assist' feature is yet another comforting safety feature until you need it. However, suffice to say, the $500 stops in short order.
It is very fast of course, but not intimidatingly so: level the throttle and there is a hint of a 32-valve growl, and a suggestion of a gear change, but its aim is to get you to the required cruising speed with the sort of efficiency that does not invite questions about what is going on down below. It is really only the speed of the landscape passing the windows, and the way you are gently but firmly pressed against your 12-way power adjustable memory seat, that tell you this big car is really getting a move on.
The seats are brilliantly embracing and help make brisk cornering through roundabouts a natural activity in a two-tonne supposed barge that is as agile as something a class smaller. Understeer and tyre squeal are minimal and passengers take your hard driving in their stride because the car feels planted and impenetrable at all times, with hydro-pneumatic self levelling working with the adaptive damping to keep everything very tidy.
Road Manners
Rare, refined and brimming with technology, there is a lot to recommend these cars. They are cheap too, although prices of good ones are firming. A poorly maintained example C140 can chew up and spit out even the most dedicated owners. Believe me, I have seen it happen. That is probably why, even as somebody with natural leanings towards large cars I have always avoided owning one of them.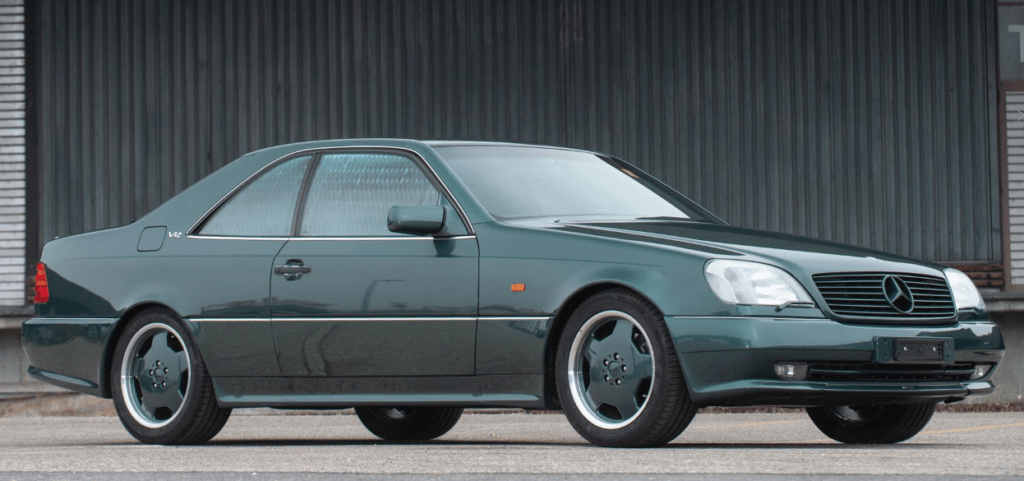 I was aware from the start they were impressive things; the editor of a magazine I worked on in the 1990s had a £94,000 V12 SEC on test for a week. After a blissful weekend with the press car he came into the office and declared it was a Mercedes he could "happily live with for the rest of his life". They tumbled down the food chain quite rapidly: a few years later I got close to buying a 500 badged example for £2,000 and the owner was practically begging me to take it away by the time I had decided it wasn't really 'me'.
But, having driven a couple of good ones lately, it is hard not to be impressed; they are much more agile than they look, outstandingly refined, and, with the five-litre V8 or six-litre V12 engine, very, very fast. In this S-Class Coupe the Stuttgart engineers had left nothing to chance technologically, and in many ways it represented a level of ambition they never reached for again. That alone is probably a good reason for buying one. Pretty? No, and it is no use pretending this car is ever going to have the visual appeal or period glamour of a W111 Coupe.
But if that big, bold body is still not Sacco's finest hour then time has perhaps softened its impact. In a world where there are so many huge and almost toxically unattractive modern cars, the C140 appears almost graceful. I never thought I would find myself writing that line.
We occasionally have superb examples of the W140 in our showroom. Take a look here.
Own a W140 that needs some love and attention? Contact us to enquire about booking an SLSHOP appraisal for your car
Increase the value it brings you
For every SL owner we have met, the key aspect in ownership and running these amazing motorcars is ensuring that this prized possession remains a joy to use whenever, wherever and however; protecting and increasing its value over time.
As the World's largest specialist in classic SL's we have drawn upon our experience with our customers, with hundreds of cars and thousands of hours behind the wheel and under the ramp to develop CARE; a way of engaging a community of owners and protecting the value of their investments as well as enhancing their cars condition, reliability and desirability.
Be the First to Know
We don't mind whether you are in the market for one of our awesome cars or just interested in seeing whats new and whats going on in the market. Pop your details in here to receive updates on all thats "hot" in the showroom.