Mercedes R107 For Sale IN OUR SHOWROOM
SELECTING AND PREPARING THE WORLD'S BEST MERCEDES R107 FOR SALE
A Mercedes R107 for sale with SLSHOP isn't just any R107 SL. Rather, it's a perfectly preserved piece of history; certified as one of the finest pieces available on the global classic Mercedes market. Our exclusive selection of show-stopping, museum frequenting R107 SLs are brought to you by our 60-strong team of passionate specialists, working collectively to share, preserve and revive this iconic convertible.
Every SLSHOP certified Mercedes R107 for sale has been hand-picked by our sales team based on key criteria. Where others only see the surface layers, our expert sales team's eye for detail penetrates the sturdy exterior of the R107 SL, scanning and analysing the composition of integral parts. Everything from the state of the bulkhead to the correctness of the steering system is assessed before the R107 SL reaches SLSHOP. It is this careful approach to selection that ensures we offer only the most desirable and usable Mercedes R107s for sale on the market.
PREPARING A MERCEDES R107 FOR SALE THE SLSHOP WAY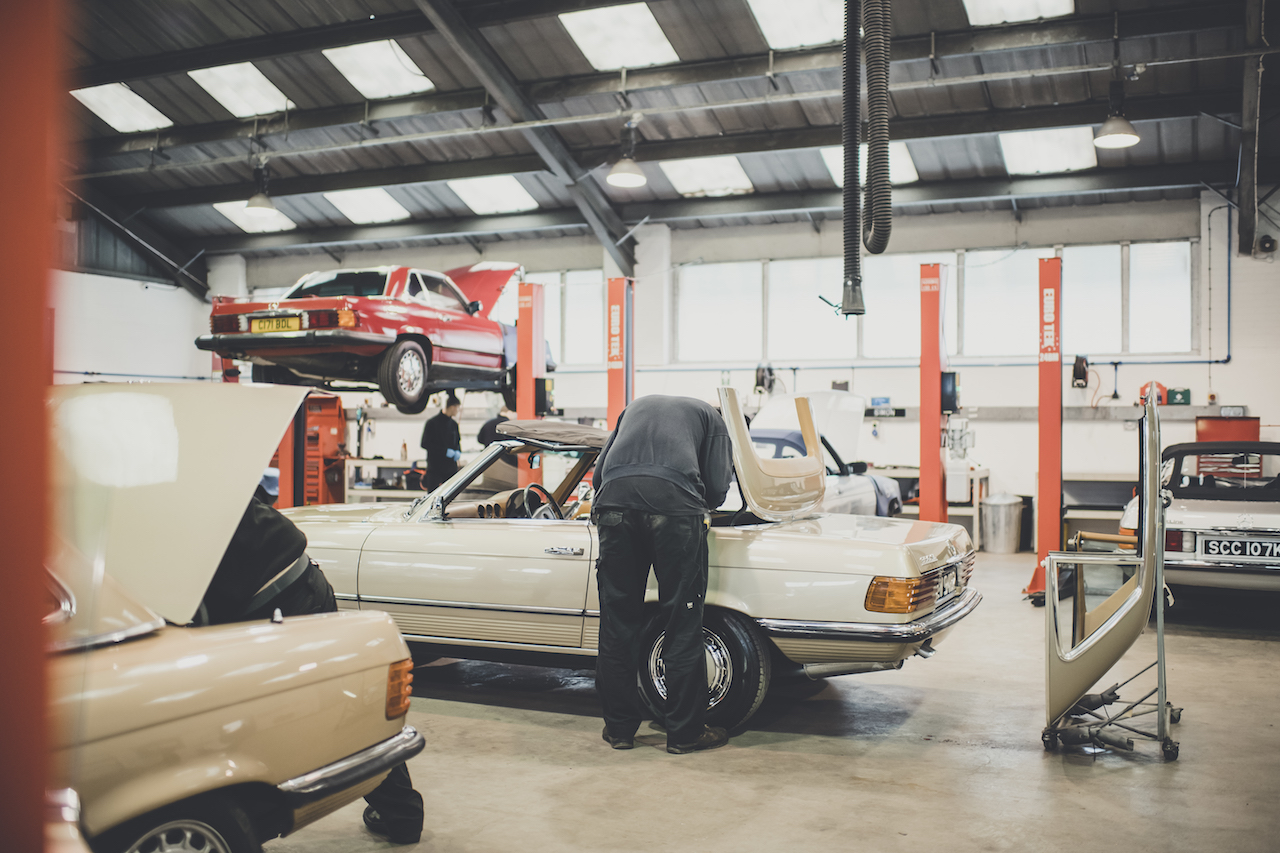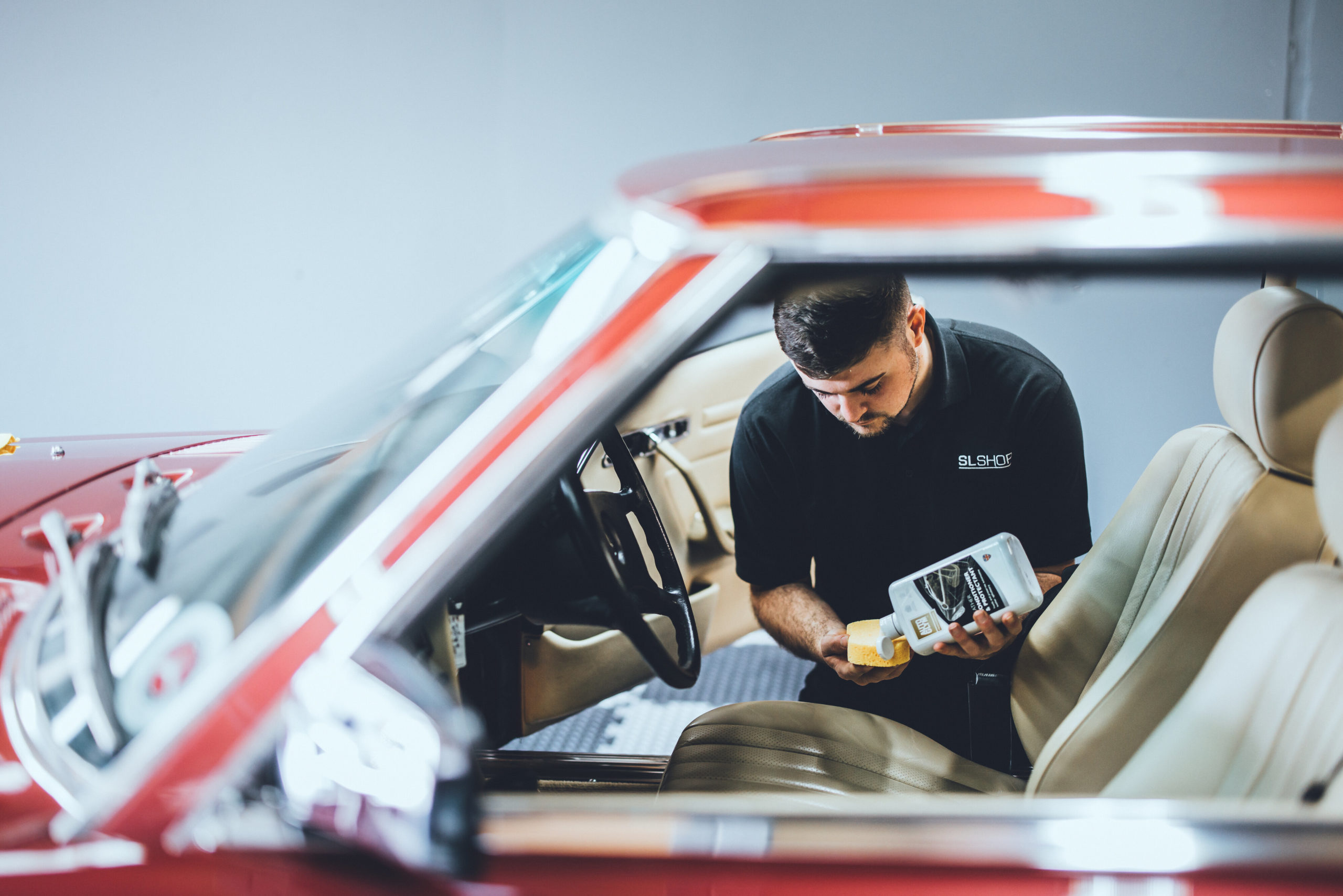 Our 50,000 sq. ft premises is home to a dedicated Specialist Workshop, where a team of 20 craftsmen work specifically with R107 SLs. Each new addition to our showroom is assigned to a craftsman who interrogates the R107 on the road and on our ramps; with the inspection covering everything from the interior trim to the quality of the A-pillar rubber seals. Once this is completed, a report is compiled detailing the condition of the vehicle – a supporting asset provided to new owners to confirm the state and potential value of their new asset. Each Mercedes R107 SL for sale is presented to you in an unrivalled and ready-to-be-enjoyed condition.
This certified condition means that you leave with a 12 month mechanical warranty and three-year bulkhead warranty. Security not offered by any other organisation in the world. Like a newly purchased car, a SLSHOP certified Mercedes R107 offers hassle free classic motoring, with the confidence that SLSHOP is there to support you throughout your ownership journey.
Once you've decided on one of SLSHOP's Mercedes R107s for sale, we'll hand over the vehicle to our expert detailing team. They'll work to your schedule to ensure the vehicle is ready to be handed over to you. Starting with the exterior , your R107 will receive two washes with PH neutral foam before the bodywork is hand polished. A deep clean of the wheels, bright work and plastics then takes place; followed by a clean of the glass inside and out. Then, we clean the interior and wet vacuum if needed. Lastly, we treat the leather. The car is then returned to our showroom where it receives a final clean in anticipation of being handed over to you.
All new owners are invited to our head office for an official handover. This is our chance to consolidate a new friendship and prepare you for your ownership journey. We will demonstrate how special and unique your asset is, outlining each control and how to safely operate the soft top, as well as the hard top. You'll also receive a video explaining these processes in detail, as well as an initial consultation with our service department to schedule your first annual service for your R107 SL. For those with busy schedules, we can also deliver your Mercedes SL R107 to your door; with a driver dedicated to answering any of your queries.
We take pride in the relationships we forge with customers and rather than just waving you down the drive. SLSHOP believes that unity between enthusiasts is important, which is why we want to inspire you to remain part of our community of owners and enjoy our carefully curated European driving tours, our servicing plans and membership schemes. When you select a Mercedes R107 for sale with SLSHOP, you're joining an exclusive global community of owners inspired to enjoy their Mercedes R107 with confidence.
DON'T MISS OUT ON NEW MARKETPLACE STOCK